POTD: The Quick and The Daisy – Scarce Daisy 'Quick Kill' Training Rifle
Sam.S 09.15.21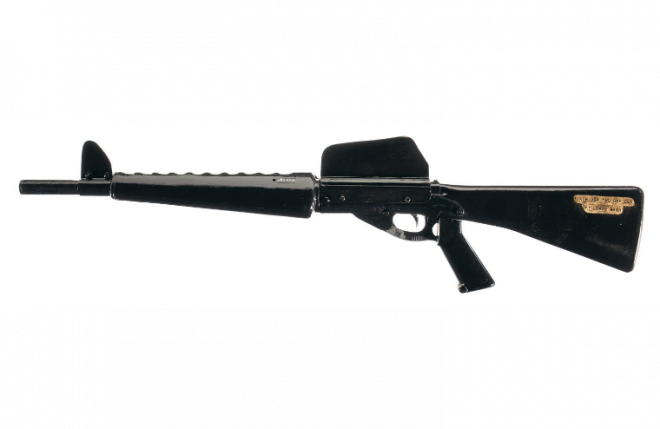 Welcome to today's Photo of the Day! This is a picture of a little known neat piece of history. In the early 1960s the military dabbled in different ways to help the infantry solider get more proficient with their M16 rifles. The idea was to take some Daisy bb rifles, and produce them to look similar to an M16 nicknamed the Quick Kill Rifle. If you look closely you can spot the outline of the infamous Daisy Red Ryder style bb gun at the trigger guard. Rock Island Auction Company has some more juicy information below:
"Developed in the 1960's, the Quick Kill training program was designed to increase proficiency in "point" or "instinctive" shooting among American infantry. These skills are particularly useful at ranges below 50 meters, and were coming into strong demand in the jungle combat of Vietnam. The program started with air rifles (BB-guns) like these, essentially M16 mockups with no sights, shooting first at airborne discs, then a miniature version of the rifle range, before transitioning to an actual M16 or M14 with the sights taped over. Measuring 35 1/2 inches overall, with a triangular handguard, plastic front sight and "carry handle", a pistol grip fitted to the action lever, and a straight buttstock, which is marked "SIXTH USA TNG DEV CEN/FT. LEWIS WASH" on the left side."
Lot 3679: Scarce Daisy 'Quick Kill' Training Rifle. (n.d.). rockislandauction.com. photograph. Retrieved September 14, 2021, from https://www.rockislandauction.com/detail/54/3679/scarce-daisy-quick-kill-training-rifle.