AllOutdoor Review: Axil GS Digital (Ghost Stryke) Earbuds
Adam Scepaniak 09.24.21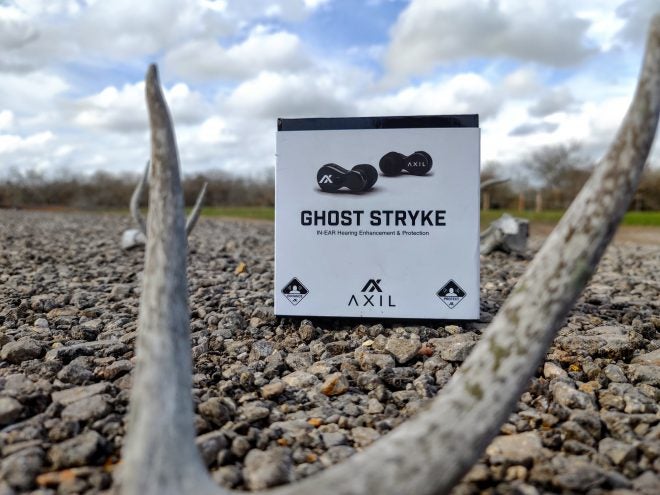 As hearing protection has evolved over the years we have seen the technology progress from simple earplugs you stuff into your ear to obstruct loud sounds all the way to Bluetooth hearing protection products that allow you to receive phone calls and listen to music while at the range. It is impressive to realize how far the technology has come especially when you can get your hands on it for a first-hand experience. That is exactly why we reached out to Axil to try some of their latest tech in hearing protection with the GS Digital (Ghost Stryke) Earbuds.
Axil Coverage on AllOutdoor & TheFirearmBlog
Specifications – Axil GS Digital (Ghost Stryke) Earbuds
My entire life I have used foam earplugs and passive earmuffs so I was pretty excited to have the opportunity to test out some digital earbuds from Axil. The ability to hear your friends at the range or to have situational awareness while hunting is invaluable. It not only creates more successful hunts to be able to hear your surroundings while hunting, but also more safe range environments when you can hear your friends talking. So, let's dive in and check out the specifications for the Axil GS Digital (Ghost Stryke) earbuds!
29 dB Noise Reduction Rating [NRR] w/ Foam Tips | 18 dB NRR w/ Silicone Tips
Digital Sound Compression (DSC) Hearing Protection™
Effective in Wind
Shuts Out Sounds at 85 dB or Louder
Background Noise Filtering
Whistle/Feedback Cancellation
Standard #10A Hearing Battery
Manual Volume Control
Easy to put In and Remove
ABS, Medical Grade, Non-Allergenic Acrylic Shells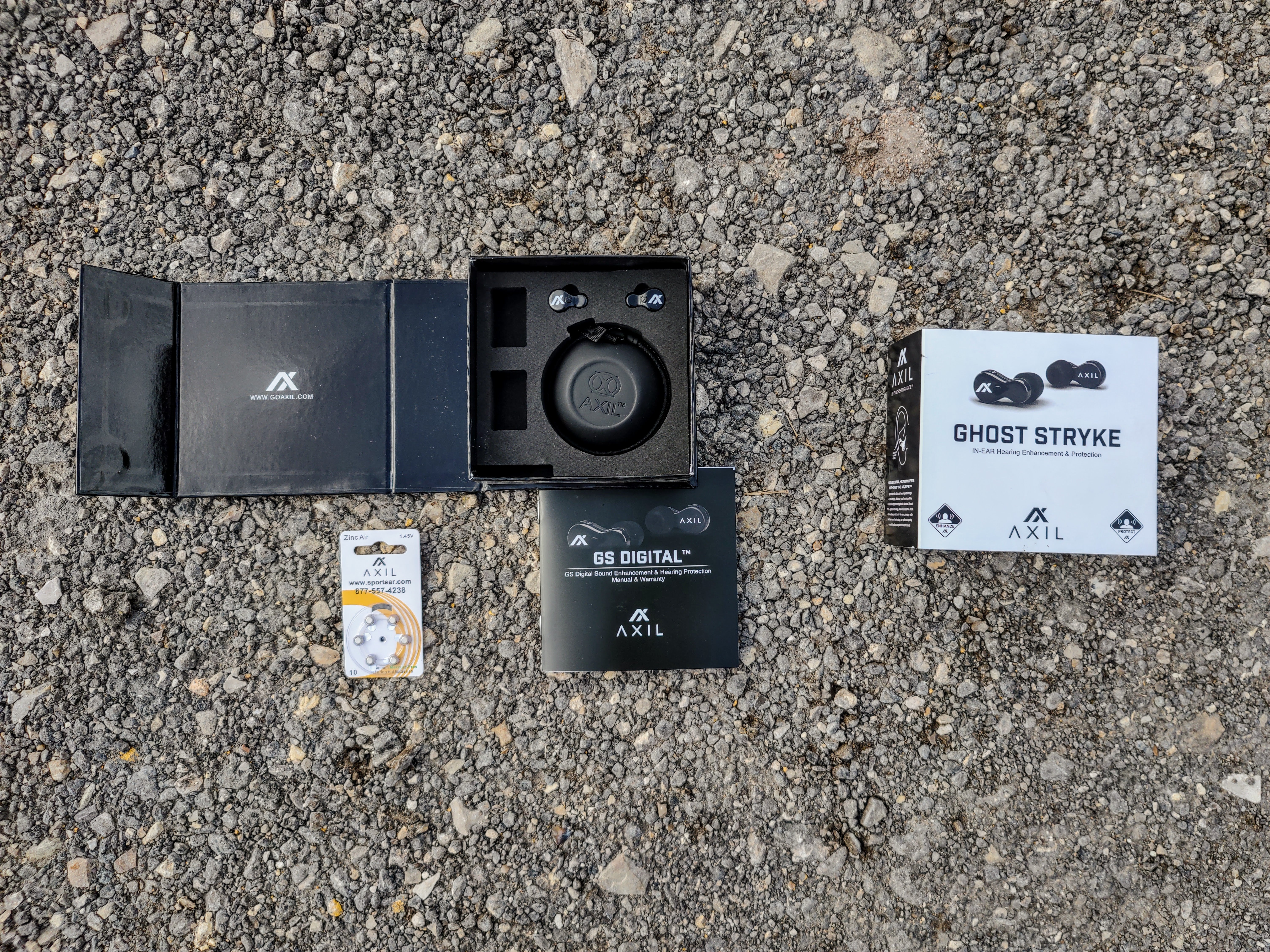 With the Axil GS Digital (Ghost Stryke) earbuds you have color options of Black, Natural (Sandstone appearing color), Red, and Pink at a full MSRP retail of $499. The Axil GS Digital (Ghost Stryke) earbuds also come with a standard one (1) year warranty covering all manufacturing or general repair issues. Axil goes a bit further into detail about the GS Digital (Ghost Stryke) earbuds below:
GS Digital™ gives you an ultra small, light-weight solution for your hearing needs. Simply place this in your ear and start hearing immediately. Adjustment period is instantaneous. Within minutes you'll forget you wearing your little GS Digital™ device. GS Digital™ offers the best value for digital hearing and protection combined in a tiny little in-ear device. Perfect for any environment where you need to maintain good hearing while simultaneously protecting your hearing!™
First Impressions – Axil GS Digital (Ghost Stryke) Earbuds
When digging into the Axil GS Digital (Ghost Stryke) earbuds for the 1st time I was genuinely surprised by how small the unit was. One of the gripes I have with earmuffs (passive or electronic) is how large and cumbersome they are. Earbuds have always intrigued me because they are so tiny in their footprint yet are advertised as being so capable. With the Axil GS Digital (Ghost Stryke) earbuds you receive:
Transport Case
2 Foam Tips: Small and Medium (29 dB NRR)
2 Silicone Tips: Medium and Large (22 dB NRR)
Securefit Concha Extenders
Set of #10A Batteries
Small Cleaning Brush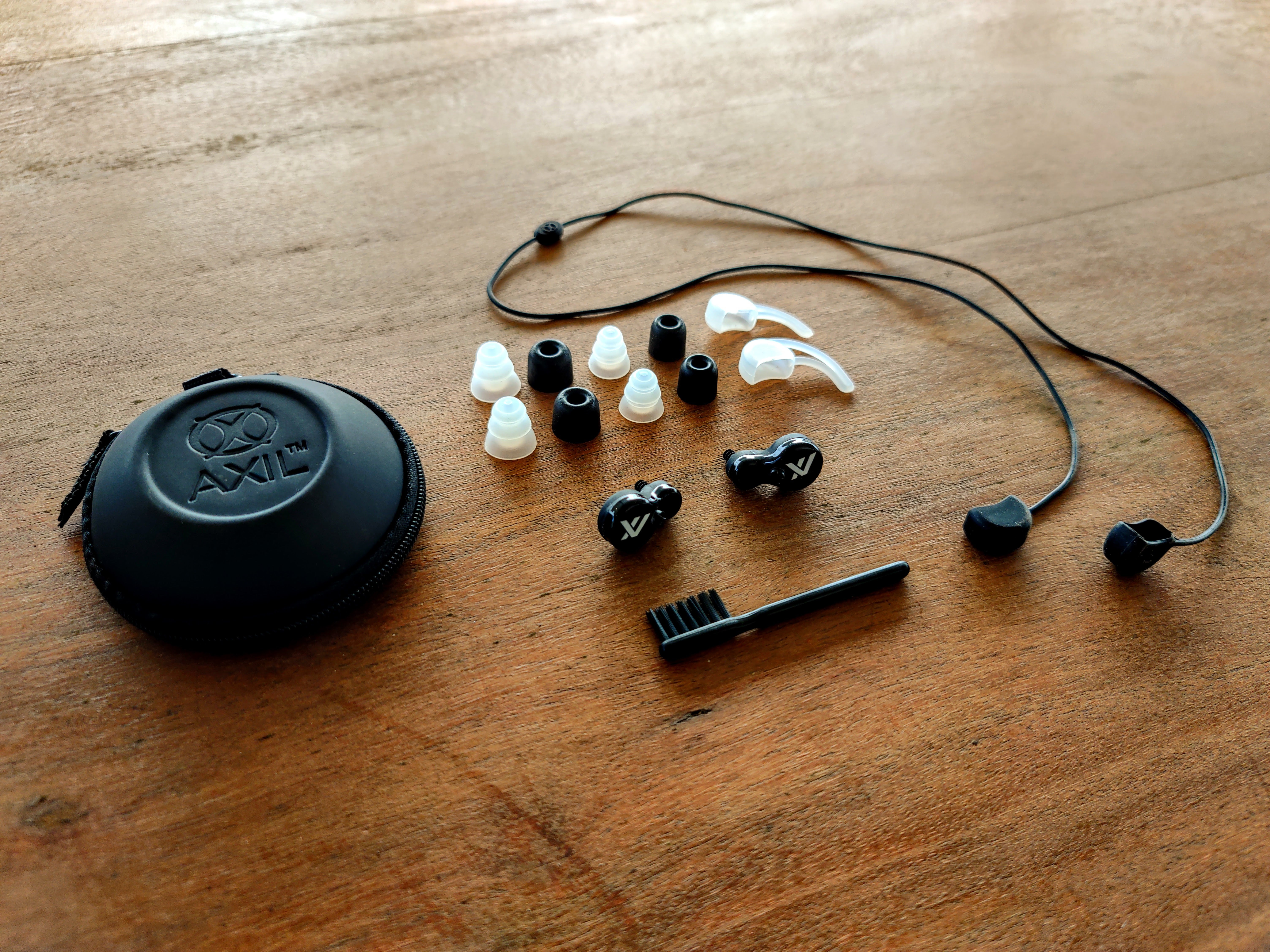 The Axil GS Digital (Ghost Stryke) earbuds are intuitive because you can simply hinge open the battery storage on the side, install your #10A battery, select a foam or silicone tip that fits you best, and you are on your way to start shooting. Throughout this review and my use of the Axil GS Digital (Ghost Stryke) earbuds, I did not use the accessory lanyard. Instead, I used the earbuds independently by themselves to see how they would perform as a lone product.
Range Use – Axil GS Digital (Ghost Stryke) Earbuds
When it came to using the Axil GS Digital (Ghost Stryke) earbuds at the range I definitely put it through its paces. My proving grounds were a sizzling hot range down in Texas where I spent 8-10 hours per day (on consecutive days) shooting and testing firearms while wearing the GS Digital earbuds. Throughout my use of them on the range I did notice that the batteries drained quicker than one would expect. After a full day of shooting in 90 degree heat the batteries would reach their end and die.
I later learned when I returned to my home state of Minnesota this was likely a heat issue and not an authentic failing of the product itself. In normal range temps of 85 degrees or cooler the batteries would last for weeks at a time. It was reassuring to realize this and #10A batteries are cheap regardless.
While wearing the GS Digital for long, extended range sessions like I had done they were very comfortable to wear. By getting multiple tips to choose from you can get a size that is correct and appropriate for you. Plus, not having that crushing pressure of an earmuff on your temple makes for a much more enjoyable range session.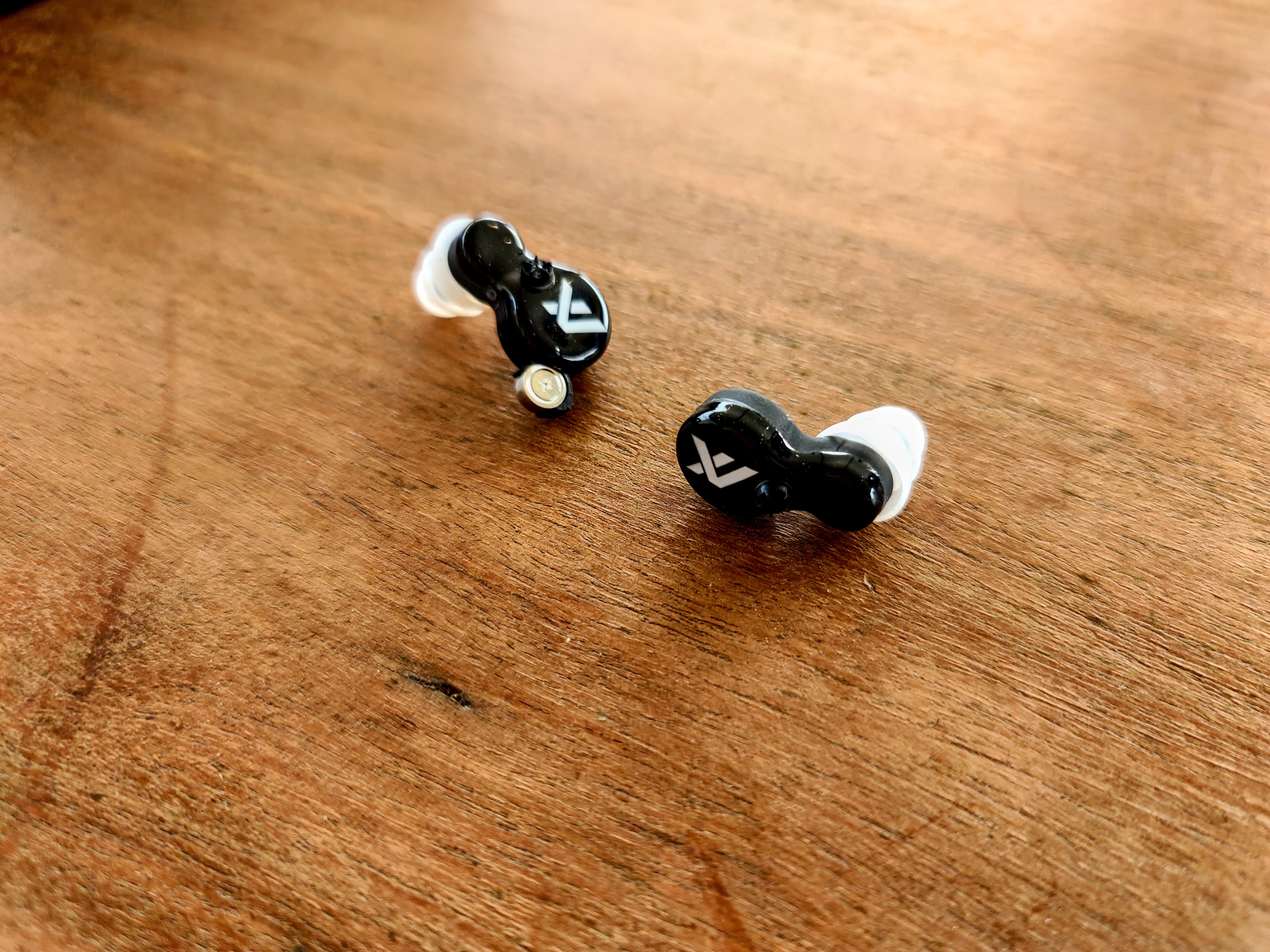 Hunting – Axil GS Digital (Ghost Stryke) Earbuds
While I was also down in Texas I did some wild hog hunting with the GS Digital earbuds. We were using Springfield Armory SAINT AR-10 .308 Win rifles with thermal riflescopes while hunting at night and even with all of that tech built around our firearms the most impressive piece of gear on me was the earbuds.
We spent a significant amount of time glassing for pigs in the dark with our thermal optics and attempting to stalk game on foot. There were several instances when the brush was so thick we could not pick up a thermal signature of a pig, but the GS Digital earbuds allowed me to hear a pig nearby (wild pigs are known for being very vocal oinking, grunting, and can be heard sometimes 75 – 100 yards away). Because of the earbuds we found pigs and successfully made a harvest when we initially could not see them through our thermal optics.
Another great aspect of the GS Digital was its ability to suppress noise as an earbud. With my fellow hunters and I all shooting AR-10 rifles with thunderous muzzle brakes it was invaluable to have an earbud that adequately dampened noise to a safe level so we could hunt without hesitation of shooting (and the ensuing noise and concussion). All in all, having a light earbud that allowed for good hearing when not shooting and strong noise suppression when you were was fantastic.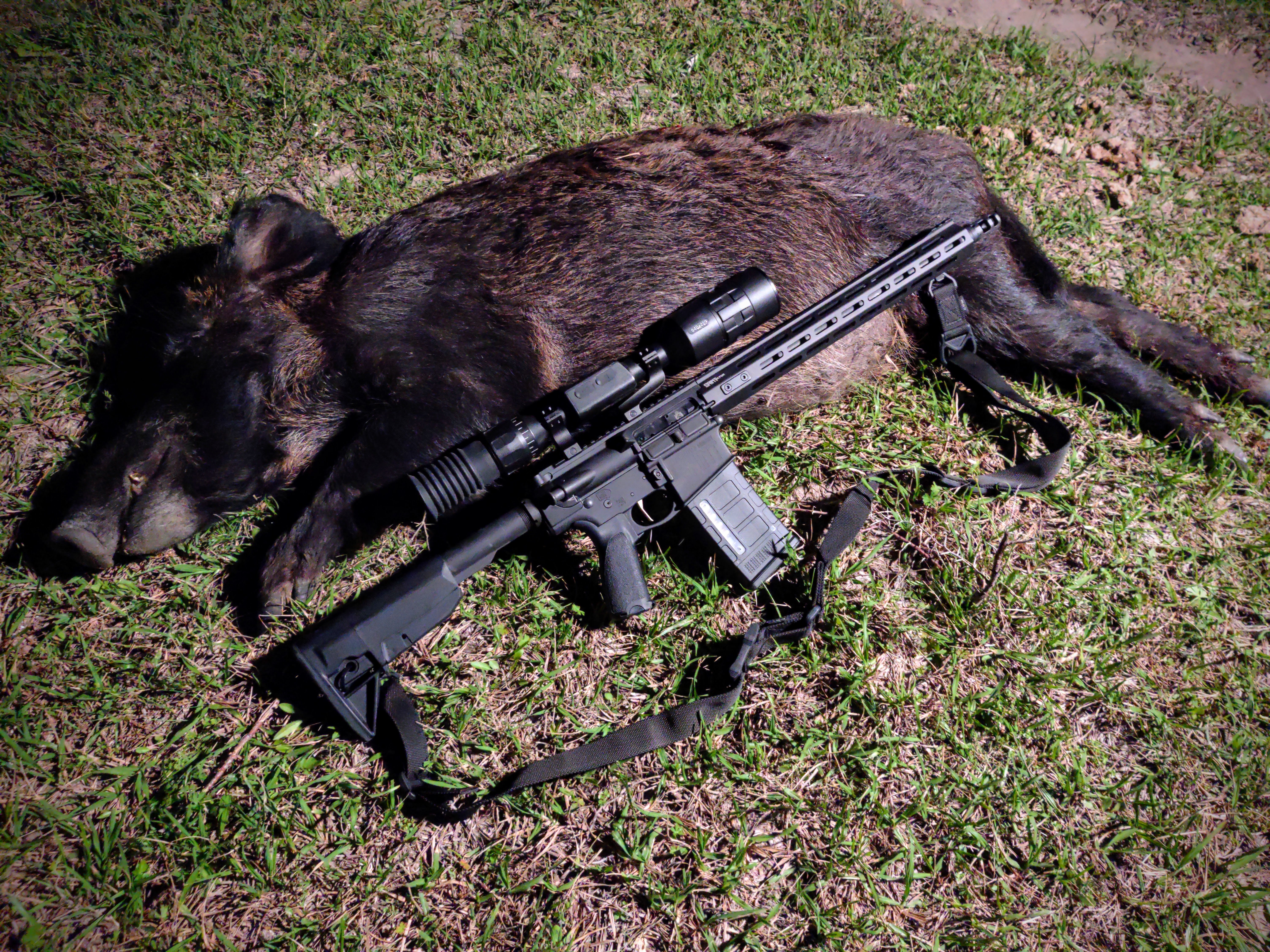 Final Thoughts – Axil GS Digital (Ghost Stryke) Earbuds
So, what are my final thoughts on the Axil GS Digital (Ghost Stryke) Earbuds?… The battery life was a little short (roughly 10 hours) in the oppressive heat of Texas, but other than that one negative they performed flawlessly. The ability to hear while hunting was terrific and aided in harvesting pigs, the sound suppression was wonderful while hunting and recreationally shooting at the range, and they were comfortable to wear in all conditions. For anyone looking to get into a pair of digital earbuds I would not hesitate to recommend the Axil GS Digital (Ghost Stryke) Earbuds.
In closing, I want to say thank you to Axil for allowing AllOutdoor and myself the opportunity to try out their Axil GS Digital (Ghost Stryke) Earbuds. That is greatly appreciated. Also, we would like to know what all of you guys and gals think? Do you believe that the Axil GS Digital (Ghost Stryke) Earbuds is something worth spending your money on? As always, let us know all of your thoughts in the Comments below! We always appreciate your feedback.