The Path Less Traveled #028: Jack Link's Bar Variety Pack Review
Andrew D 09.27.21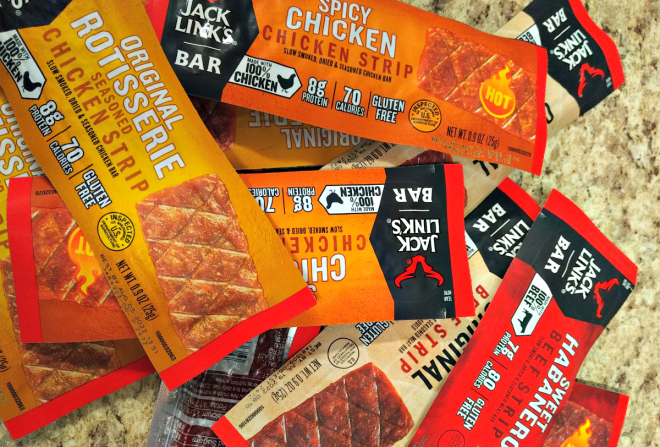 My family has no knowledge/interest in being outdoors unless it involves a riding mower or fishing pole. Despite our differences, they support my outdoor endeavors and often purchase little pieces of outdoor gear or food for me. I visited my father recently and he handed me a box. He stated the contents would be a good protein source on the trail, rather than stick to "boring ass, dry beef jerky." His words, not mine. This review will evaluate the Jack Link's Bar Variety Pack to determine whether they'll become a regular on the trail.
---
Welcome to our recurring series of "The Path Less Traveled." In this series, we want to take you along for our exploits in the wilderness while hiking, camping, exploring, and general adventuring. This will include our small daily victories, foibles, tips, tricks, and reviews of gear we authentically appreciate and frequently utilize. While a well-worn trail can often be the pathway to a leisurely day, the paths less traveled can often spur on some of the greatest memories, misadventures, and fun we could imagine. Join us in the Comments as we share our travels and hopefully, we can all come together for a greater appreciation of the outdoors.
---
Company Info – Link Snacks, Inc., AKA Jack Link's
Jack Links has been around since 1986, has facilities in Wisconsin, South Dakota, Minnesota, Iowa and Nebraska. (That sounds as Midwest as you can get!) According to Wikipedia and their own site, Link Snacks has gone through a strong decade of expansion and acquisitions by purchasing several other companies. I'm sure you've seen commercials with their sasquatch, but this video does much better about explaining the company than I can do:
Product Info – Jack Link's Bar Variety Pack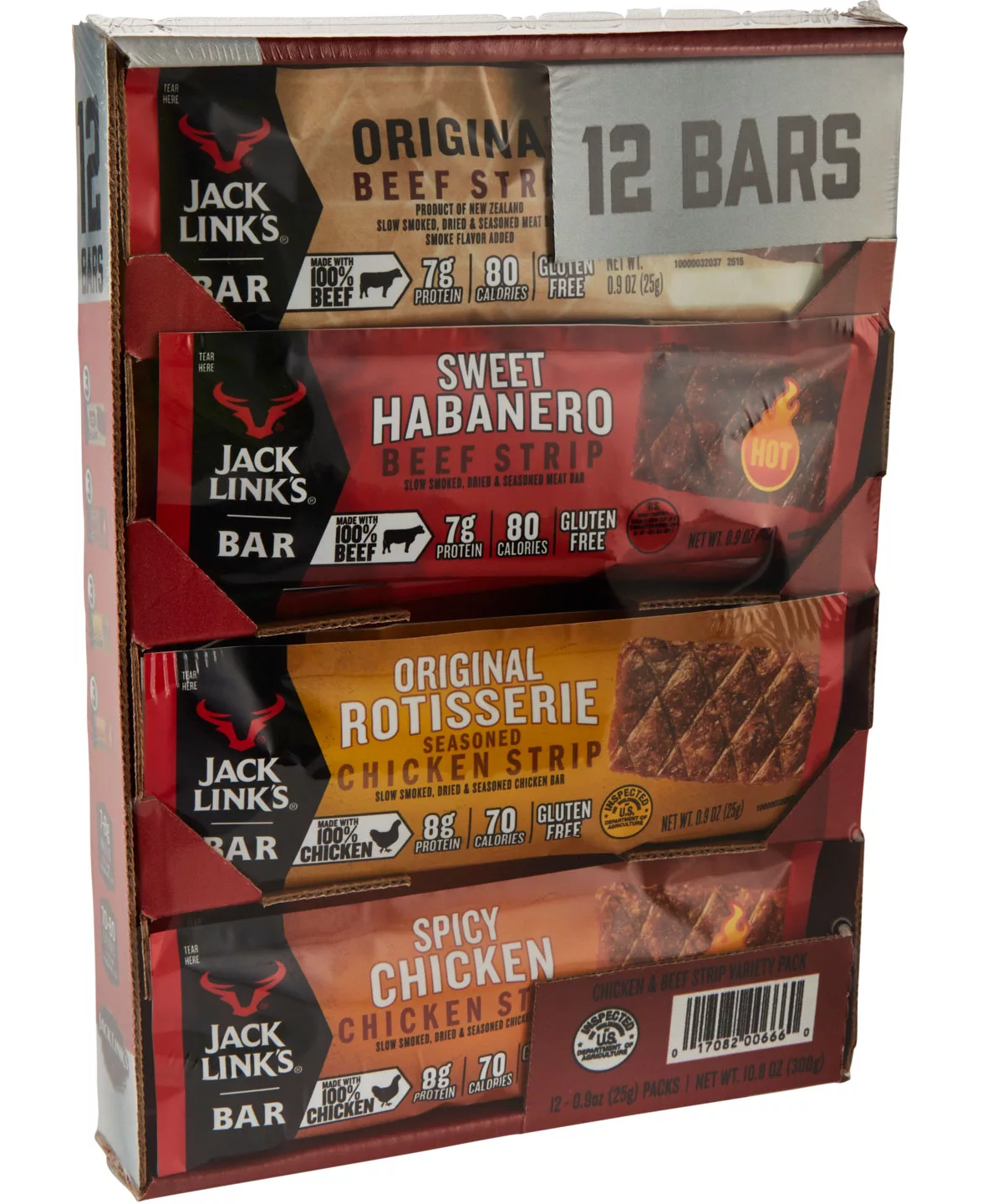 The Jack Link's Bar Variety Pack is a box containing twelve bars; three of each of the following flavors:
Original Rotisserie Chicken Strip Bar
Original Beef Strip Bar
Sweet Habanero Beef Strip Bar
Spicy Chicken Strip Bar
Each bar is 25 grams (0.9 oz) and range from 70 – 80 calories. To categorize them, you could either do it by:
Base Protein:
Chicken ??
Original Rotisserie Chicken Strip Bar
Spicy Chicken Strip Bar
Beef  ?
Original Beef Strip Bar
Sweet Habanero Beef Strip Bar
Flavor Profile:
Smoky ?♨️
Original Rotisserie Chicken Strip Bar
Original Beef Strip Bar
Spicy ?️?
Spicy Chicken Strip Bar
Sweet Habanero Beef Strip Bar
I prefer to categorize them by flavor profile, as my desire for eating things can be summed up in two simple sentences "I'm hungry, give me anything," or "I'm tired of bland trail bars, what else do I have?"
Observations
While I'm not a health nut, I monitor my sugar and sodium intake with enough concern to make a physician proud. The Jack Link's Bar Variety Pack has a hecka-lotta sugar and sodium for my tastes, so I asked my father to participate in a taste test with me when going over these meat bars.
By the way, does anyone else feel unnatural saying "meat bar"? Meat strip? Nah, I'm not sure there's a good way to describe them without having a connotation of the originating protein being highly processed.
ORIGINAL ROTISSERIE CHICKEN STRIP BAR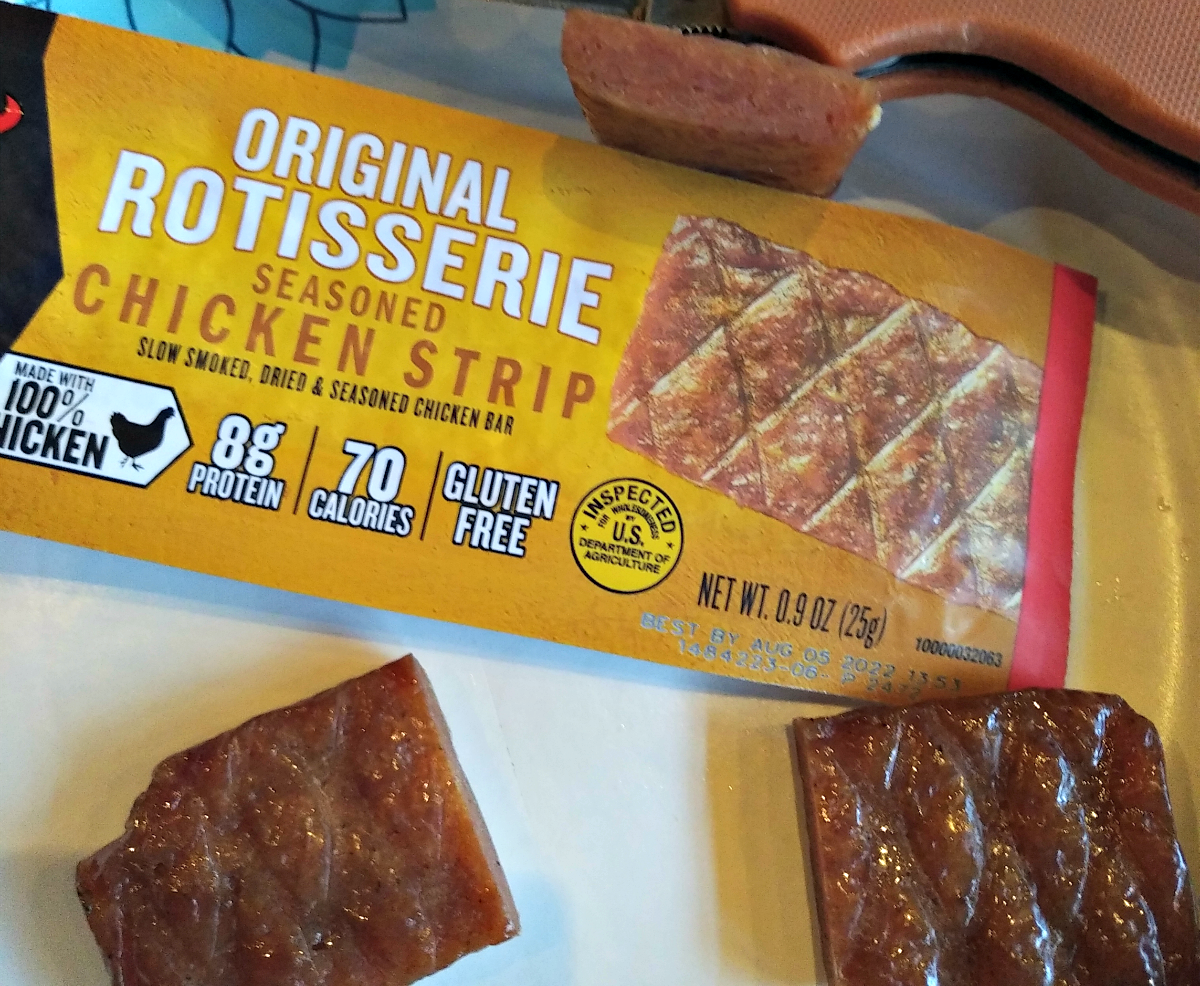 My Review: There's a definite chicken-flavor that hits the mouth immediately. The consistency of the meat strip is softer than jerky, tougher than a beef stick (Slim Jim). This chicken strip is not something I would turn down eight miles or further on the trail, but I would check my bag to see whether I had any other snacks before going for this again; the heavy salt and sweetness forces you to drink water. When taking into consideration that this is a portable, shelf stable meat product, I give it  ???out of 5
Father's Review: "It's good. Simple, chicken [sic] flavor. ???? out of 5."
ORIGINAL BEEF STRIP BAR
My Review: This meat tastes as if it was smoked in a pellet grill. Hearty smoke taste, decent but processed beef cuts… There's still that sappy sweet-salty mouth feel that keeps occurring. The package claims 6g of sugar added to this product. I'd imagine the meat bar only being 35-40 calories without all the sugar.
Flavor is good, aftertaste is okay. No regrets. When considering this is a portable, shelf stable product, I give it a warm ??? out of 5.
Father's Review: "This is easier to eat than jerky, you don't have to rip and tear at it. ???? out of 5."
SWEET HABANERO BEEF STRIP BAR
My Review: The balance of sweetness does work well with the habanero taste. Spice level of this was lower than I was expecting, but this is not a bad thing. I enjoy the heat level, and the flavor of this strip. Would eat again.  ???? out of 5.
Father's Review: (Note: By this point, my father started opening up to the idea of reviewing food with me and giving actual opinions rather than just facts or a single sentence about the foods) "Now this has some flavor. Why didn't we start out with this guy? I like the kick of this one *makes soccer kick foot motion*, but kind of wish it had more, but then again you have all the sissies and ninnies out there that would whine when it burns when it comes out or s#!t like that. It's good. Can I give half stars? (Me: Sure) ???? and a half out of 5.
SPICY CHICKEN STRIP BAR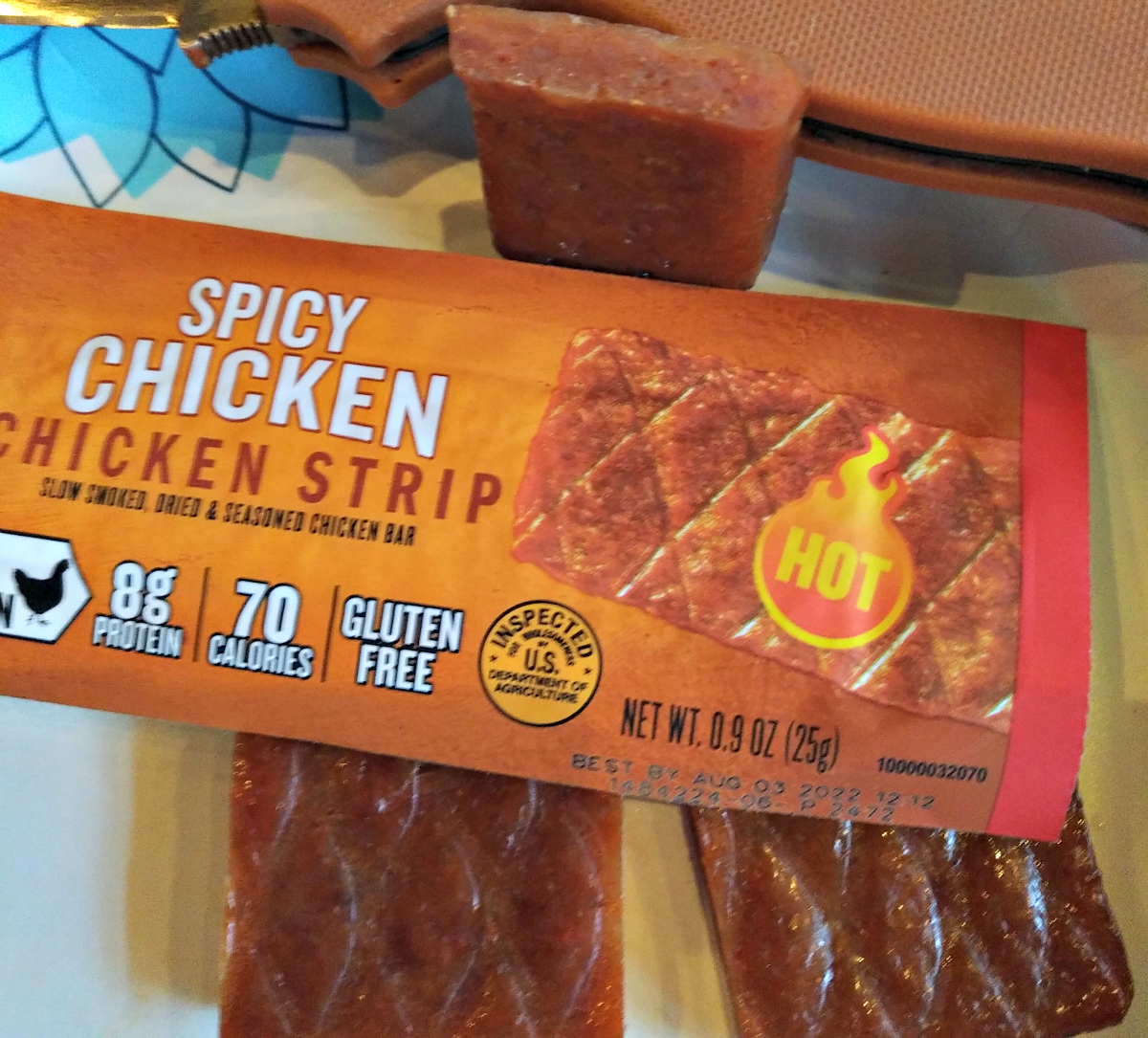 My Review: This meat has the heat. When I think spice, this is the level of spice I want… This meat stick would be perfect to be added to various camping soups or with cheese and crackers. Hotter than a Jalapeno for sure, hotter than what people perceive as habanero heat, I'd place it along the lines of a Thai chili or fresh cayenne chili when used in a dish or meal for the perceived heat. The bold flavors disguise the added sugar to this bar, and I say that in the most loving way possible.
There was a slight off taste ("Plastic" or "chemical" notes… Maybe the smoke flavor with the chili tastes? Very indescribable, but my father and I both agreed it was there) in this bar, so we opened a second one.
Second meat bar was fantastic, without the odd taste of the first. I'd pack these on a trip and stick in a pot of dehydrated chicken soup for a bold kick. ????? out of 5.
Father's Review: "Now this is good. Glad one of these has some kick to it, didn't know if I was going to have to bring out the Peri-Peri to get some real flavor on these things."
(Regarding first bar: "Did your portion have too much smoke flavor? Is the plastic leeching into this guy?")
Second Bar: "I bet your mom wouldn't eat this, would she? That's when you know something has a good flavor and the right amount of kick to it. Do you think this would wake you up on the trail after a grueling day?"????? out of 5.
Conclusion
If you see this twelve pack, get it if you enjoy a mix of flavors and protein sources. My family has old-world, first generation American values when it comes to food. My father has been all over the world with work and while he'll eat just about anything, he does have strong preferences. The spicy flavors for the Sweet Habanero Beef Strip Bar and the Spicy Chicken Strip Bar would be something I'd be willing to pay gas station prices for if I had a craving for something. My father claims he wouldn't eat these unless he was away from civilization for a few days, but that if I left one of the spicy ones with him, it probably wouldn't be there the next time I came by.
I enjoy the flavors that came in these meat strips more than a generic Slim-Jim style meat stick. The added benefit of these products using celery extract as a preservative rather than nitrates will keep the streets safe at night, as Karens can go battle BPA's on their Nalgene bottles or something else.
The strongest consideration for whether I could recommend these to another person is the sugar content. Getting 10-12% of your ADA daily recommended amount of sugar from a meat strip that weighs less than an ounce is a lot. I actually went to my grocery store after eating these to see what the sugar content was on some of the sweet trail and workout snack bars. You don't want to know that bars like a mint chocolate workout bar had as much sugar content as a meat bar. I know this won't win me fans by calling out what I don't like, but I'd rather be able to express my concerns about things than sugar coat the things I see as faults.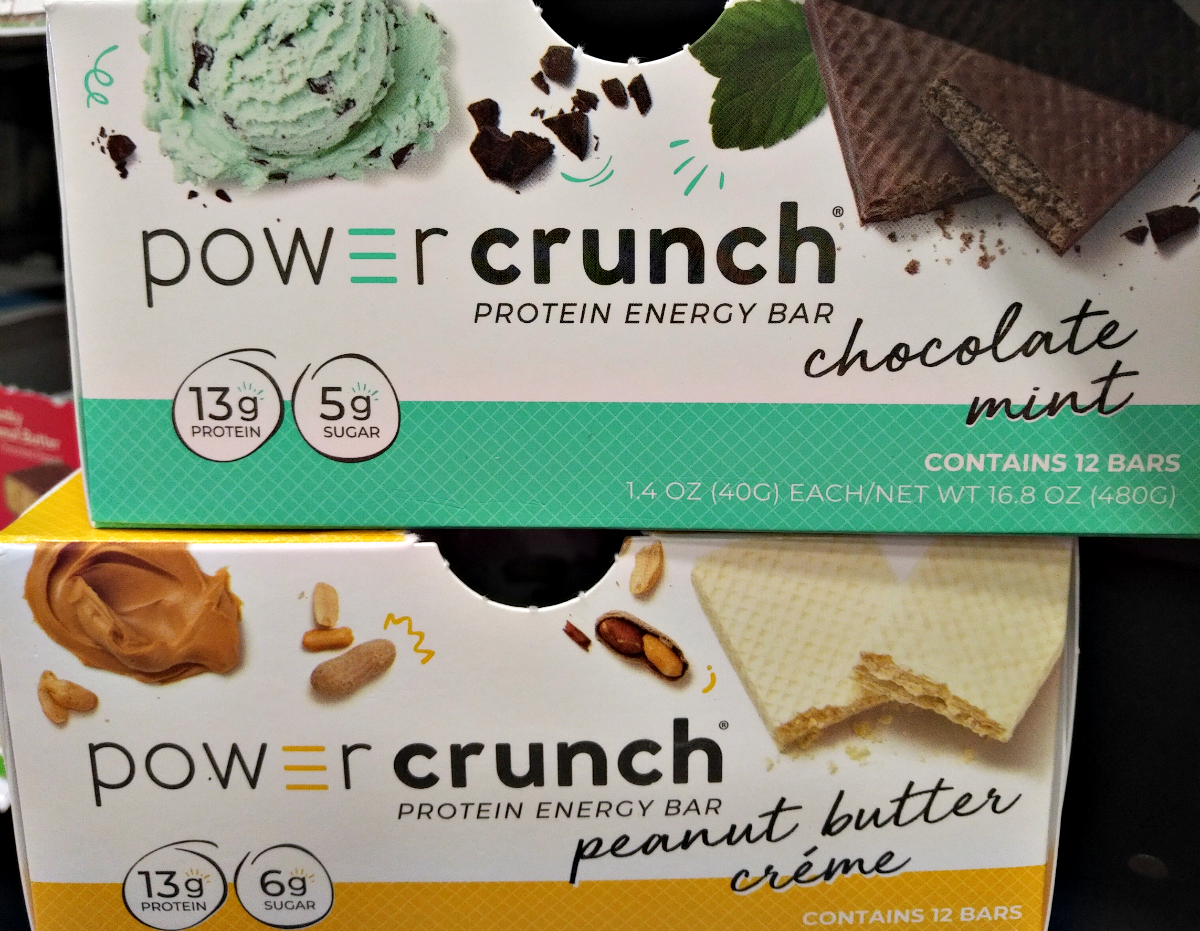 Would I bring these out on the trail? The Spicy Chicken and Sweet Habanero would be a fun and light way to carry something on a multi-day trip requiring variety in flavors and textures. Yes, I would not have a problem eating the two flavors mentioned above. The standard flavors are just too sweet (tasting) with no major benefits over other less-sugary options. I don't want to have to take insulin just because of a meat snack, and if I do… It better have some kick to it, as my father says.
Comparison
The Jack Link's Bar Variety Pack at Sam's Club makes the cost of an individual bar about $1.10 a piece. The MSRP for one bar is $1.79. When considering the cost of the meat strips individually, here are some comparable products:
Kroger's Refreshing Salsa Skipjack Tuna
I love tuna pouches. This pouch has 2.8x the amount of food in it, and comes in at $1.59 (as of September 19, 2021).

Jack Link's Zero Sugar Original Beef Jerky
2.3 ounces of beef jerky without added sugar. This is up my alley, for sure. The price is higher than the meat stick strip bar things, but I guess this is like Porsche where you pay more to get less? ? MSRP: $4.99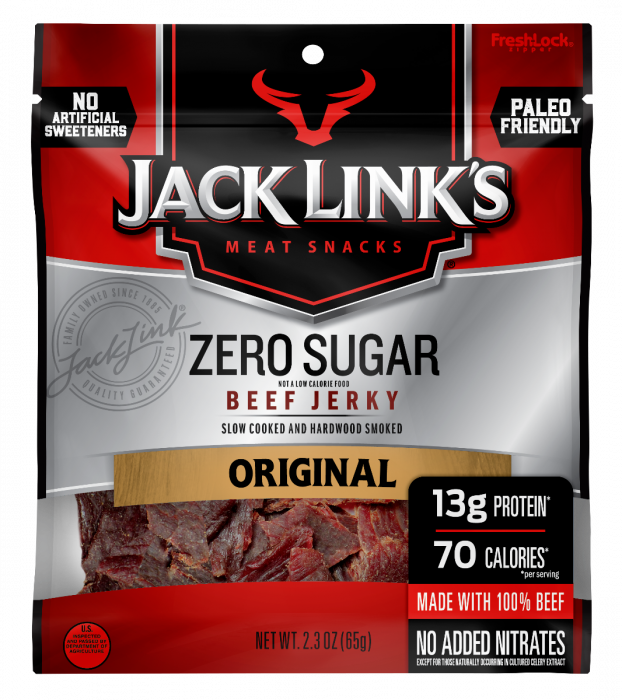 Jack Link's All American Beef & Cheese Combo Snacks
I'm not shy about growing up in abject poverty 'til grade school or so. Grew up shopping at the Dollar Tree, and I'm still a fan of theirs. Oddly enough, one of the better meat choices is a Jack Link's product and has 15 – 20% of the sugar of the meat bars and is sold there! This product even has GENUINE Wisconsin process cheese with it! All for a dollar! (Insert Robocop "I'd buy that for a dollar" GIF.)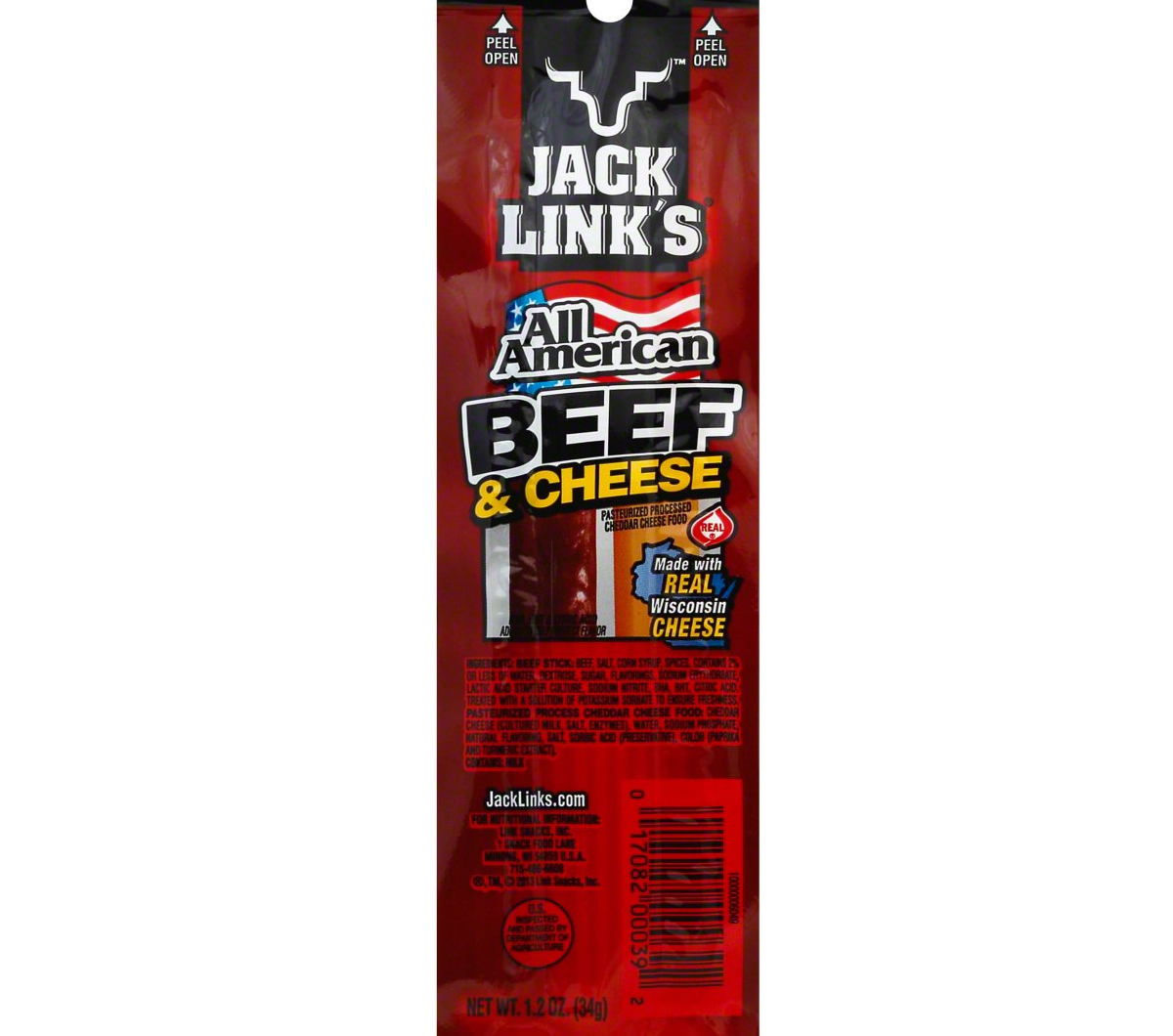 Specifications – Jack Link's Bar Variety Pack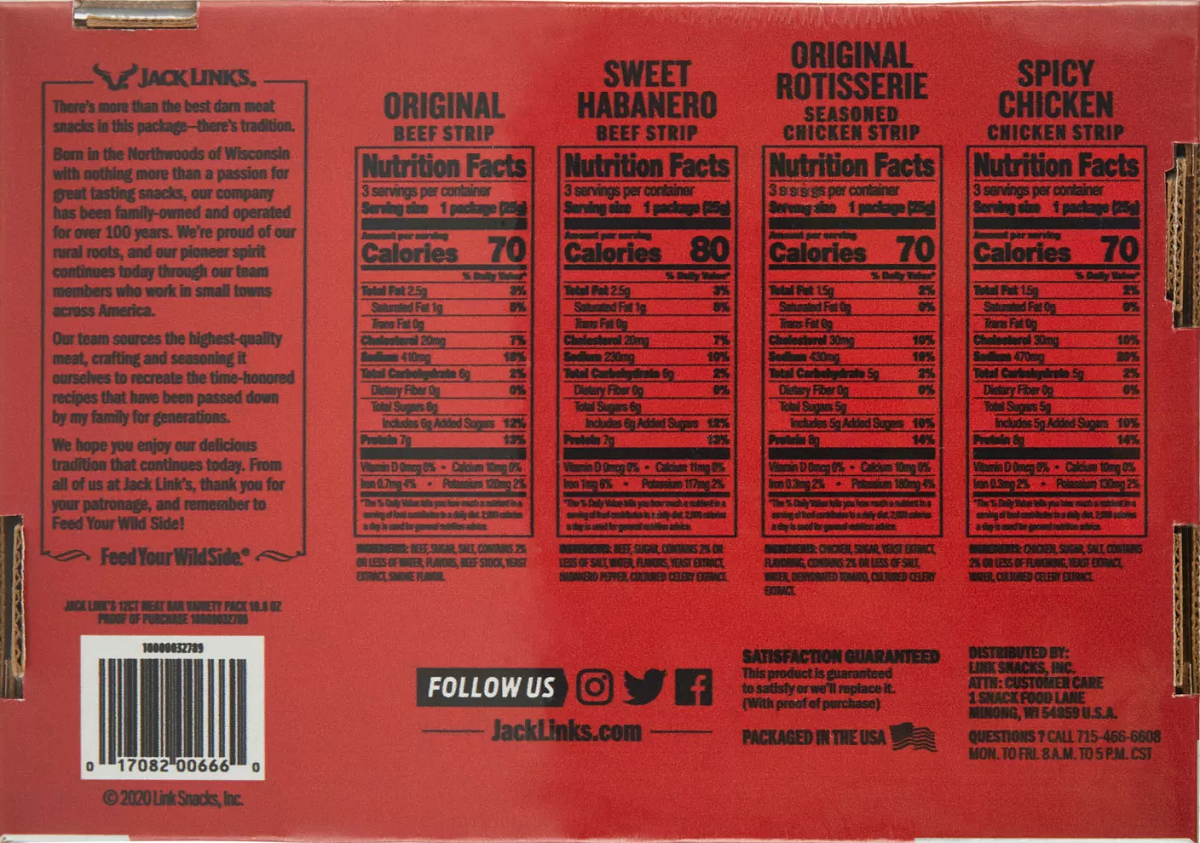 Made with 100% chicken, the Jack Link's Original Rotisserie Chicken Bar delivers a delicious savory chicken taste and 8 grams of protein per bar. Step aside chalky, chocolate-y protein. Meet, your new favorite bar.
Ingredients: Chicken, sugar, yeast extract, flavoring, contains 2% or less of salt, water, dehydrated tomato, cultured celery extract.
When hustling from one thing to the next, a convenient snack bar with protein is a great option to have at-the-ready. But, often times eating a protein bar means giving up something like delicious taste or real food. Original Beef Strips deliver 7g of protein per bar, no sacrifices. Made with 100% beef, each tasty meat bar is seasoned with Jack Link's signature blend of Original spices and smoked over hardwoods. So you get real food, giant taste and a good source of protein in every one. Keep them in your desk drawer, briefcase, gym bag, pockets, purses, hands and mouths of any size. Gluten-free. And, voted a great keto-friendly snack for weight loss in Men's Health "A Nutritionist Picks the 9 Best Keto Products for Weight Loss."
Ingredients: Beef, sugar, salt, contains 2% or less of water, flavors, beef stock, yeast extract, smoke flavor.
Made with 100% beef, the Jack Link's Sweet Habanero Meat Bar delivers a little sweet and whole lot of heat. It's a real snack, with 7g protein and 80 calories that doesn't come from chalky, sugary sources. Meat, your new favorite bar.

Ingredients: Beef, Sugar, Water, Contains 2% or Less of Salt, Flavors, Yeast Extract, Cultured celery powder, Citric Acid, Ground habanero chilis, Paprika oleoresin (color).
Made with 100% Chicken, the Jack Link's Spicy Chicken Bar delivers a delicious and SPICY taste, with 8 grams of protein per bar. Step aside chalky, chocolate-y protein. Meet, your new favorite bar. 70 Calories, 8g Protein. Gluten-Free.
Ingredients: Chicken, sugar, salt, contains 2% or less of flavoring, yeast extract, water, cultured celery extract.
Price: $12.98
Weight: 300g, 10.8oz / 25g, 0.9oz x 12.
Packaged in the USA