POTD: Lost Your Marbles? – Marbles Arms Game Getter Combination Gun
Sam.S 09.29.21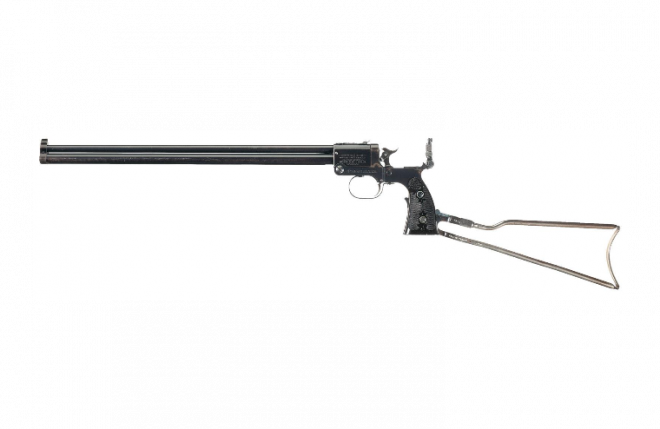 Welcome to today's Photo of the Day! This time around we have the Marbles Game Getter combination gun. These neat little guys were manufactured long before the survival rifles and little badgers that we know today. They also had their own ammunition available. See, the upper barrel is a .22 rimfire barrel, but the lower barrel is a .44 caliber smoothbore barrel intended for the Game Getter .44 shot cartridges. Rest easy because they were not too terribly exotic. Apparently, they were basically .44-40 cartridges loaded with shot and capped with a wad. I did see one advertisement for one that contained a lead ball instead of a shot.
"Manufactured between 1908 and 1918. The right side of the chamber block is marked "CALIBERS – 22&44, the right side of the frame "PATENTS/ALLOWED", left side of barrel chamber "-MANUFACTURED BY THE-/ MARBLE SAFETY AXE CO./ GLADSTONE, MICH.U.S.A./ MARBLE ARMS & MFG.CO./ SUCCESSOR" and "GAME GETTER" on the left side of the frame below. The upper barrel is rifled and chambered for 22 caliber rimfire and the lower barrel is a smooth bore and chambered for the 44 game getter centerfire cartridge. Blade front and folding leaf rear sights, with a short range peep sight mounted on top of the frame. Blue finish with casehardened hammer, with mobile striker, a steel tube stock with smooth butt, which folds up under the gun for storage and fitted with checkered hard rubber grips with "TRADE/MARBLE/MARK" at the top."
Lot 811: Marbles Arms & Mfg Co Game Getter Combination 22 44. (n.d.). Rock Island Auction Company. photograph. Retrieved September 28, 2021, from https://www.rockislandauction.com/detail/55/811/marbles-arms-mfg-co-game-getter-combination-22-44.