AO Review: The Bushnell Outdoorsman Bluetooth Speaker
Luke Cuenco 09.30.21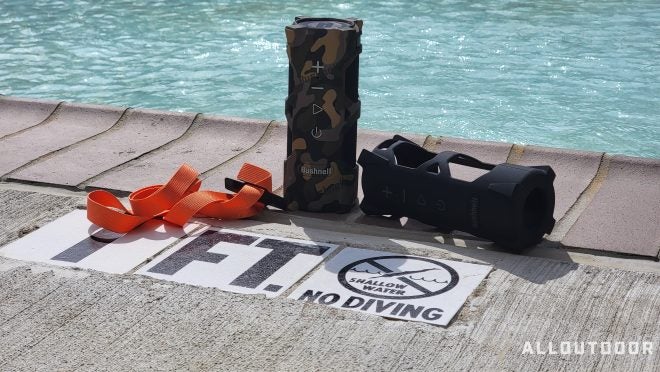 We're all huge fans of the outdoors here and nothing is better than sitting outside around a nice fire or on the beach with a couple of cold drinks and some of your favorite music. Bluetooth speakers have been around for quite a while now and their capabilities across the board are pretty nice overall, but many of them leave a bit to be desired when it comes to using them outdoors. In comes the new Bushnell Outdoorsman Bluetooth speaker which in its own right is a great speaker, but also offers some extra capabilities for outdoorsmen and anyone who likes to keep their Bluetooth speakers handy. Today we'll go over the features of the Outdoorsman and hopefully, this will give you a better idea if this particular Bluetooth speaker is right for you.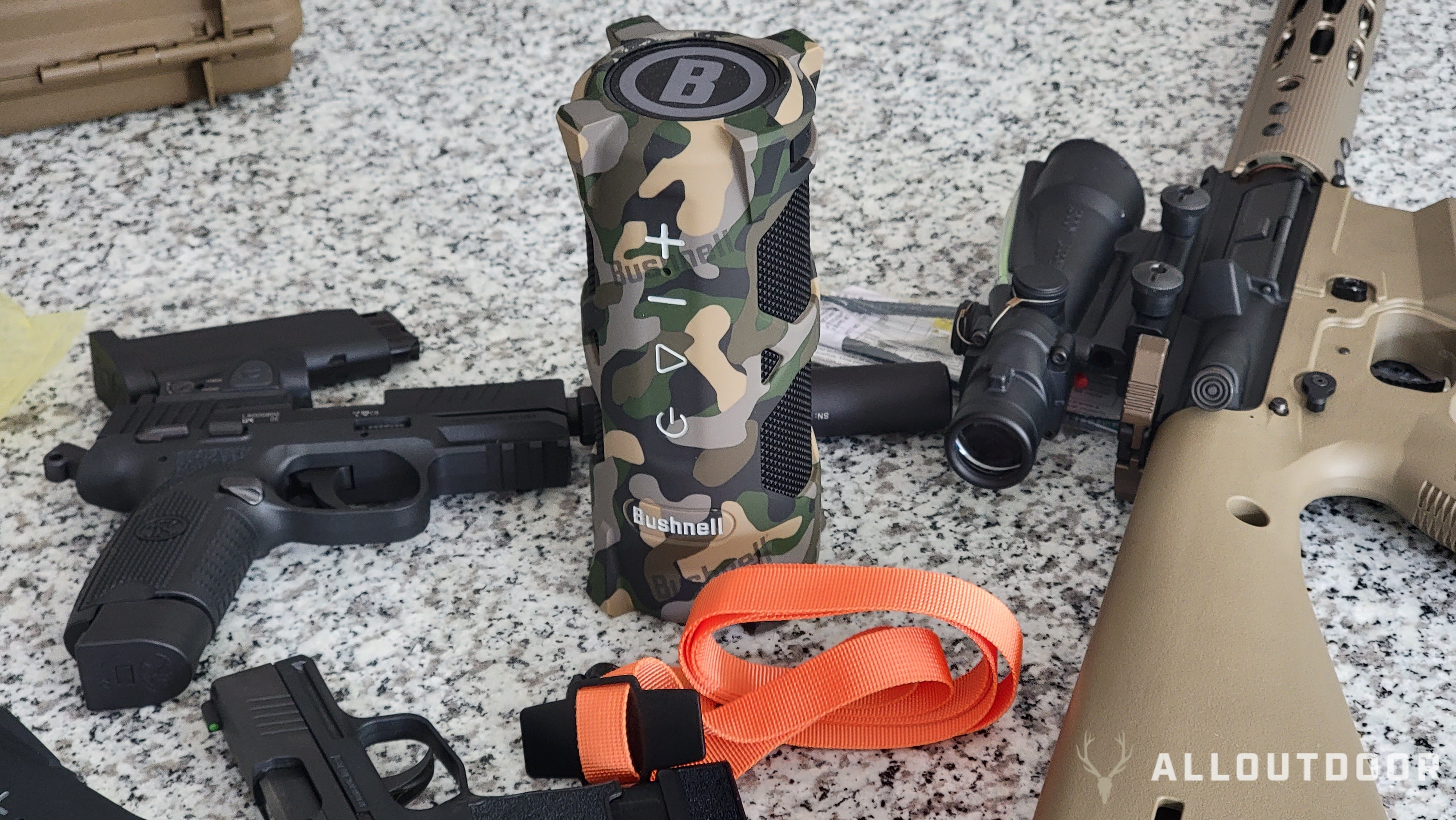 AO Review: The Bushnell Outdoorsman Bluetooth Speaker
Specifications: Bushnell Outdoorsman
Color Camo / Black
Output Power 10 W
USB Output Power 2.1A
Battery 5200 Mah 7.2V
Play Time 10 Hours
Charge Time 3 Hours
Charge Port Micro USB
Height (in.) 7.62″
Weight (g) 723 g
Waterproof Rating IPX6
Max SPL (1M Distance) (Avg. 20 Hz to 20 KHz) = 85dB
Attachment Point 1/4-20 Thread (includes D-Ring Loop)
Country of Origin China
Warranty 1 Year Limited
MSRP: $119.99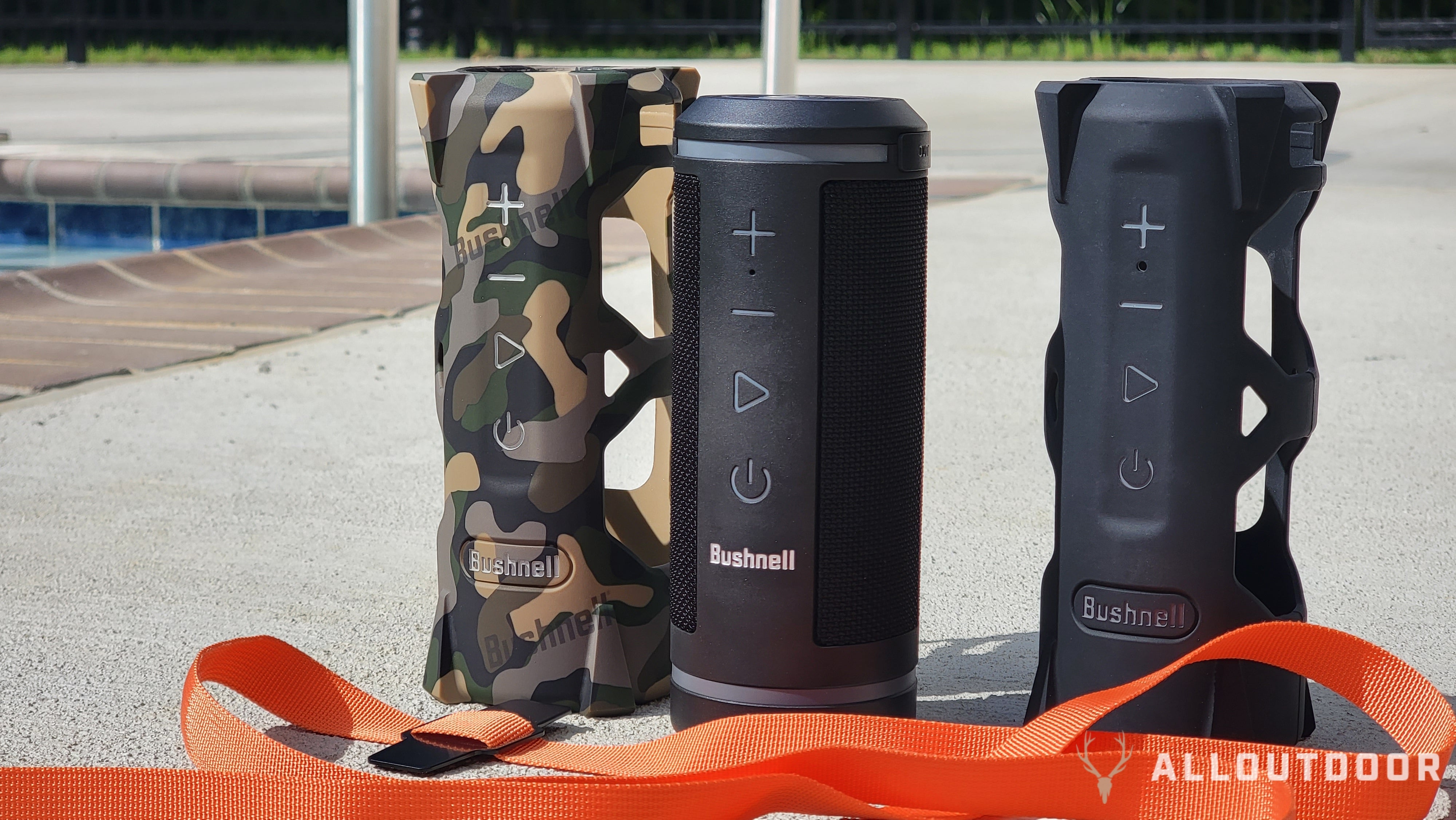 The speaker comes standard with a BITE strap, USB charging cable, manual, and two protective EXO Armor rubberized exoskeletons. Since this is primarily oriented towards people who are going outside and doing things I opted to place one of them on right away when I received the Outdoorsman. The rubberized exoskeletons are just pliable enough to get installed over the speaker and best of all they don't limit any of the function of the speaker – all the buttons, charging ports, BITE strap, and tripod mounting abilities remain unhindered with or without the exoskeleton.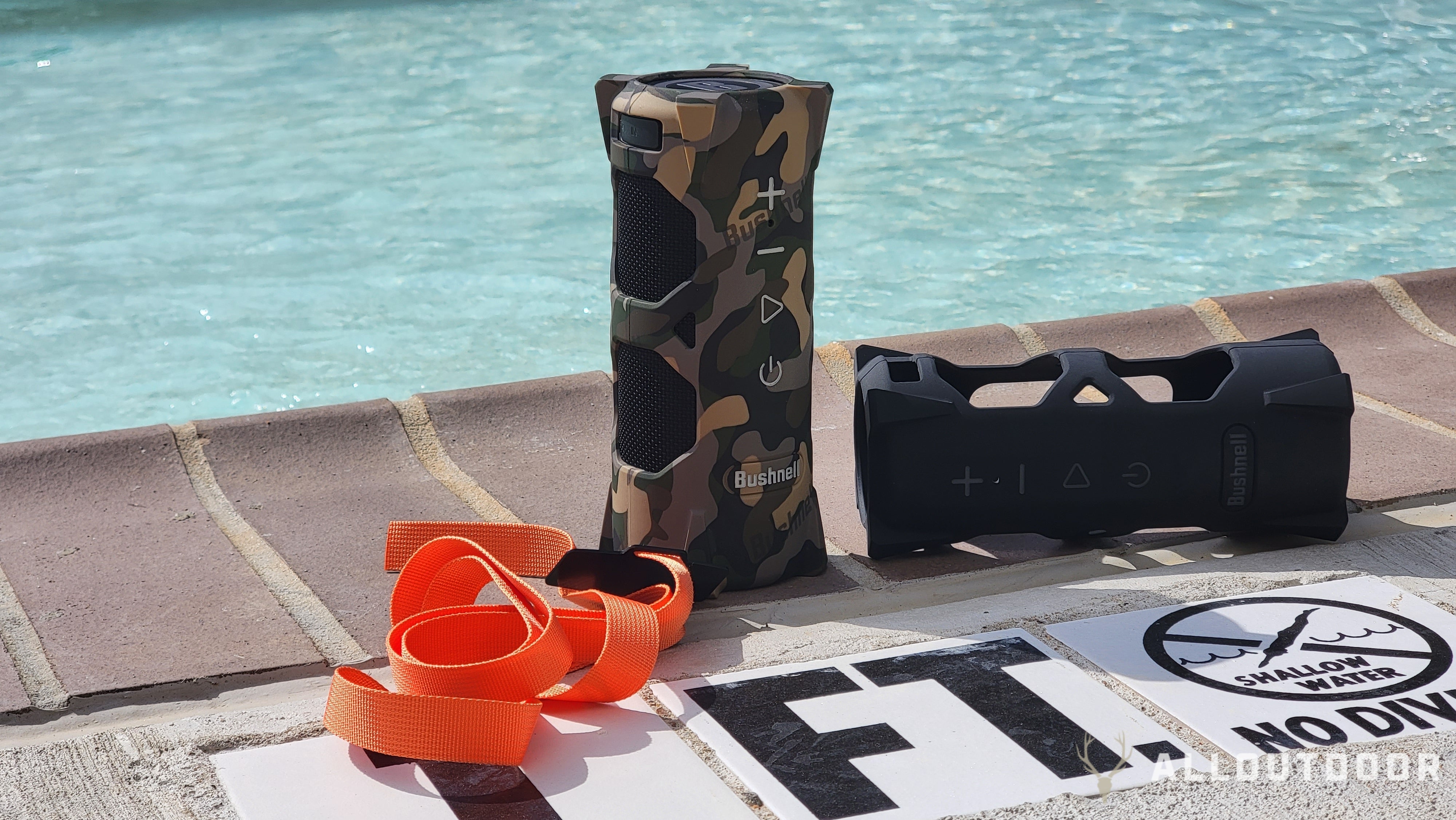 One cool feature I wasn't able to try out for the sake of cost was the Outdoorsman's ability to act as a true wireless stereo speaker system. All that is needed to do this is to sync your media playing device with two Outdoorsman units and you've instantly got a truly wireless speaker system that is sure to enhance the listening experience.
Setup and Impressions
Setting up the Outdoorsman is quite simple and doesn't require any additional apps or software to run. Simply charge the unit, power it on, and connect to it using your mobile device's settings and you're good to go. The sound quality of the BITE is great and provides a decent amount of bass. The addition of the exoskeleton means that despite the device being on its loudest settings you won't get any annoying rattling and the BITE strap is also strong enough to prevent this from happening when you've got it mounted to a tree or a pole.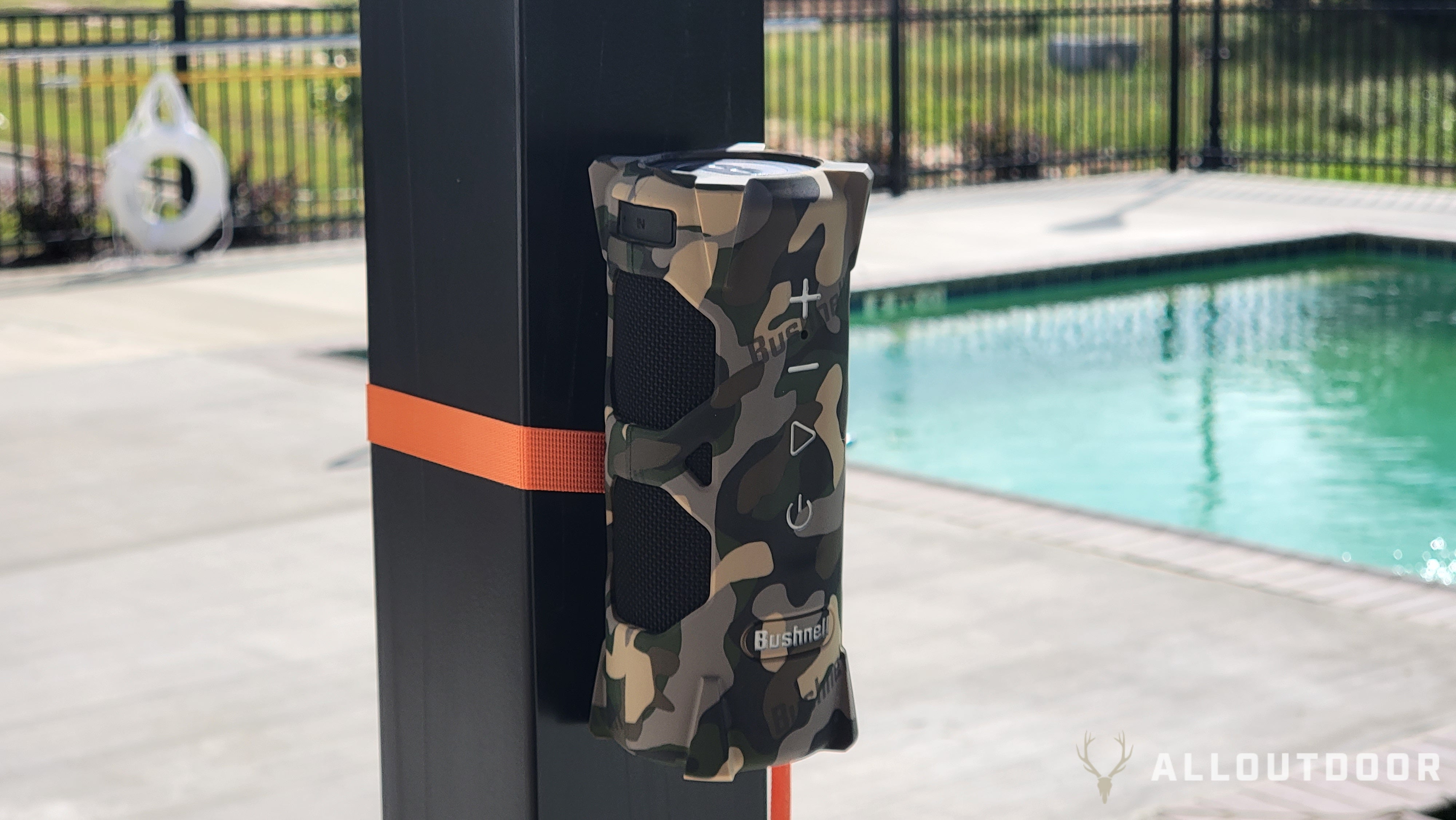 I was particularly fond of the camouflage pattern that Bushnell added to one of the EXO Armor sleeves and I stuck with this one throughout all of my testings. The rubberized armor does add a significant amount of safety to the overall platform as it protects the mesh-sided speaker ports and also adds a bit of impact and water resistance to the whole package. Best of all the EXO Armor makes standing the Outdoorsman up on either of its ends a breeze. The Outdoorsman really makes itself at home whether it's sitting on the bed of your truck at the range or by the poolside setting the mood for you and your guests.
Where the Bushnell Outdoorsman really starts to set itself apart from the rest of the crowd is its BITE strap which makes it insanely portable. The bite strap is made from a durable hi-vis orange strap complete with a clamping buckle. The bite strap can shrink down very small to fit on the thinnest trees or even on the inside of your ATV's frame without issue and it can also expand to fit around an 18″ diameter tree or pole. This means you can take your speaker to your latest BBQ or get together out in the field without having to take up valuable space on tables.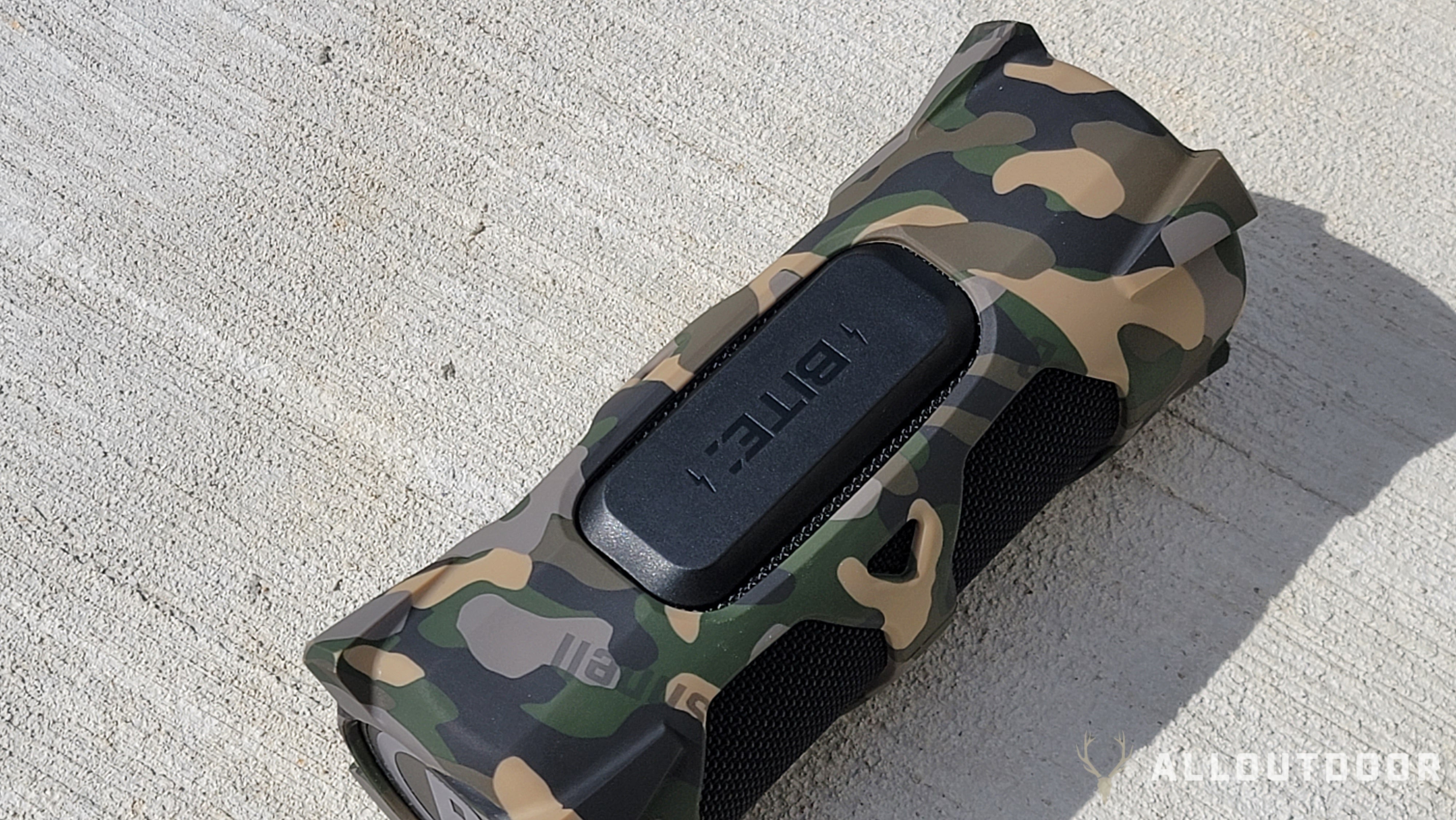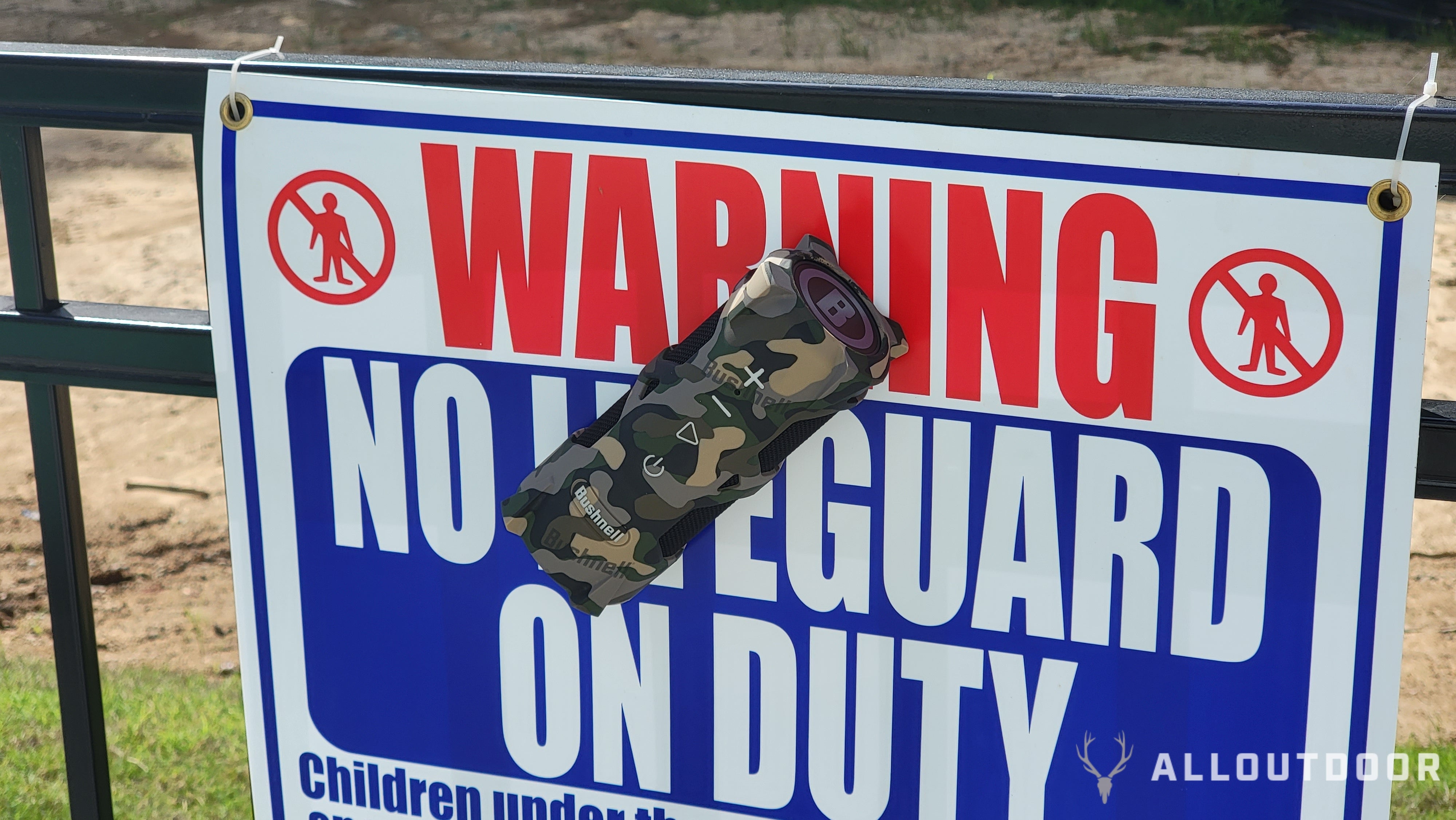 The BITE strap and magnet proved to be very strong and the magnet proved capable of giving the unit a secure hold even through other objects like the plastic pool sign seen above. I didn't have a tripod to attach the Outdoorsman to and I didn't bother to use the D-Ring attachment (seen below) but it's clear from the sheer amount of mounting features that you have available to you that Bushnell really wanted to make this the king of portable Bluetooth Speakers.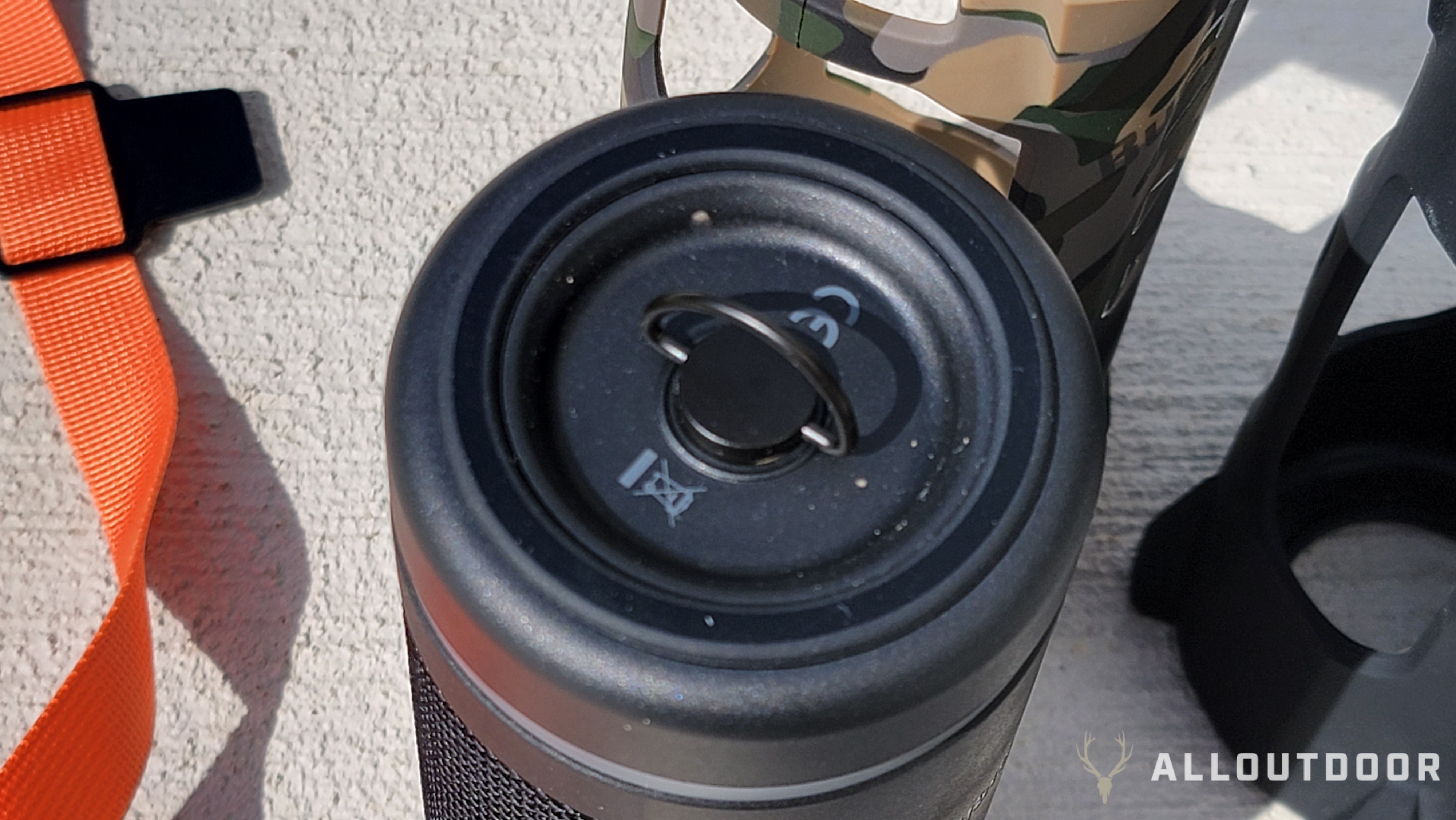 Other Features
Another cool feature I noticed with the Outdoorsman was its charging ports. I'm not a huge fan of keeping multiple types of charging cables around and this is honestly the only negative thing I have to say about the Outdoorsman – it still uses a micro-USB cable to charge it. When nearly all devices are currently using either Apple Lightning or USB type-C charging ports it's very annoying to have to keep a special cable around just to charge the BITE.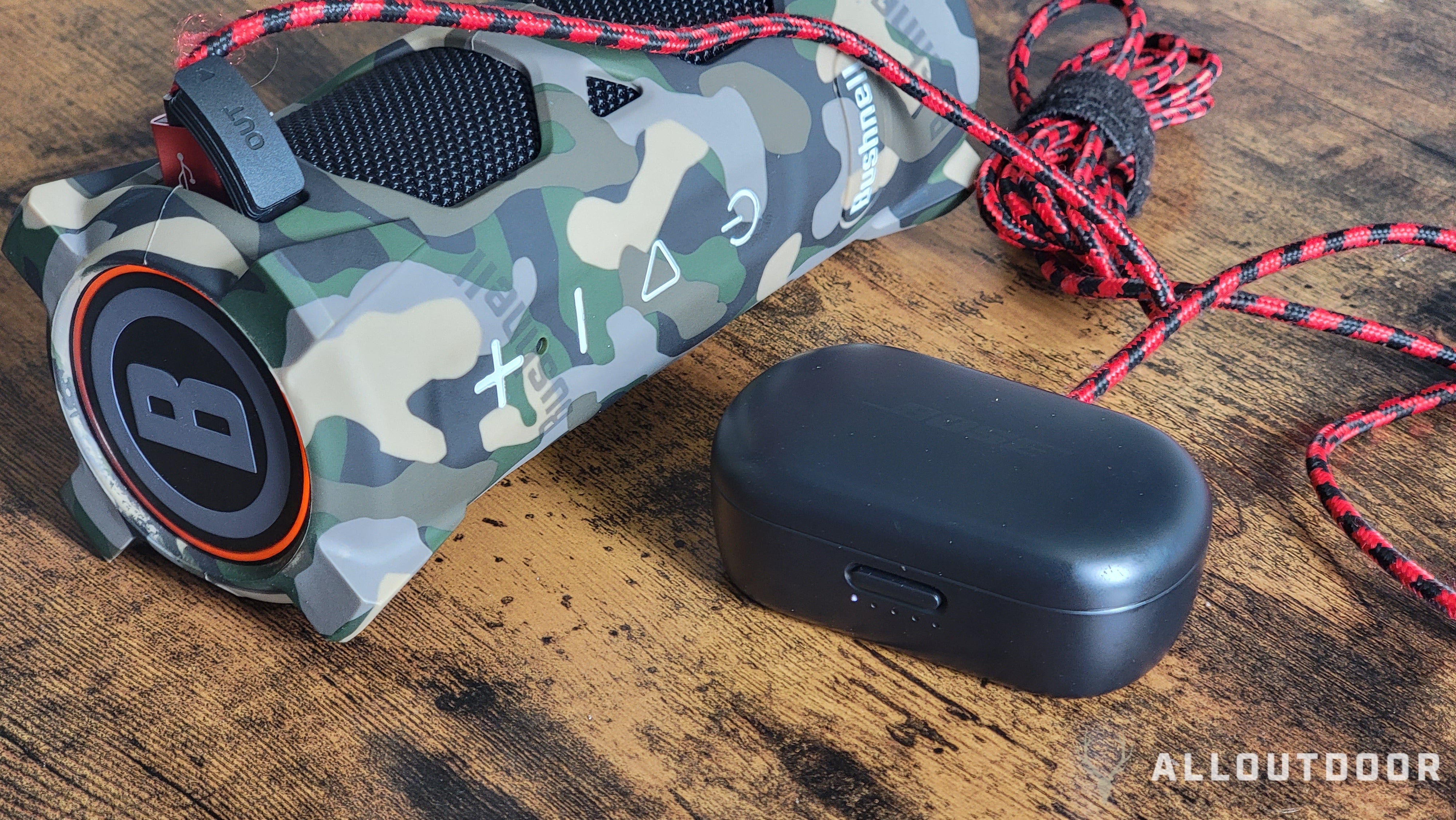 That being said, the onboard 5,200 mAH battery is easy enough to charge up and will last you about 10 hours, and even features a low battery indicator. If it's getting late in the night and you or your friends need to top off their cell phone, no worries – the Outdoorsman features a well-lit USB output that can charge a phone or tablet but will ultimately reduce the playtime that you've got on tap. Either way, I like the feature and I think the addition of lighting around the charging ports will prevent any frustration trying to connect it in the dark.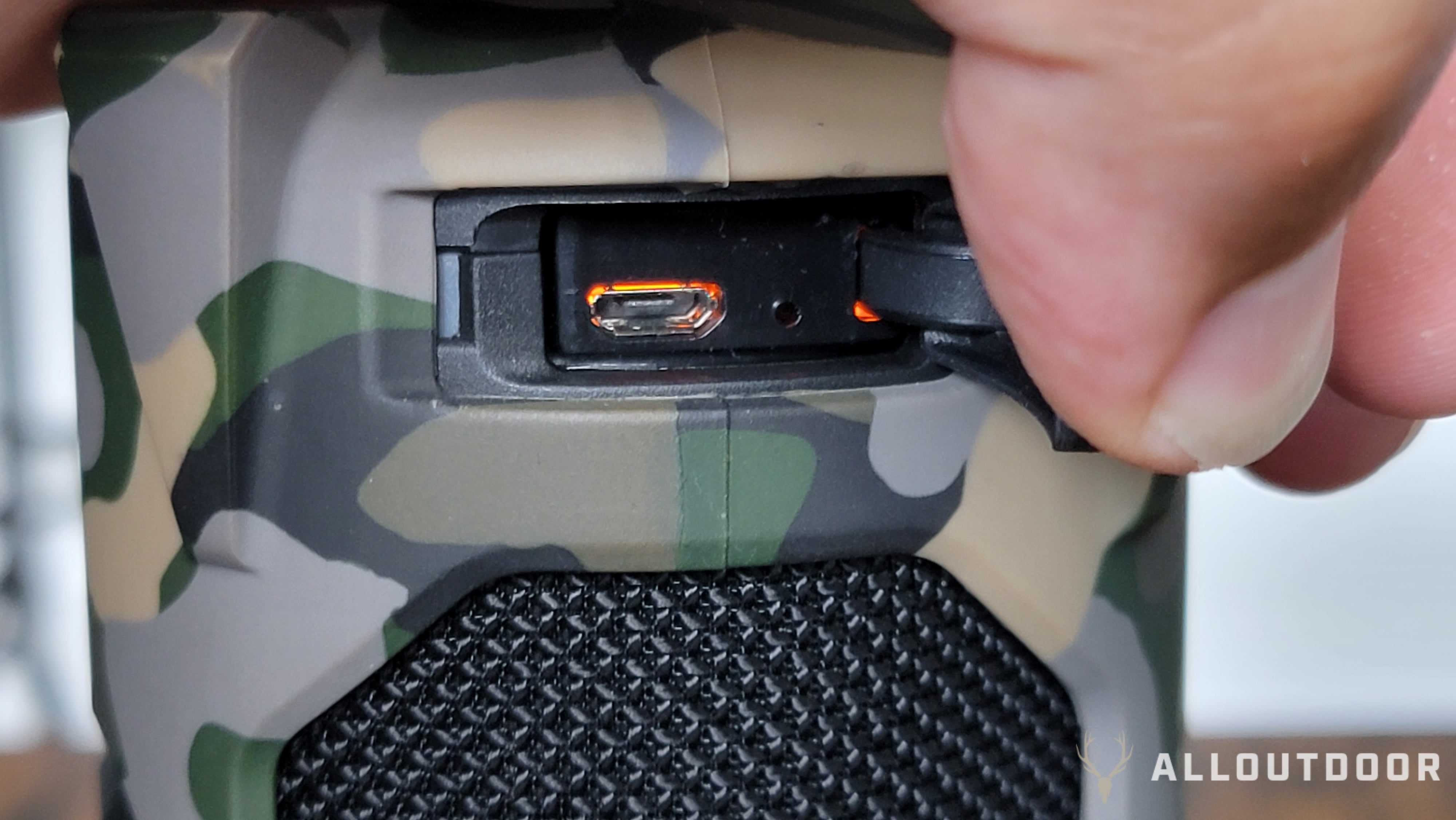 Final Thoughts
I'm not a huge fan of electronic gadgets including Bluetooth speakers. However, the Outdoorsman has changed my mind a bit and it has since found itself a permanent home in my gear whenever I'm heading somewhere I might want to listen to music. Aside from my one major gripe about the charging port, I can't find any flaws with the Bushnell Outdoorsman – it just works and it delivers quality sound and has the legs to accompany you to the beach, poolside, hunting lodge, or deer camp without being as bulky or inconvenient as a larger stereo. All-in-all a great piece of tech for your next outdoor adventure if you're looking to play some sweet summer jams.