AllOutdoor Review: AXIL TRACKR BLU Electronic Earmuffs
Luke Cuenco 10.05.21

Getting your bell rung once is enough to tell any sane human being that you should really have a good pair of ear protection on any time you're around guns. The folks over at AXIL recently sent out a couple of pairs of their Bluetooth-enabled electronic ear protection for the TFB and AllOutdoor crew to test out. Today, I'll be going through my experiences with the AXIL TRACKR BLU Earmuffs. To test this ear protection we used them over multiple days and fired a variety of firearms all the way from suppressed pistols up to a bolt-action .50 BMG rifle.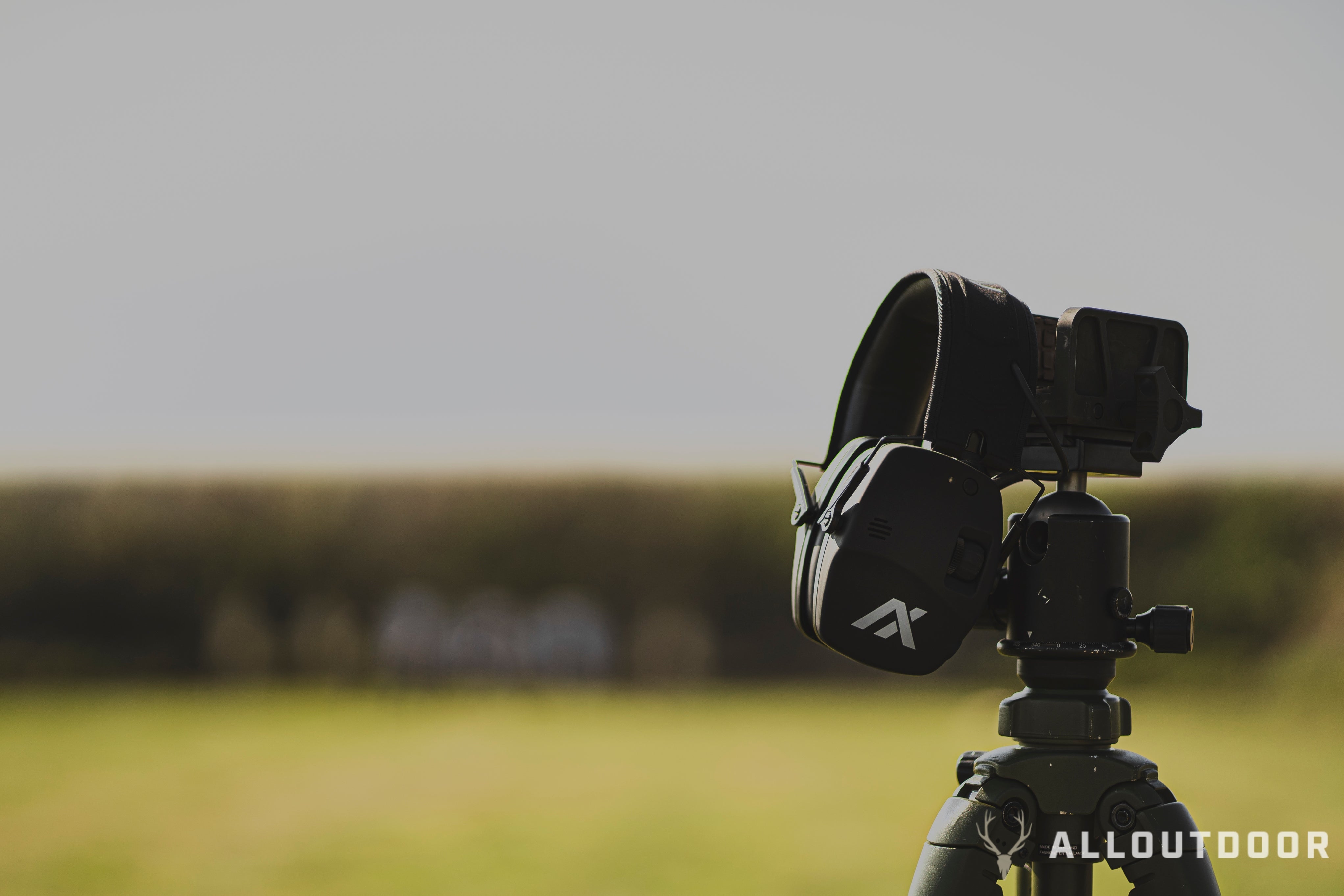 AllOutdoor Review: AXIL TRACKR BLU Electronic Earmuffs
Overview/Specs
I'm not really a huge fan of earmuffs for ear protection, but I have good reasons to not be. First of all, I live in the south where the temperature and humidity will make you wish you were living in the arctic; however, earmuffs have their place. When you're at an indoor range or out shooting larger caliber rifles then you'll probably be glad you have them in your range bag. The AXIL TRAKR BLU Earmuffs are nearly identical in size and weight to the AXIL TRACKR Passive and Electronic modules, but the BLUs as you could guess make use of Bluetooth technology which adds some extra capability to the platform.
Specifications

Compact Design Gives you the Best Comfort in a Small Sized Ear Muff
Comfortable Headband with Metal Wire Frame
Dual Purpose Technology Lets you Enhance and Protect your Hearing at the Same Time, and Enjoy 5.0 Bluetooth Audio Altogether
Single Volume Control
Audio Input Jack
External Battery Door
Two (2) AAA Batteries Included
What isn't mentioned above is that you can actually control the amount of sound and Bluetooth input coming from the speakers meaning you can dial in how much outside noise you want to hear as well as how much Bluetooth audio you'd like to hear without worrying about the active noise cancellation kicking in to protect your hearing. The active noise cancellation features a 0.02 second reaction time meaning there is very little speaker exposure you experience at the ear when firing a gun, but this also means you won't have words being cut off mid conversation.
Field Experience
I found the AXIL TRACKR BLU earpro to fit quite nicely with a great range of adjustments for fitting over hats and other gear. The soft, matte black earcups were also very comfortable to wear all day long against safety glasses without issue and they also weren't overly sweaty. My one complaint about the AXIL TRAKR BLU is that they state that they reduce wind noise; however, I found that even a relatively light breeze produced a lot of noise picked up by the microphones and ended up interfering with any Bluetooth audio being piped in from my phone.
I also noticed that when the volume was dialed up to max it seemed like I was getting a lot of crackling which means to me that the sound produced from the internal speakers is exceeding the maximum output the speakers were designed for. I'm no audio expert, but from the research I've done this usually means that if you keep pumping out audio on that volume setting you can not only damage your hearing, but you'll eventually burn out the speakers. My suggestion here would be for AXIL to limit the audio output or improve the speakers to prevent this from happening.
Aside from those minor gripes, I found that the earmuffs provided adequate hearing protection even when being subjected to close-range fire from a .50 BMG rifle. I would still recommend doubling up with earplugs if you do this on a regular basis, but being behind the rifle or nearby it when it was going off didn't seem to be all that uncomfortable with the AXIL TRACKR BLUs. With the added Bluetooth capabilities, I think the $159.99 price point is right in line with other similar models of Bluetooth-enabled ear protection.
Final Thoughts
All in all, I found the AXIL TRACKR BLU earmuffs to be more than adequate and capable for standard range use. Although, earmuffs tend to get in the way of getting a good cheek weld on a rifle, the AXIL TRACKR BLUs are slim enough to not really make an impact all while being supremely capable of dialing in the exact audio output you want and from what sources. Truth be told I didn't get a chance to try out any phone calls with the TRACKR BLU earmuffs, but I would expect that the audio quality is somewhere in-between an actual modern Bluetooth Headset and a first-generation Bluetooth microphone.
So what's the best case use for these earmuffs? I think these belong in a range bag no matter what kind of shooting you're doing. While they wouldn't be my first option if I had earbuds available, I would definitely and happily use them if I was firing rifles indoors or out in cold weather. The price may be a bit high to get those added features, but if you don't need them there is always the option to bump one notch down to the standard electronic version for a bit of a price cut. Thanks as always for reading AllOutdoor and let us know if you've had any experiences with the AXIL TRACKR BLUs and what you think of them!