Hatpoint Target Stands: An Ideal Solution for Range Time
Eve Flanigan 10.06.21

Lately I've been testing a range product that's been around a while, but was new to me. It's a polymer-base target stand by the name of Hatpoint. I'm not sure why it's called that, but the experience of using it has been positive overall. The stand arrived in a sturdy, rectangular box that's boldly emblazoned with the Hatpoint logo. Inside were three major polymer components and hardware including an Allen wrench to put the stand together, Ikea-style. Putting six bolt/nut combos together was very simple even for my Ikea-level construction abilities. In about 10 minutes from opening the box, I had the stand assembled. So, what's in a name? Hatpoint developer and owner John Schwend answered:
"It's a favorite spot of ours, going into the Hells Canyon on the Oregon-Idaho border with the Snake river being in-between. We take horses and mules at a trailhead close to a fire outlook called HatPoint. Some of my best reflections of life and product ideas hatch for me there."
Schwend's H-shaped product has six sockets that rise from the base, three per side. These accept 1×2 inch furring strips that serve as the upright support of the cardboard or other target backing material. The company also offers non-splintering polymer uprights. The intelligent spacing of the sockets that hold the uprights creates massive flexibility in target widths just by changing the sockets into which the strips are set. I've used a 24.5-inch standard law enforcement qualification target, an 18-inch chunk of cardboard for an NRA B-8 center, and even an eight-inch wide cardboard with a six-inch Lyman bullseye sticker – a setup that leaves room for many targets on the same stand.
Unlike the sockets on a similar stand of steel construction, much like those seen at USPSA matches, the Hatpoint sockets seem to hug the 1x2s tightly and cover more of them for vertical stability. The strongest wind experienced with the Hatpoint so far has been about 15 mph. It was necessary to weight the target to keep it down once cardboard was put up. Even small pieces of target backing create wind resistance, a phenomenon that's nothing new to range rats of the southwest. Two optional steel spike nails were included with my sample target. There are five holes molded into the Hatpoint in which to place spikes. These alone in soft, dry dirt were not enough to hold the target down; a sandbag did that trick. I do feel that staking the Hatpoint with nails reduced the flexion that happened where the centerpiece attaches to the legs. While I tightened the assembly screws down hard, they probably bear checking after a few windy-day uses just like holster retention screws or optic-mounting hardware should be checked on the regular.
The Hatpoint has been used for a licensure qualification exercise, and a friendly competition with my business partner with the assistance of a Real Gun Games target. I used it for some accuracy practice with a Lyman six-inch stick-on target, and clipped an IPSC standard silhouette to strips set in the middle sockets where it fit perfectly for more plinking. The stand worked very well and despite a few gusts that really flexed the larger targets, the uprights never loosened.
This stand is next-level portable and even with two furring strips only weighs about the same as a nice bunch of bananas (yeah, that's a weird metaphor, but you pictured the weight just right, didn't you?). As an instructor who travels to give classes or run qualifications, the Hatpoint is a boon for saving trouble, bulk, and fuel. Most locations will have things that can be used as improvised weights, but target stands and uprights are always something I must pack. This is a fatigue-saver not only thanks to its light weight and ease of carry, but there's no clanging around or worrying that the stand will scratch paint or upholstery.
Along with people like me who can embrace the Hatpoint as a traveling range asset, anyone who must carry their target gear to the range or local shooting pit will benefit from its portability. With a handful of these, it would be a snap to change up tactical scenarios by simply moving the stands around or changing widths, conserving important energy for training and range monitoring.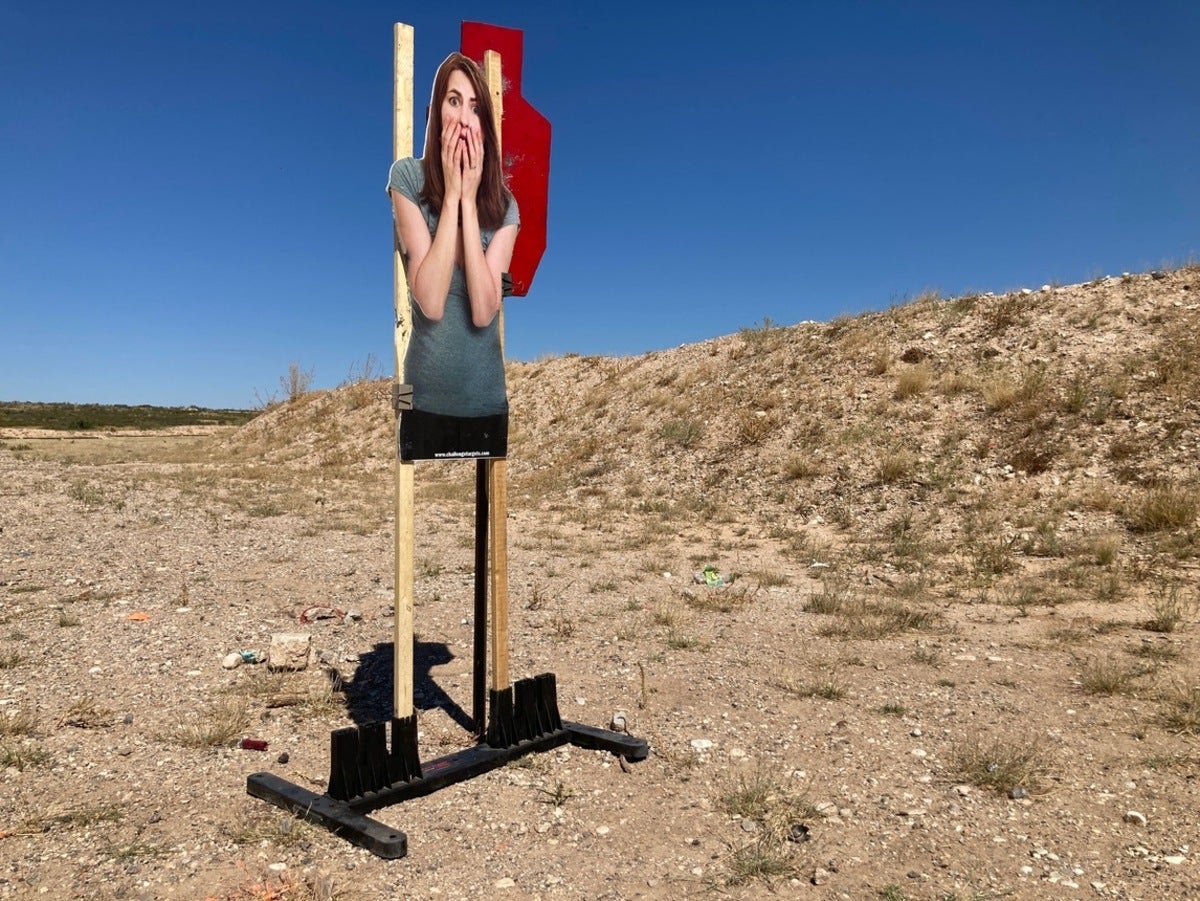 Today, when gun ownership has massively increased among people who are less physically capable than most due to age, size, or other factors, the Hatpoint provides access to professional-quality target presentation without the hassle of carrying bulky components or requiring another set of hands to set up for practice sessions. Some statistics indicate that while minority and female gun owners are the largest-growing segment of new gun buyers that growth in ownership demographics doesn't translate to range participation. The ease of using the Hatpoint removes what for some may be a physical barrier to backing up ownership with practice. After all, "keeping" a gun for protection is often only as effective as one's "bearing" habits.
The Hatpoint will accommodate backing pieces officially ranging from six to 24 inches, and easily held my 24.5-inch backer. Its outside dimensions are 20×28 inches when assembled. It is an ideal solution for many situations and ranges that need portable target stands. I would say the only limitation is that the flexion of the frame under wind stress limits the most extreme precision practice since wind does create some motion in the target. That said, few are the days I've not sighted in hunting rifles when target movement wasn't a factor, and I've never experienced a rifle being "off" for the hunt as a result.
With a base price of $43.99, Hatpoints make an economical choice for both the recreational and professional shooter. Bulk discounts with a modest minimum of eight stands, are available for agency use or other programs. The company also offers corrugated plastic target backers, which are moisture-resistant and more attractive than cardboard. These target stands would be a great gift for your favorite range-goer, including yourself, and would make an asset for any agency or program that needs portable targets that anyone on the staff team can carry.