AllOutdoor Review: Rock Island Armory STK 100 9mm
Eve Flanigan 10.12.21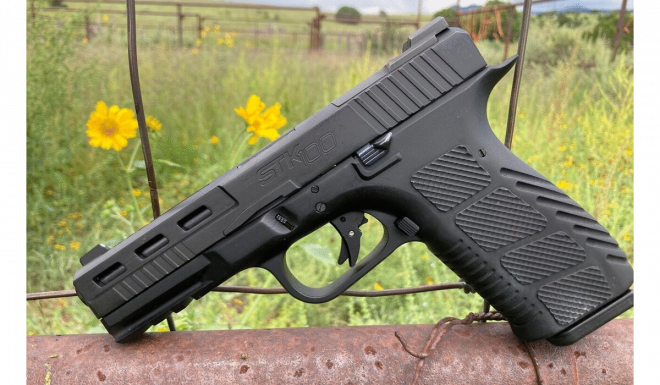 If you've been keeping tabs on new handgun releases since the last half of 2020 you know that full-size, competition-oriented 9mm handguns are a design that most major gun makers have rolled out. Most of these guns are simply longer-barreled versions of existing models, most with funnel-like extensions added to the standard magazine well. Many have ported slides and/or slides that will accept an optic. Rock Island Armory (RIA), known best for quality 1911-style handguns, showed up to the party in a slightly different fashion. Their new striker-fired pistol, the STK 100, is a stand-alone model, thus far. RIA has turned out a very respectable gun in this diversion from business as usual. I know, because I've had one in hand for over a month now, logging a couple hundred rounds through it, and wishing ammo weren't so dear right now so I could shoot it more.
This pistol is impressive out of the box. A long slide with significant porting adds a sporting touch to what otherwise might look a tad dated, but RIA pulled off a look that, at least to this shooter, brings words like "fast" and maybe even "steampunk" to mind at first glance.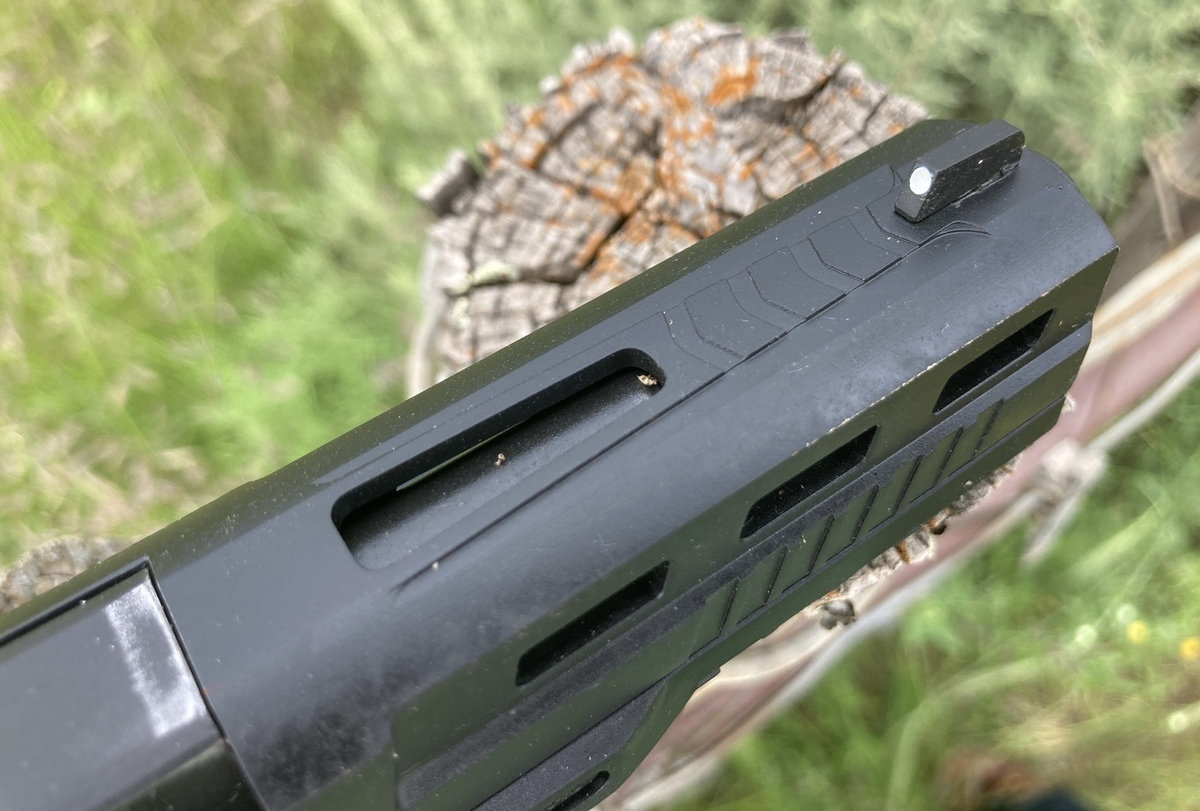 Picking up the STK 100, I was struck by its weight, until I fired it. That's not just commentary on being a relatively small adult. My 6-foot-plus, north of 220-pounds range partner commented likewise. Unlike typical striker guns, this one doesn't have a polymer lower. The frame is aluminum. At 1.5 pounds (24 ounces) unloaded, it weighs just two ounces more than my familiar Glock 17 according to the spec charts, but the difference is noticeable. That heft is a gift when firing; the way it absorbs recoil plays a part in the STK 100's easy-shooting design. The other half of that equation is the ported slide. It's particularly effective at recoil reduction.
There are three ports on the left and right, and a sizable one on top. RIA's engineering is superb in this regard, so much so that I've been a bit surprised the STK 100 hasn't gained wider popularity by now. This gun handles remarkably well. Follow-up shots are a breeze. The slide is pre-milled with a plate covering an optic mounting port, as is the industry trend. The plate has an integral plain rear sight with a non-glare, grooved surface facing the operator. Users will have to sacrifice the rear sight when installing a red dot unless using an electronic sight that has its own substitute, and then the appropriate height in to the STK 100's front sight will be of concern.
Among the STK's other remarkable features are its grip. It has a straighter, 1911-inspired angle and will surely please the substantial portion of people who prefer that grip angle. It has unusually deep serrations on the rear of the grip, patches of cross-hatched texturing on the sides, and shallow grooves on front. While there's always someone who wants a veritable cheese grater for a grip, this one offers plenty of traction on my sunscreen-slathered hands. If there's any downside to the aluminum frame, there's no stippling option inherent with it; any additional traction will have to be associated with accessories and not permanent change to the grip.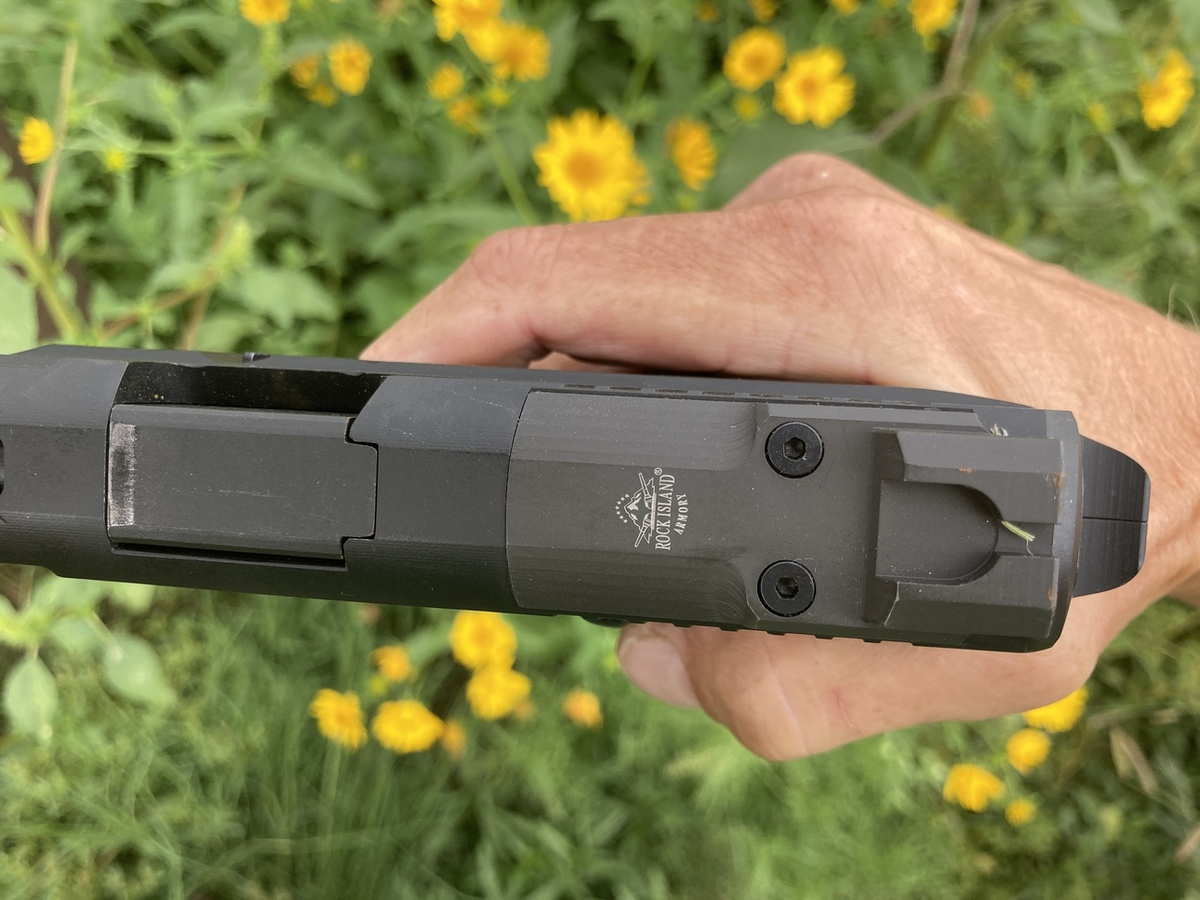 The curved trigger of the STK 100 has a safety block familiar to users of many other striker-fired pistols. It resides inside a flat, curved trigger guard with an old-school look. The performance of this trigger cannot be faulted by this reviewer. It has relatively short slack or take-up, a crisp break, and a short, palpable reset – completely appropriate for competition and precise shooting.
The first shot I took from this gun was, for fun, a 36″ x 24″ steel cutout at 175 yards, in non-windy conditions. Everything is as it should be in terms of barrel, trigger, and sights – otherwise that round wouldn't have made a nice solid hit with the brand-new gun. Insofar as I can tell, the STK 100 is a reliable performer, too. I would not hesitate to keep it on hand for self-protection or as a primary range gun.
During its stay with me, the gun ran Full Metal Jacket (FMJ) of 115 and 124 grain varieties made by several brands including Armscor, Federal, Hornady, Sig Sauer, and whatever other random handfuls of factory-new ammo were passed around on range days. It's never bobbled in the performance department, yet. Its magazines (two included) hold 18 rounds each. They drop free from the magazine well without assistance, empty or loaded. It's obvious the magazines are Glock-inspired; so much so that I decided to load some factory mags from my Gen 4 Glock 17 into the STK 100. To my delight, they worked, again and again. While finding spare mags can be a challenge with newly released guns, RIA got into problem prevention in a good way with magazines.
As is the case with many new semi-auto pistols, a downside of the STK 100 is holster availability. A custom holster is necessary for competition, duty, or serious training. Maybe someday there will be a good selection of STK 100 holsters, but right now there isn't.
The Rock Island Armory STK 100 is not going to set the highly specialized race gun world on fire. I believe it is capable of delivering great satisfaction as a target and home defense gun. It offers excellent and easy accuracy out of the box combined with very tame recoil that in turn minimizes the fatigue and wrist pain that some people unfortunately experience after extended shooting sessions. For those who are reluctant to step away from metal-framed guns, but who also appreciate the reliable, simple striker platform, it erases their last excuse not to make the change.
These are not easy guns to find as of this writing, but with a little research they can be located. Expect to pay just north of $600 after all fees to get the STK 100 in-hand.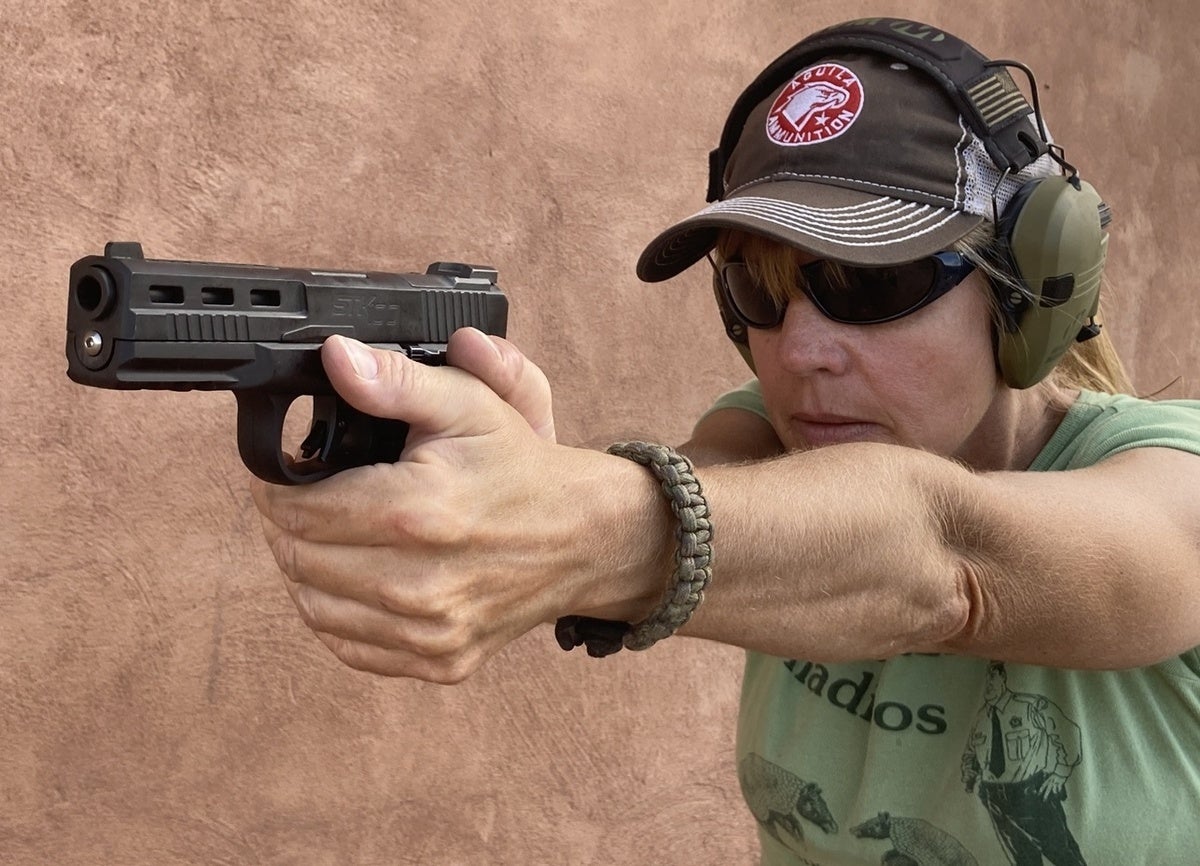 Specifications: Rock Island Armory STK 100
Caliber: 9mm
Capacity: 17 Rounds with Glock G17 compatible magazines (at least pre-Gen 5)
Barrel: 4.5″
Overall Length, Width, and Height:  7.01″ | 1.25″ | 5.16″
Weight: 1.8 Pounds Unloaded
Sights: Tenon Cut Front Sight (with retaining screw) and Fixed, Integrated Rear Sight on Optic Cover Plate
Grips: Aluminum (integrated on frame)
Finish: Black anodized
Trigger Pull: 3.0 – 7.0 Pounds