Need an AR15 Brass Catcher That Works? Meet the Brass Goat
Eve Flanigan 10.19.21

Policing brass is a chore few relish. Rifle brass on the ground is essentially litter, and once on the ground, brass requires extra cleaning before reloading. Those problems of inconvenience and environmental responsibility are solved, at least for AR-15 owners, by a newly patented product called the Brass Goat. At the Outdoor News America Gun Writers' conference in Texas this week, I had the opportunity to meet the developers of the Brass Goat. It's a device that clamps onto the magazine well of AR-platform guns and catches ejected cases. It'll hold a full 30-round mag-worth of brass before needing to be emptied.
The Brass Goat is designed to work only with AR-15 – not AR-10 rifles – and will work with guns running the following cartridges through Mil-Spec lowers:
.17 Remington
.204 Ruger
.22 Nosler
223 Remington/5.56mm NATO
.224 Valkyrie
6.5 Grendel
6.8 SPC
300 Blackout
7.62 X 39mm
350 Legend
.35 Viper
450 Bushmaster
.458 SOCOM
.50 Beowulf
The makers advise that the following are not compatible with the Brass Goat: AR-10 lower receivers (Ex: .308 Winchester/6.5 Creedmoor), left-side ejection, side-charging upper receivers, and extended take-down pins. These features are compatible: right-hand ejection, extended magazine release, Magpul's BAD lever, and suppressors. Some .22 Long Rifle firearms are also compatible. A dedicated Brass Goat for the Smith and Wesson M&P 15-22 is currently available. Others may fit depending on lower receiver shape.
As a frequent tester of gadgets, I first looked upon this one with suspicion. How long would it take until the bulk of the hopper would interfere with ejection? How much hassle would it be to pull the hopper off and on? Previous experience with gadgetry interfering with operation has made me less than optimistic about new ways of doing things with a time-tested firearm.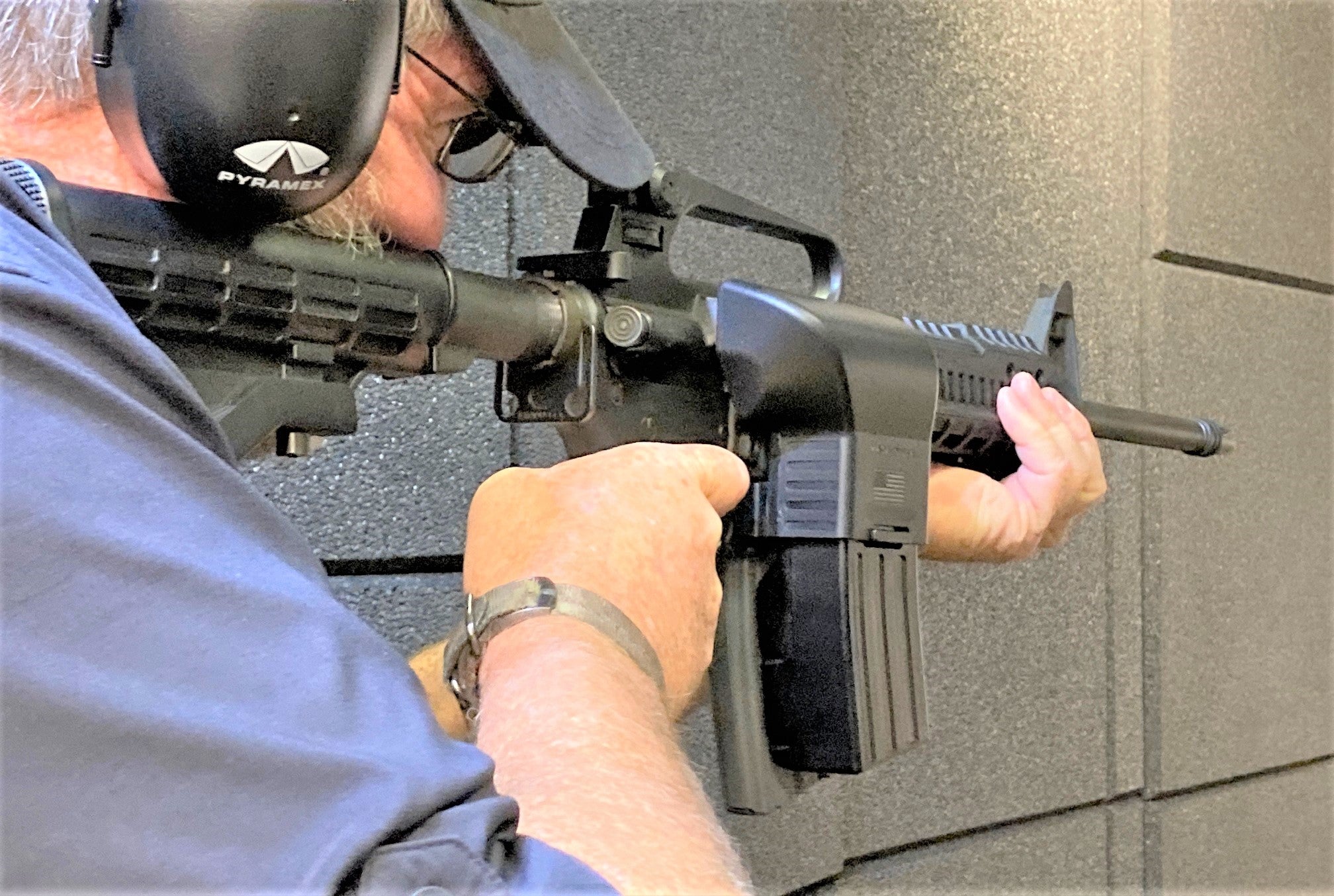 Pessimism gave way to pleasant surprise when I watched the Brass Goat work and tested it for myself. Firing in semi-auto mode, the hopper filled again and again as my fellow writers and I performed live fire tests of the device. Though we didn't have a full-auto gun available for testing at the conference, the Brass Goat owners showed a video of a hopper filling fast and being dumped easily for a repeat performance.
A good question came from another writer: why doesn't the Brass Goat have a clear hopper? The answer is, in short, "materials." The ABS polymer that forms the Brass Goat is super-tough, being resistant to cracks, crushing forces, and temperature extremes, but the clear form isn't suited for hard use – though it did work well enough to make a great video. Another writer correctly remarked that clear plastic wouldn't stay clear for long anyway, given the fact that exhaust and scratchy flying brass would soon cloud the view.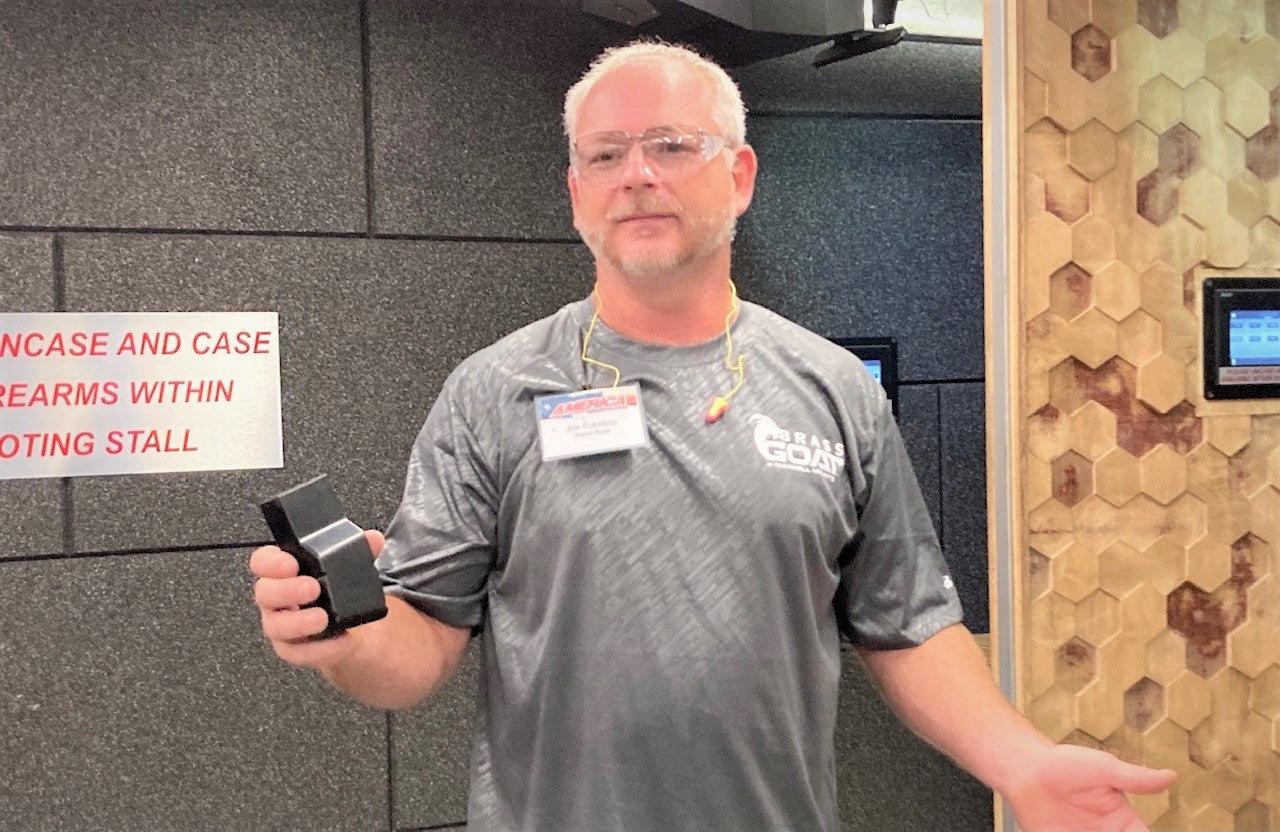 A patent on the Brass Goat will be in effect by the time you're reading this article. I'm pleased to say this is one of the few "catchy" gadgets that actually works. In addition, it's designed and made in the USA from American materials, and the company is family-owned and operated. Also, if you're in the market for more than Black, Flat Dark Earth (FDE), and Gray hopper attachments more colors are in the works. Having a Brass Goat is a good way to save major time on range and brass cleanup while supporting American ingenuity. Order the Brass Goat direct for $39.99 and extra brass hoppers are only $19.99. The company is also stocking through dealers (while searching for new ones) with plenty of product currently on hand.