XS Sights Announces New Sights for Concealed Carry Pistols
Eve Flanigan 10.21.21

XS Sights – based in Fort Worth, Texas – recently showed off its newest products at the 2021 Outdoor News America Gun Writers' Conference. Company spokesperson Addison Monroe provided writers a chance to not only see the new sights, for both rifles and handguns, but also to test them on the indoor range at Texas Gun Experience, located in Grapevine.
The new sight sets are made for the latest micro-compact from Taurus, the GX4. A couple are also made for the Springfield Armory Hellcat OSP (Optical Sight Pistol). The four models are line extensions of existing, proven models within the company's lineup. They are as follows:
DXT2 Big Dot
The biggest-in-industry front sight dot on this set is a yellow or orange tritium sight surrounded by a photo-luminescent ring which makes for a very visible, eye-attracting sight that doesn't require complete darkness to glow. A less obtrusive green Standard Dot model is also available. The rear sight is a shallow, black "V" blade with a tritium "I" post in the middle, inviting a "lollipop" sight picture that eliminates the possibility of rear/front sight confusion in dark conditions. The large front sight can visually cover small targets, making the sights appropriate for intuitive, fast-acquisition combat shooting. The DXT2 Big Dot is available for both the Taurus GX4 and Springfield Armory Hellcat OSP.
R3D
The R3D set has a more traditional three-dot sight picture with small tritium dots on the rear sight and a large orange or green front. The R3D is available for both the Taurus GX4 and Springfield Armory Hellcat OSP.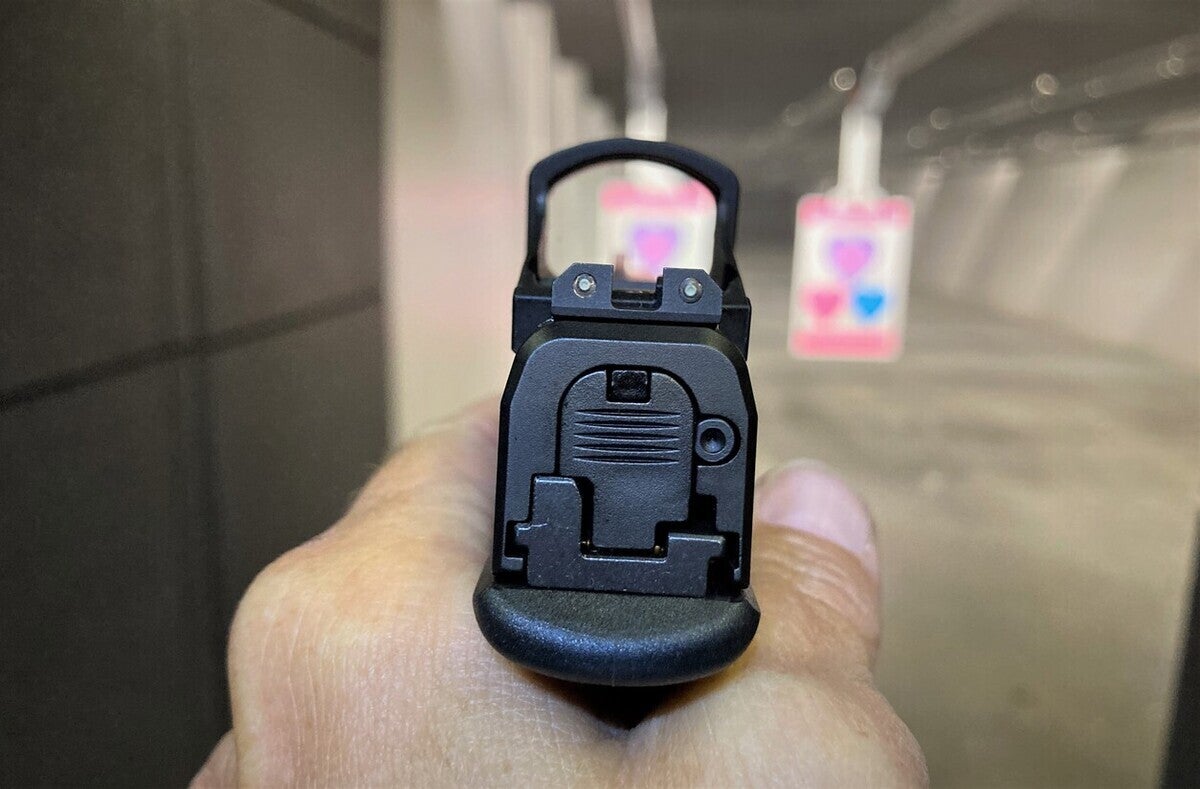 It is the R3D that I was able to test on a Hellcat OSP. The rear and front sights worked well in conjunction with the Shield red dot the gun also wore providing a perfect co-witness that provided a choice of using either the electronic or iron sights.
Minimalist
As the name implies, the Minimalist rear sight is plain black, serrated. The front sight has tritium and a photo-luminescent orange dot. It will fit only the Taurus GX4 at this time.
DXW2
These sights have a choice of tritium/photo-luminescent front sight in orange or yellow, or a standard dot in green. The rear sight has a single white, non-tritium stripe. The DXW2 set is especially suited for bright conditions and for far-sighted vision. It will fit only the Taurus GX4 at this time. All XS Sights carry a 30-day satisfaction guarantee and a 10-year warranty. The current retail prices range from $110 to $132.