Introducing the New Mini-Shell Compatible Mossberg 590s Lineup
Luke Cuenco 10.25.21

The Mossberg 590 has been one of the most popular shotguns for both home defense and tactical use and I'm also sure there are a handful of you out there who have used the popular shotgun to hunt with. Mossberg has just announced the introduction of the 590s pump-action shotgun which is set to provide the platform with even more versatility. The Mossberg 590s can now reliably cycle 1.75″ mini-shells without modification and this means that you can pack even more defensive or offensive capability into the same reliable package that you've come to love from the 590 platforms.
Introducing the New Mini-Shell Compatible Mossberg 590s Lineup
This adaptation of the Mossberg 590 eliminates the need to purchase an aftermarket adapter for use with mini shells. Instead, Mossberg has baked this compatibility right into the 590s with the introduction of an extended and revised elevator and shell guide. The Mossberg 590S will be sold for an MSRP of $605 with the only exception being the 20″ shotgun version which is listed at an MSRP of $708.
Mossberg Quality
Anodized Receiver & Small Parts
Dual Extractors & Twin Action Bars
Positive Steel-to-Steel Lockup
Anti-Jam Elevator
Smooth, Crips Trigger
Optimized to Cycle all modern 12GA rounds up to 3″
Ergonomic & Extremely pointable
Reliable, Long-lasting
Ambidextrous Top Tang Safety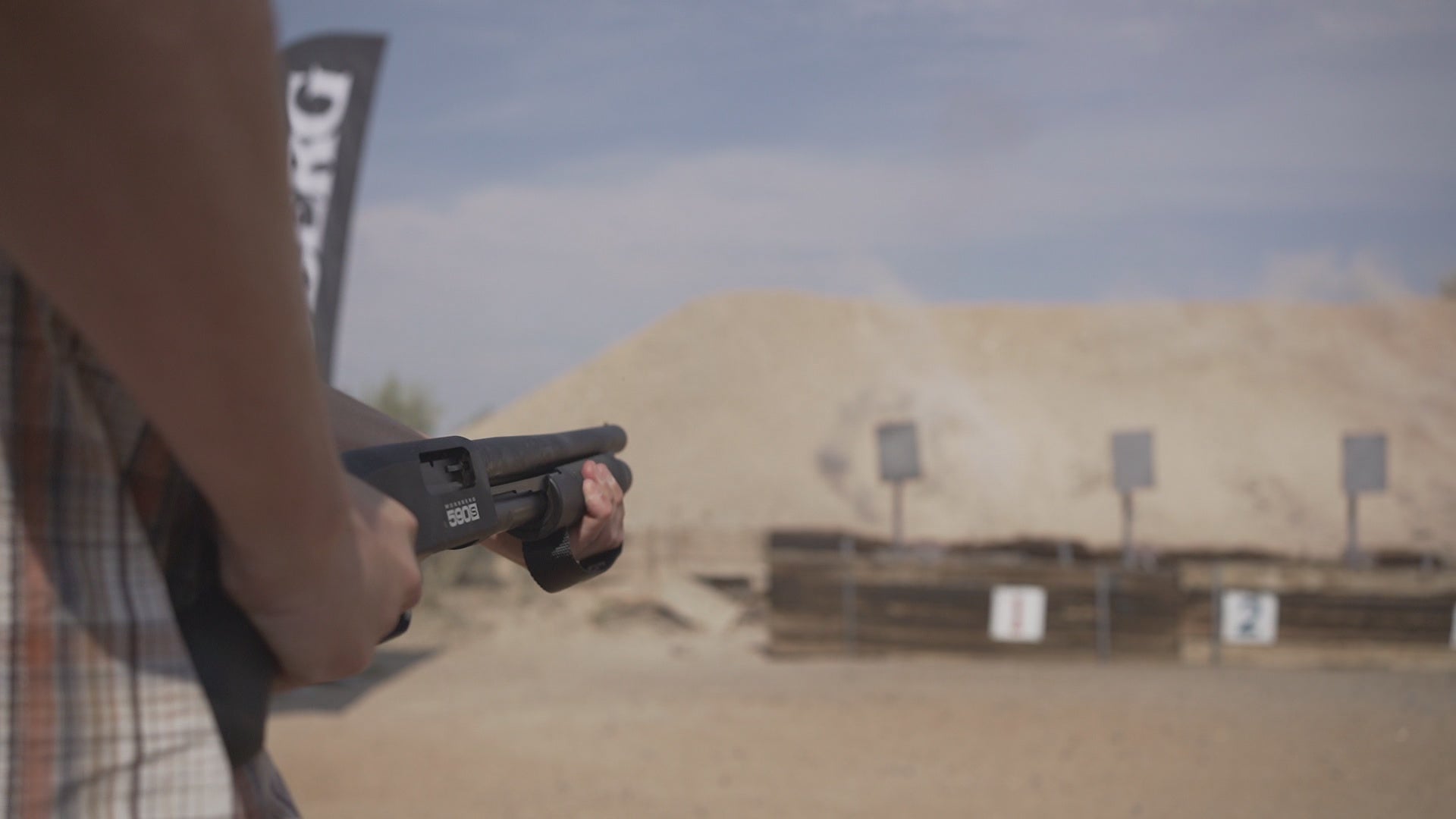 The new Mossberg 590s will come in four different configurations including a 20-inch, 18.5-inch, 14-inch Shockwave, and 18.5-inch shockwave configuration. Each of the new shotguns will feature the redesigned components that allow the 590s to reliably cycle the increasingly popular mini shells. The standard 20-inch barrel will be able to pack a whopping 13+1 mini shells and will also come standard with ghost ring sights. The two 18.5-inch variants (both the shockwave and standard shotgun) will be able to load up to 9 mini shells in the tube while the 14-inch version can pack 8 total mini shells – all three of these variants will come standard with a front bead sight.
The shotguns will also be able to cycle seamlessly with a mixed loading of 1.75″, 2.75″ and 3″ shells without issue, and all of the new shotguns will come with the best standard 590 pump-action features you've come to love including a positive steel-to-steel lockup, dual extractors, twin action bars, and an anti-jam elevator for smoother operation. So, what are your thoughts on this new configuration of the 590? Would this be useful for anything you come across in your daily life? I personally think this would make for a great home defense shotgun when paired with a bunch of mini-shell buckshot, particularly with the shorter 18.5″ version.