POTD: Prototype Colt Double Action Revolver – Bring This Back Too!
Sam.S 11.04.21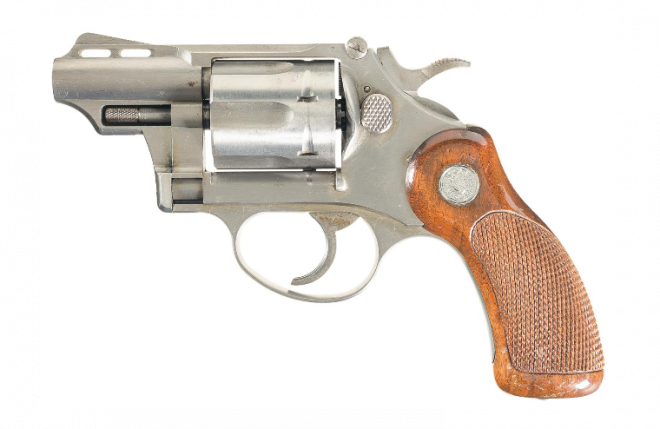 Welcome to today's Photo of the Day! Here we have a photo of a prototype Colt double-action revolver from an unknown time. It is interesting to pick apart this seemingly normal-looking double-action revolver. For one thing, check out the very uncharacteristic cylinder release. With Colt revolvers, they have been a constant pull towards yourself style whereas Smith and Wesson for example is a push away button. This prototype Colt appears to just be a straight-up knurled button. It reminds me of modern Ruger revolvers. The sight ramp is unique too in that it reminds me of a Chiappa Rhino as if it was a shotgun rib.
"The included Colt factory letter identifies this revolver by its serial number and an "experimental and prototype double action revolver of unusual design" kept by the Colt factory. The letter also confirms the caliber, barrel length, stainless steel finish, varnished checkered one-piece walnut grip with nickel finish Rampant Colt medallion inlays, and distinctive design features. These distinctive design features include the integral ventilated rib barrel, shrouded cylinder pin, and open sights with the "rear of special design". Other design features include a target hammer, checkered push-button cylinder release on left side of frame, floating firing pin, and frame without side plate (parts accessed through removing grip frame and integral trigger guard from upper frame). The one piece grip with round butt is secured to the frame with a single screw located in the butt which can be removed by using an allen wrench. With the exception of the serial number in electric pencil on the right side of the frame, there are no markings."
Lot 444: Colt Da Revolver 38 special. (n.d.). Rock Island Auction Company. photograph. Retrieved November 3, 2021, from https://www.rockislandauction.com/detail/62/444/colt-da-revolver-38-special.