POTD: High Standard Model 10B Semi-Automatic Shotgun
Sam.S 11.12.21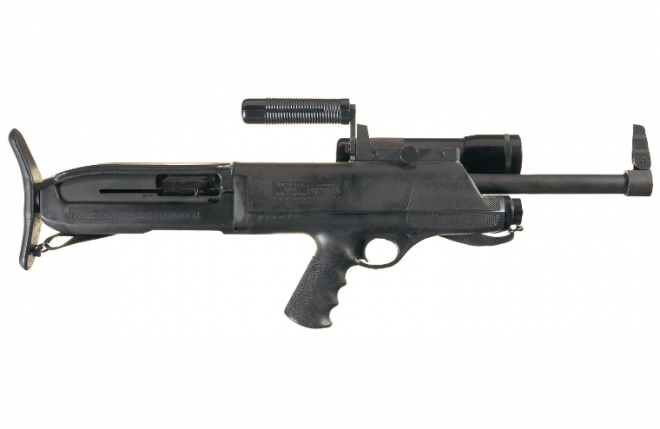 Welcome to today's Photo of the Day! In the late 1950s, an inventor named Alfred Crouch decided to fill a gap in the shotgun market. This gap he perceived to be in the law enforcement field which had exclusively been using various pump-action shotguns for their robustness and reliability. He wanted to be able to offer a semi-auto option that would be compact, comfortable, and reliable. So, the first prototype of his bullpup shotgun was born and made from a modified Remington shotgun no less. Alfred eventually decided to sell his design to High Standard who carried out its continued production and would eventually be named the High Standard Model 10B. The High Standard Model 10B turned out to be sort of a dumpster fire though. It had numerous issues with cycling and reliability. The shells would eject with such force that the gun had a label on the right side of the gun warning not to shoot it left-handed or the ejecting shell may cause injury to the shooter.
"Developed for use by police as a cruiser or "stakeout" gun. Flip-up blade front sight and notch rear sight, with the rear sight base also serving as a mount for a carry handle and a Kel-Lite brand flashlight. Standard markings are present on the right side of the exterior casing with a second cocking handle on the left. Checkered foregrip, textured pistol grip and swiveling buttplate. With a sling."
Lot 3633: High Standard Model 10B Semi-Automatic Shotgun with Sling. (n.d.). Rock Island Auction Company. photograph. Retrieved November 11, 2021, from https://www.rockislandauction.com/detail/62/3633/high-standard-model-10b-semiautomatic-shotgun-with-sling.