POTD: Modified Stevens "Visible Loader" Style Slide Action Pistol
Sam.S 11.15.21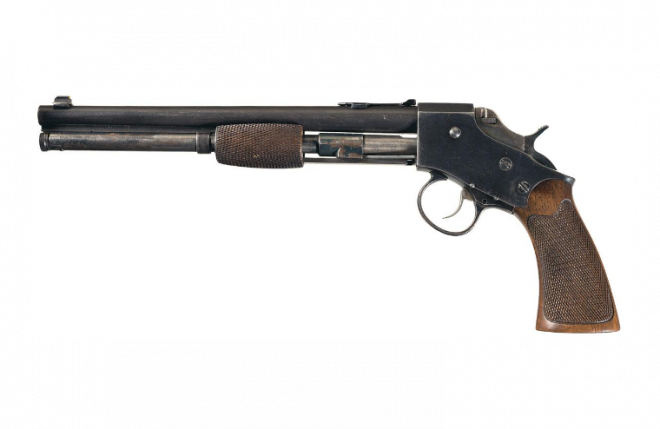 Welcome to today's Photo of the Day! Here we have a modified Stevens visible loader pump-action pistol or it was once a rifle at least. The Stevens visible loader pump-action 22 rifle was a peculiar entry into the world of gallery-style 22 rifles. The main reason it was an odd sort of rifle is the whole "Visible Loader" mechanism. The visible portion is when the pump or slide is brought to the rear the cartridge is lifted from the magazine tube and completely visible. From there, as the slide is brought forward the cartridge is shoved into the chamber. When the cartridge is pumped to the rear the next cartridge shooting up from the magazine tube acts as an ejector. These guns were notorious for malfunctions where that brand new cartridge that is supposed to eject the previous would also eject with it.
"Built by an unknown smith, this is a very unique pump action pistol that is very similar to a Stevens visible loader. The pistol is nearly identical in shape and function to the Stevens Model 70 Visible Loader, with an under-barrel tube magazine connected directly to a combination breechblock and elevator assembly. Aside from the Lyman bead front sight, no makers markings are present. Fitted with an adjustable notch rear sight, casehardened breechblock and hammer, and a checkered forearm and pistol grip."
Lot 290: Unique 'Visible Loader' Style Slide Action Pistol. (n.d.). Rock Island Auction Company. photograph. Retrieved November 14, 2021, from https://www.rockislandauction.com/detail/63/290/unique-visible-loader-style-slide-action-pistol.