Mantis Laser Academy: Because Ammo is Dear and It's Cold Outside
Eve Flanigan 11.24.21

Recently, I had the chance to test a new dry fire system by the company called Mantis which keeps cranking out new ways to make target practice more inviting. They sent their new Laser Academy kit to try out, and this is my report on the experience of beginning to use it.
There's a bit of a learning curve with setting up Laser Academy, though it really is simple when the steps to getting it running are understood. As an owner of the original Mantis X, I made the introduction to Laser Academy needlessly hard on myself by not understanding that the two products are NOT related other than both being Mantis-made. Laser Academy has an app unto itself; as does the Mantis X. Things got a lot easier once I figured that much out.
The version of the Academy I got is the Deluxe which includes full-size (8.5 x 11 inch) "smart" targets and a tall tripod that holds the phone which runs the app. It also contains the goods included in the Standard kit which means a smaller, tabletop-style tripod and a couple little smart targets that are about 6×8 inches, along with mini target stands that look just like name placard holders at a fancy dinner. The targets are "smart" as the app recognizes them. Additional targets are available for purchase and greatly enrich the Laser Academy experience.
Also, in the kit is a laser cartridge available in popular handgun calibers. This inserts into the chamber and is rimless, so it won't fall out during slide-racking. A pencil-like dowel rod, handsomely branded with the Mantis logo, is also included for pushing the cartridge out when practice is over. There's also a pack of gum-like adhesive for posting targets on the wall without pulling off paint.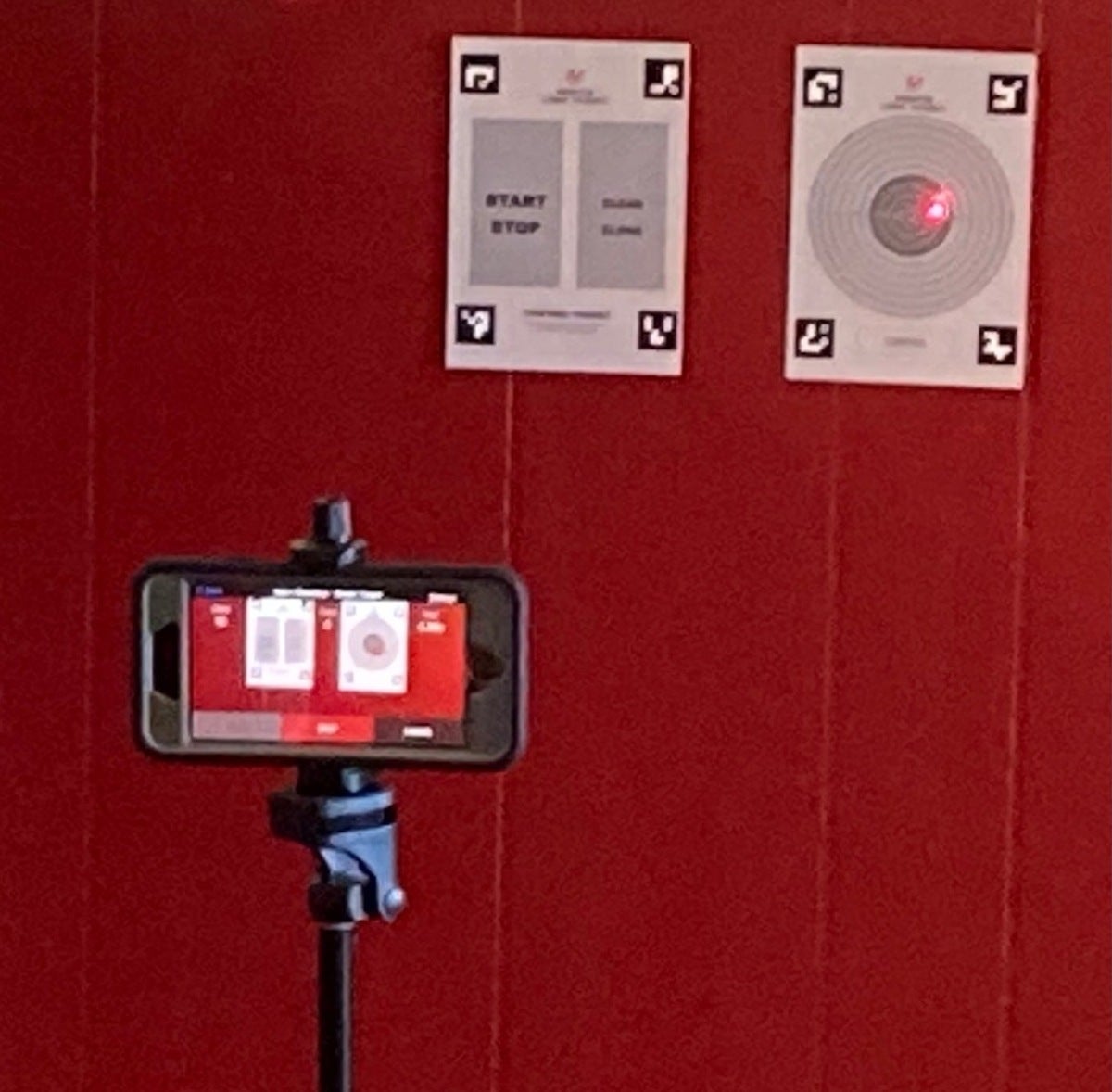 The app is needed to experience Laser Academy. In the kit is a user code that unlocks several drills/games. For about $4.99, more advanced drills like the laser version of the very useful Dot Torture drill are ready to use. Targets must be posted on a matte-finish wall or background without a lot of surrounding clutter so the app/camera can identify targets. With the gun safety-checked, live ammo removed from the area, the phone mounted with camera facing the targets, and the laser inserted, it's time to practice.
With small aiming zones, the targets are ideal for dry fire practice in the close confines of the average home. Even six feet is not too close for some challenging precision practice, if a small-enough design is chosen. There's a good variety of practice/bullseye, tactical, drill, and game targets in the add-on set worth the expense if one is investing in the Academy. As someone who adheres to the principle of "aim small, miss small" in a majority of practice rounds fired, this was right up my alley.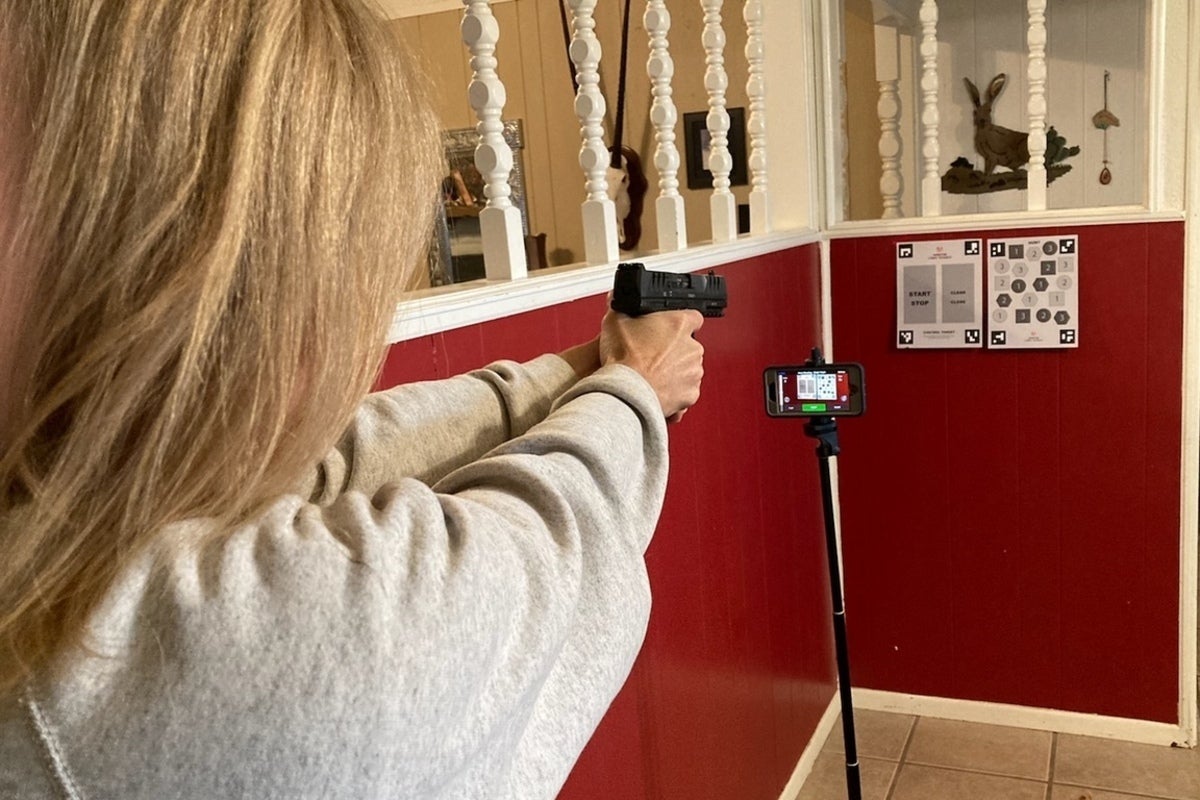 As for the accuracy of the laser as compared to live fire, I found it very consistent with both pistols I used. The app allows for adjustment to compensate for sight over bore offset, an especially useful feature for red dot users. It seemed to replicate reality with iron sights, so I made no adjustment.
For timed drills, the Laser Academy app gives an audible "go" signal at which time the user can draw and fire, or present the gun from a ready position. A slight problem arises when firing multiple rounds because the trigger must be reset for every round, allowing the striker to impact the laser. The app solves this with a feature that allows the user to set an allowance for slide-racking time. It's an acceptable fix for all, but the most dialed-in competitors who fret over hundredths of seconds.
The app offers a handful of drill/game activities with purchase. Users must enter a code that comes with the Laser Academy package to access those. There is a good selection of additional games via in-app purchase priced at $4.99 each. I didn't explore these and cannot comment on the duration of use one purchase provides. A fun option with either free or purchased Academy drills is a duel setup whereby two shooters can compete side by side. Of course, that means an additional laser must be purchased.
Getting acquainted with Mantis Laser Academy was probably made more difficult by my knowledge of their Mantis X rail-mounted accessory. I wrongly assumed there'd be some relation of the "old" (still awesome) device and Laser Academy including having tried to find instructions, or anything really, about Laser Academy in my existing Mantis X app. They are not related products from the consumer's perspective other than being made by Mantis.
Another challenge I had setting up Laser Academy is a fairly skimpy "quick start guide" on a card included with the package. What I needed was a sequential description of what to put where. The instructions seem to begin after all the pieces are in place, leaving the consumer to do trial and error until they discover what belongs where. I'd spent two days playing with the system and wondering what the little bags of metal discs and hoops were before curiosity led me to just handle them, leading to the realization that they're un-assembled, tabletop holders for targets. A simple "what's in the box" half-page would've sped my progression of use.
Ultimately, most useful was watching other Laser Academy reviewers' videos to learn some of the finer points of the program. One basic feature that is described in the app, but which I couldn't get to function "as shown on TV," is the Start/Stop target, posted next to the drill target of choice. Firing one shot on the "Start" box is supposed to start the clock; likewise, firing on the "Stop" box is supposed to stop the game. In the relatively short two afternoons spent prior to writing up this summary, my not-very-techy self wasn't able to get the start/stop function to work. However, I still felt very optimistic about the speed and accuracy gains I was able to make with consistent reps on the Laser Academy clock. It really helped me get more familiar and downright handy with a new gun that I've not spent much time behind on the hot range.
I'm that person who got in trouble for stomping around too loudly as a kid, and grew into a woman who doesn't pay for manicures because I'd break those nails off not paying attention to how I grab stuff in my everyday environment. So it was only disappointing, not surprising, when I broke the little plastic spike, about 0.25 inches in diameter, trying to take the phone mount off the mini-tripod. Honestly, I hardly twisted it at all, but twisting was definitely the wrong motion. From now on, I'll have to use the tall tripod. Thank goodness the Mantis people sent the Deluxe kit…it's like they know me.
While the Mantis Laser Academy could use some better customer support in terms of information to get the system up and running, I'm enthusiastic about it as a training tool. Especially as ammo gets more difficult to obtain, it's a great way to log practice. It rewards accuracy first and speed second, at least as I see it in the way the data is presented. Over time, a user can log progress with each making it a good tool to guide live fire practice.
Then, there's the convenience of practicing right where you are. On bad weather days, anyone can still log good practice with the Laser Academy. There are some people who enjoy home-based practice for their own reasons. After doing this test, I loaned my copy of Laser Academy to a friend who uses a wheelchair which makes using our rocky public range very challenging. He was super-excited about the chance to set up drills in the comfort of his own living room. This product will surely be a boon to his practice.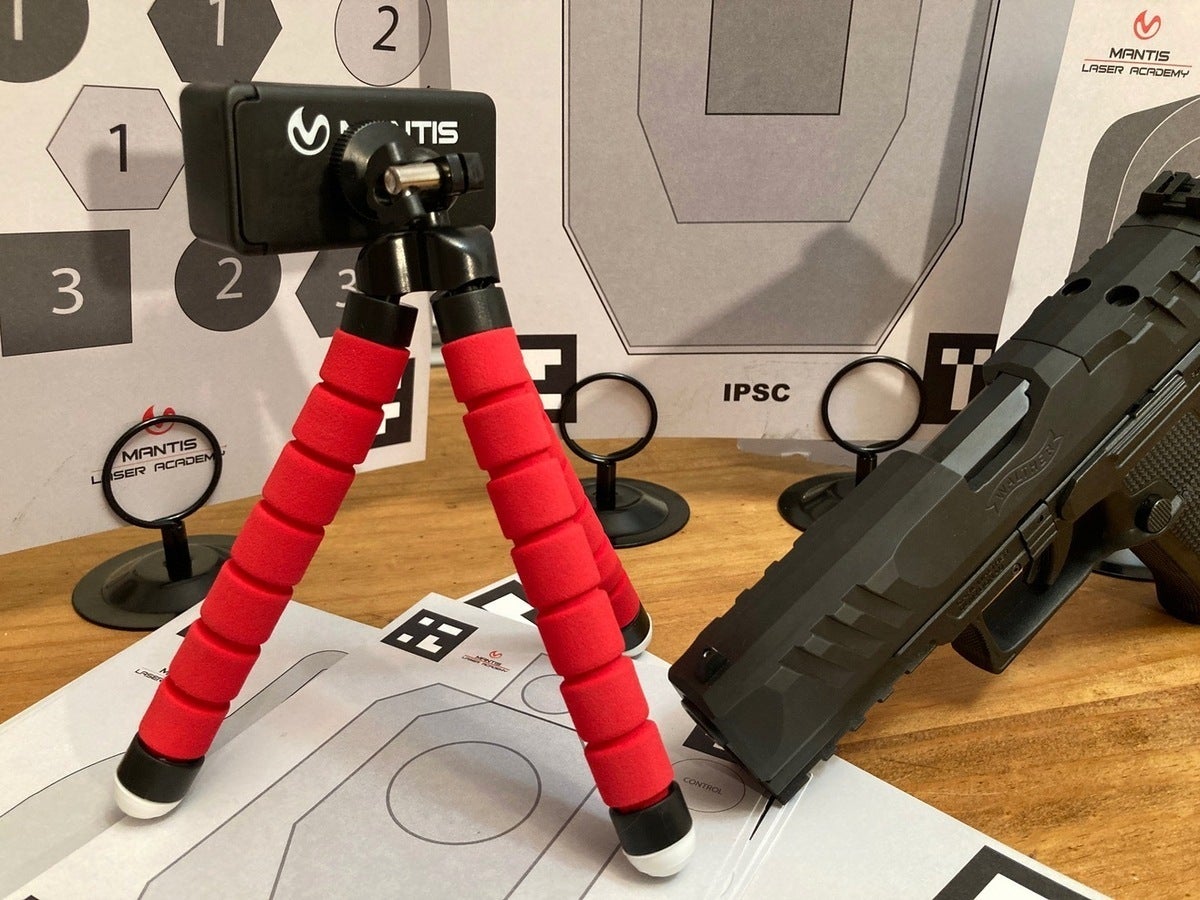 I suppose if there is any caution to share other than the obvious "don't have live ammo around when dry firing," there are two items I feel compelled to comment on. One is that given the ease of moving up/down the virtual range that Laser Academy offers, and with frequent necessary phone distractions, the potential exists for gun handling to get sloppy, especially if not using a holster. Remember to treat all guns as loaded. For brand new shooters, a less important, but very applicable observation also applies. New shooters will have to learn to separate the slide-racking used repeatedly when performing trigger resets in Laser Academy from the action of racking the slide to perform other functions, especially loading the chamber with live ammo. In my experience, the when and where of slide-racking is not something automatically understood by new gun handlers, and when live ammo is involved, they must be acutely aware of following safety rules in their gun handling after possibly having had some necessary latitude with what's down range during Laser Academy practice.
The basic (portable) version of Laser Academy comes in a nice zippered case and has all a person needs to start practicing from a tabletop. It's priced at $99. Extra laser cartridges are $39.97. A set of the larger smart targets is $14.99, and the tall tripod is $8.99. This program could be the perfect choice for giving in 2021-22, for both fun and staying sharp as a marksman.