Cleaning a Rimfire Suppressor with the Infante S6 Ultrasonic Cleaner
Sam.S 12.07.21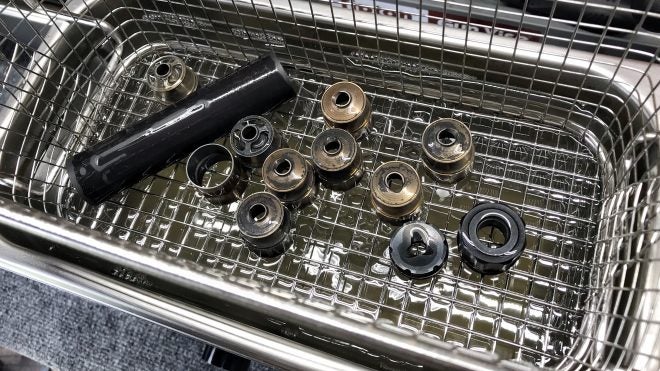 For some, the experience of cleaning a rimfire suppressor by hand is a major headache. One such headache that I would wager makes the suppressor owner wait out the inevitable and their suppressor falls even more below the normal maintenance line. The world of ultrasonic cleaners is an ever-expanding one, but a staple in the world of firearms ultrasonic cleaners is Infante Ultrasonics. That all being said, welcome to this article chronicling my experience working with the Infante S6 Ultrasonic Cleaner and the process of cleaning a rimfire suppressor. Let's dive right in!
Ultrasonic Cleaning – What is it?
Ultrasonic cleaners use ultrasonic vibrations to basically pound and shake residue off of whatever project is in the cleaning solution. It is good to note that ultrasonic cleaners are not end-all, beat-all machines that magically clean things to make them like new. They are quality of life tools used in conjunction with your manual labor such as a scrape and scrub method. In short, a good ultrasonic cleaner will penetrate and flake off fouling layers and ease the manual cleaning.
The Headaches of Rimfire Suppressors
Rimfire suppressors are typically someone's christening into the silencer world. They are cheaper and quieter than any other, but they carry a heavy drawback… you need to clean and maintain them. Most centerfire suppressors do not need to be routinely cleaned since the high pressures produced and cleaner ammunition in general blow all the crud out. The dirty nature of rimfire suppressors lends an unattractive and slightly hazardous cleaning process. The baffles (no matter their configuration) and often the suppressor sleeve become coated in a smooth and thick layer of carbon fouling and lead residue. Rimfire suppressors lacking maintenance will usually layer on these coatings so much so that it becomes dangerous to the user because an excessive amount has the potential to cause a baffle strike. So how do you clean them?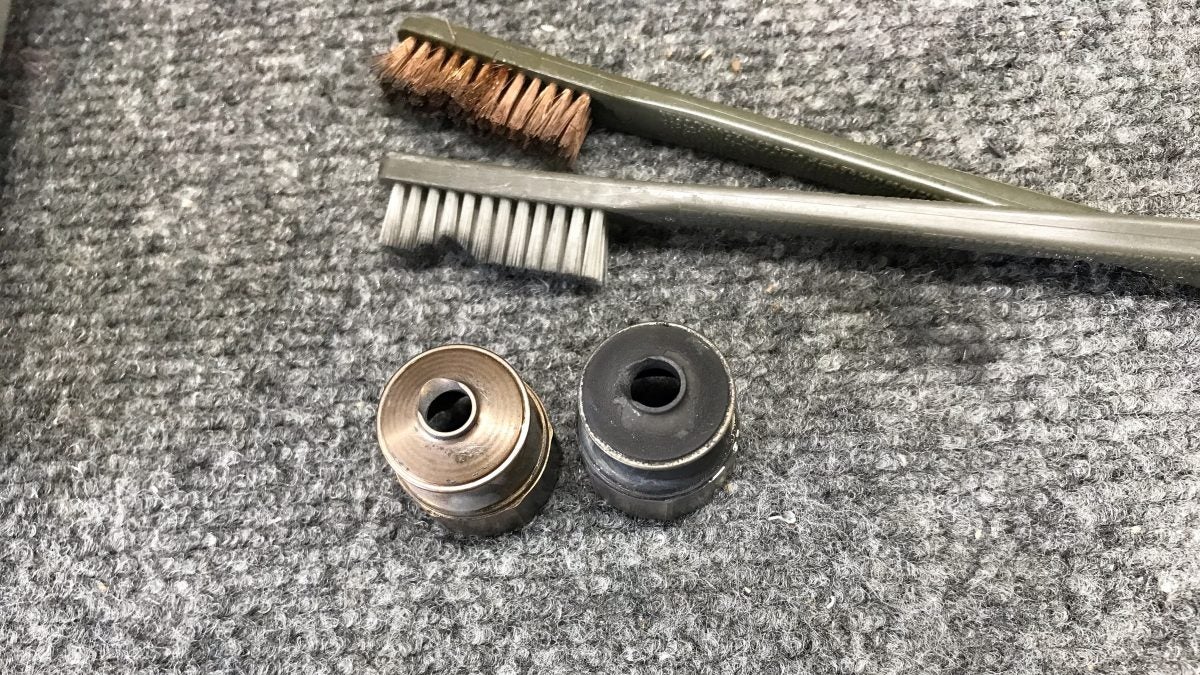 Note: Cleaning a suppressor typically involves lots of lead fouling. Make sure to take that into consideration when deciding what PPE you should wear. At the very least I recommend gloves of some sort, but a respirator and safety glasses would be good, too! Infante Ultrasonics purposely uses nonhazardous cleaning materials to aid in safer firearm maintenance.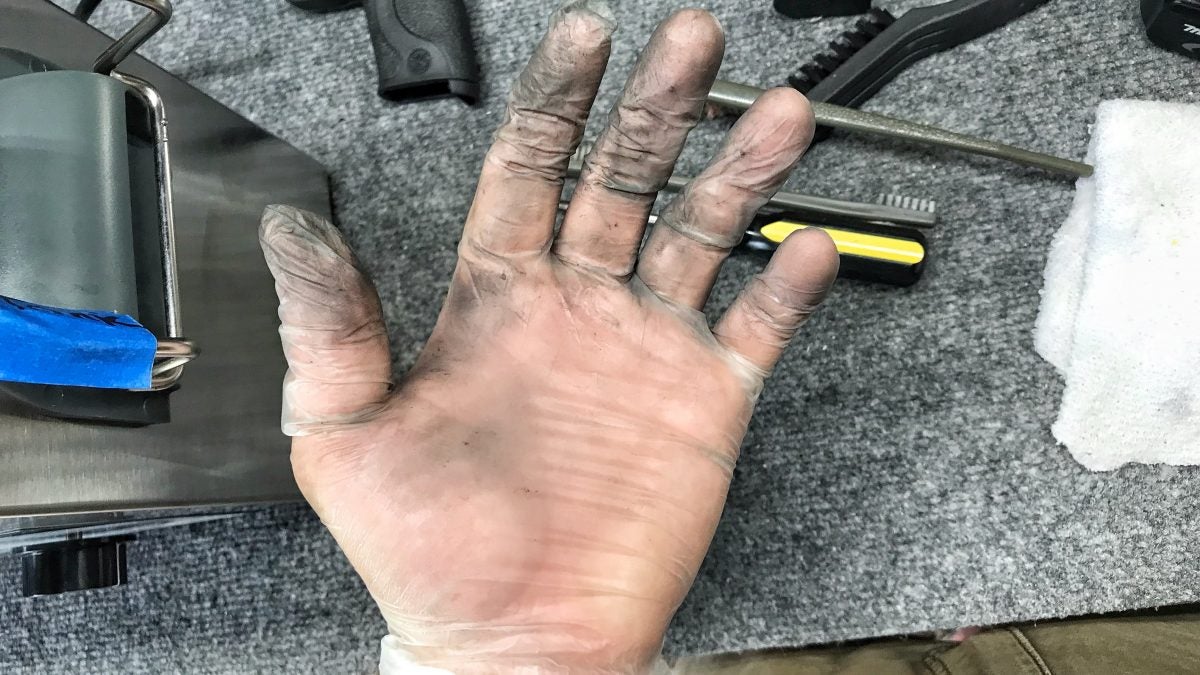 Manually Scrape and Scrub: Literally scraping off carbon in flakes with a pick or screwdriver. Scrubbing with a wire brush ideally something softer than steel. This is done often with an aiding bore solvent or soapy water. Quick Tip! Use this at your own risk, but I have found using a shotgun bore brush chucked into a drill helps with the interior hard-to-clean portion of the baffles.
Steel Media Tumbler: Reloading tumblers have been used to clean rimfire suppressor baffles with mixed results. Wet tumblers will certainly make a thick water solution of water and lead so be careful!
The Dip: A highly hazardous and caustic solution of vinegar and hydrogen peroxide that literally eats away lead fouling. It is effective, but the result also produces lead acetate which is extremely bad for your health and should be handled with such regard. All hazardous materials should be brought to your local hazardous waste disposal location. I do not recommend using this method.
Blasting (Sodium Bicarbonate): I personally have never used this method, but from what I have seen it works well with little fouling. This process uses sodium bicarbonate (soda) in conjunction with a sandblasting apparatus to mechanically pound the outside of baffles. The use of soda is to minimize the wear and tear on the baffles, but even though the material itself may not be affected the protective coatings found on baffles could be altered or worn by repetition.
Ultrasonics: As mentioned earlier, ultrasonics use vibrations in a solution to make fouling flake off and penetrate the underside of it. This makes it a good candidate to save time, reduce wear, and have a more enjoyable experience cleaning a suppressor. Quick Tip! When putting barrels and suppressors (or the sleeve) into the solution make sure to do so at an angle in order to get any trapped air to escape before being fully submerged.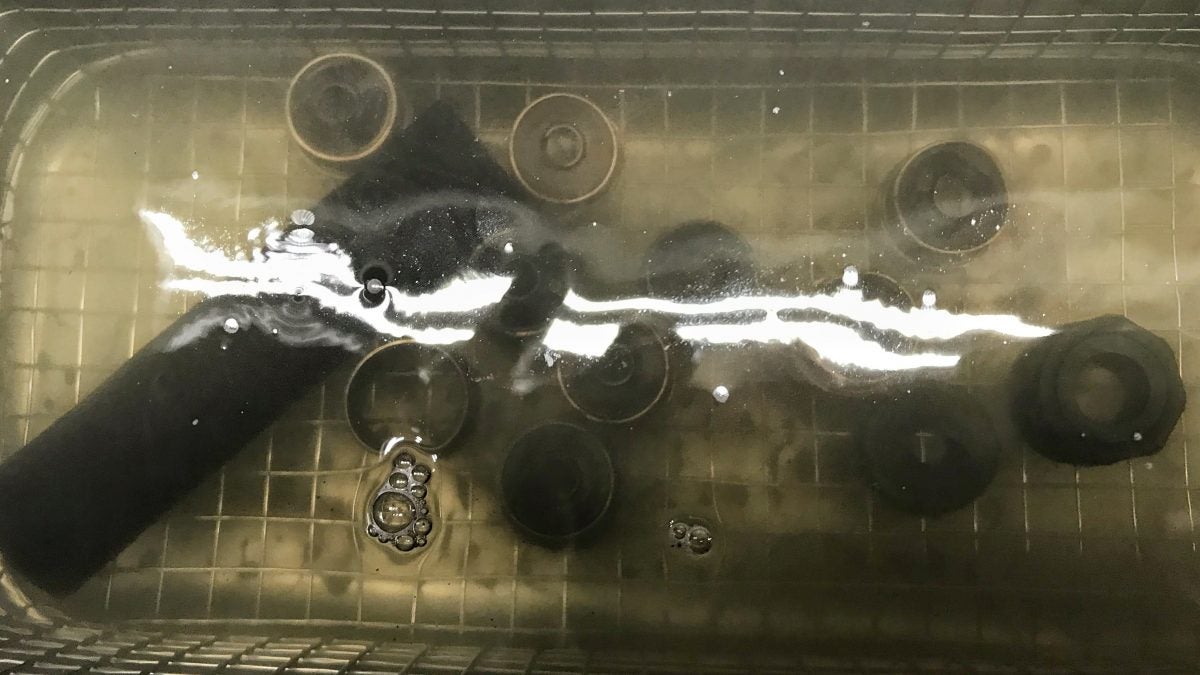 How Did It Do? – Infante S6
I normally use the whole scrape and scrub method with some solvent while cleaning my suppressor. That whole process has taken an average of about 3 hours from beginning to end with a thoroughly fouled-up suppressor. By the time I am done, I am exhausted and discouraged. For that reason, knowing what I knew of Infante Ultrasonics I wanted to put their high-quality cleaner to the test.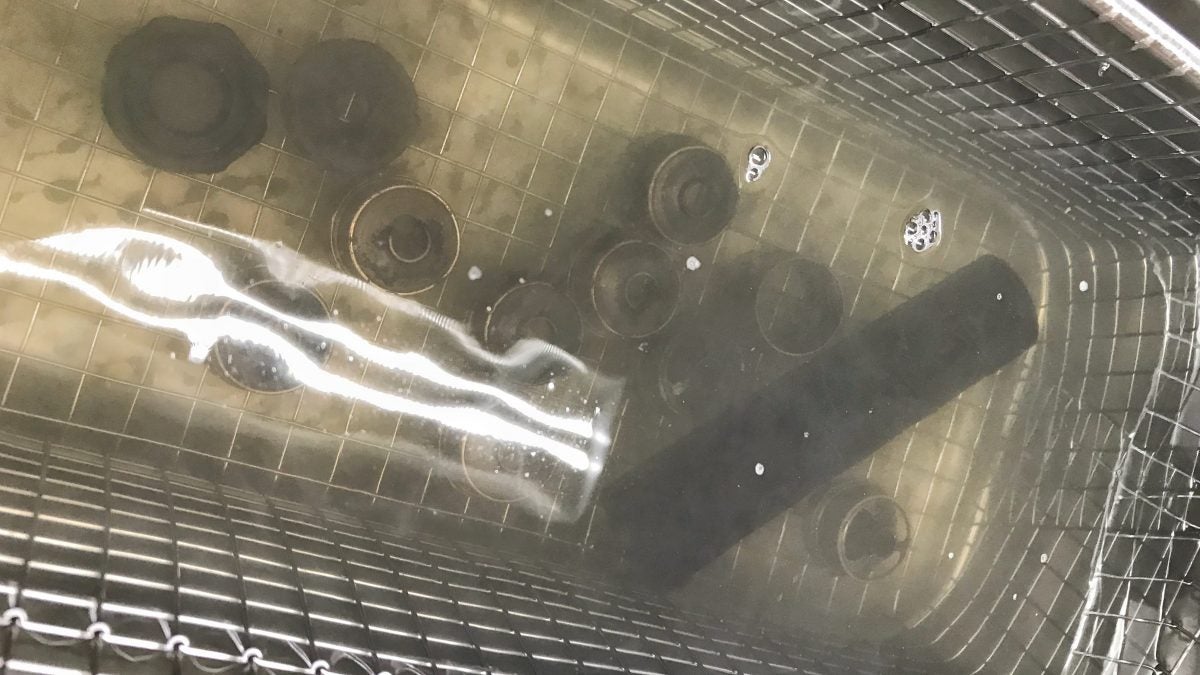 So how did it do? It did a fantastic job. It is hard for me not to get excited writing about it because it genuinely made my life easier and my valuable time was saved. I do go more in-depth on how the setup and processes work in my initial review of the Infante S6 which you can find at the link here. I took the silencer and baffle material and finish under consideration and read the manual to double-check nothing would change and go wrong before even beginning. When I did start I made sure to put a couple of shots through the suppressor in hopes to shock some of the fouling to aid in cleaning.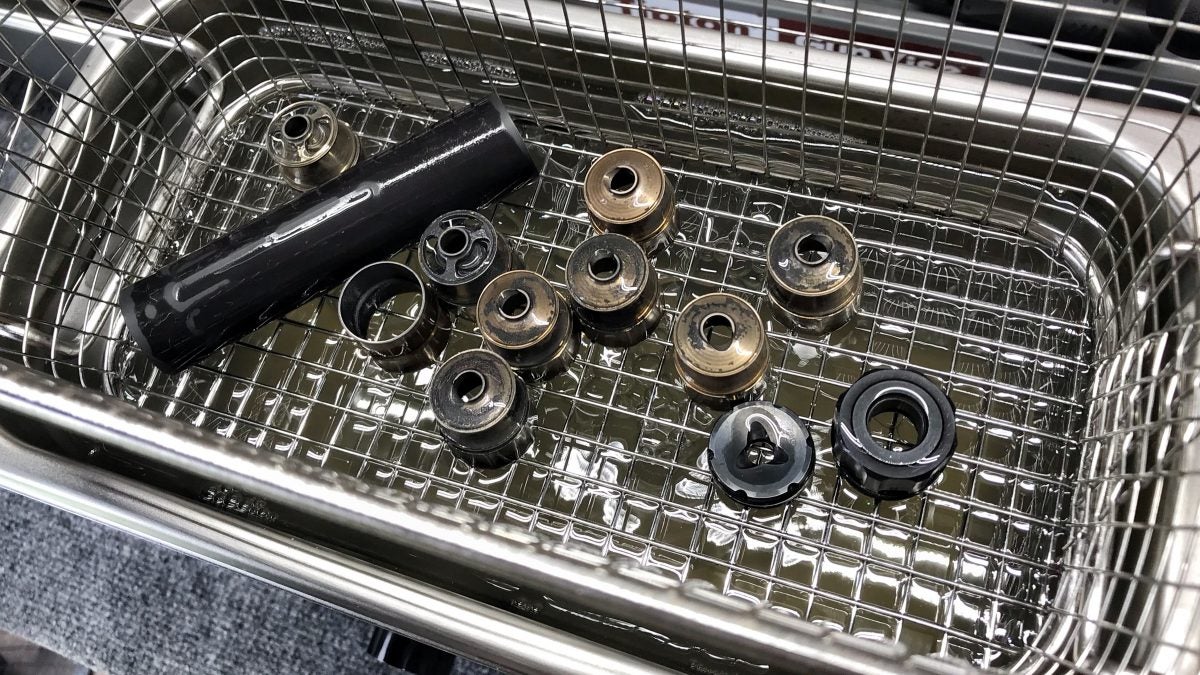 I did a total of 3 separate 4-minute cycles of being in the Infante S6. The first cycle shook off most of the loose material with ease. I then did my scrubbing and aside from thick layers of lead buildup, everything was coming off just fine. Then, onto the second cycle, and well, this is where I would tell anyone to stop because almost all of the fouling was off of my baffles and the lead was easy to remove. Since I tend to be a perfectionist I put it through one last cycle to ideally make the surface of my baffles a little shinier which that the last cycle did help a little, but it is hard to polish something you know will be filthy very soon.
Conclusion – Infante S6 VS Rimfire Suppressor
I expected the Infante S6 to perform admirably, but it went above and beyond my initial expectations. This ultrasonic cleaner and any of the larger versions in Infante's lineup are worthy of your attention. Take it from me I am an impartial person and firmly believe that these quality machines do well within their job description. It certainly made my life easier and alleviated the headache of cleaning a rimfire suppressor! I continue to be pleasantly surprised and impressed. See you next time when cleaning a black powder revolver with the S6! Stay safe out there.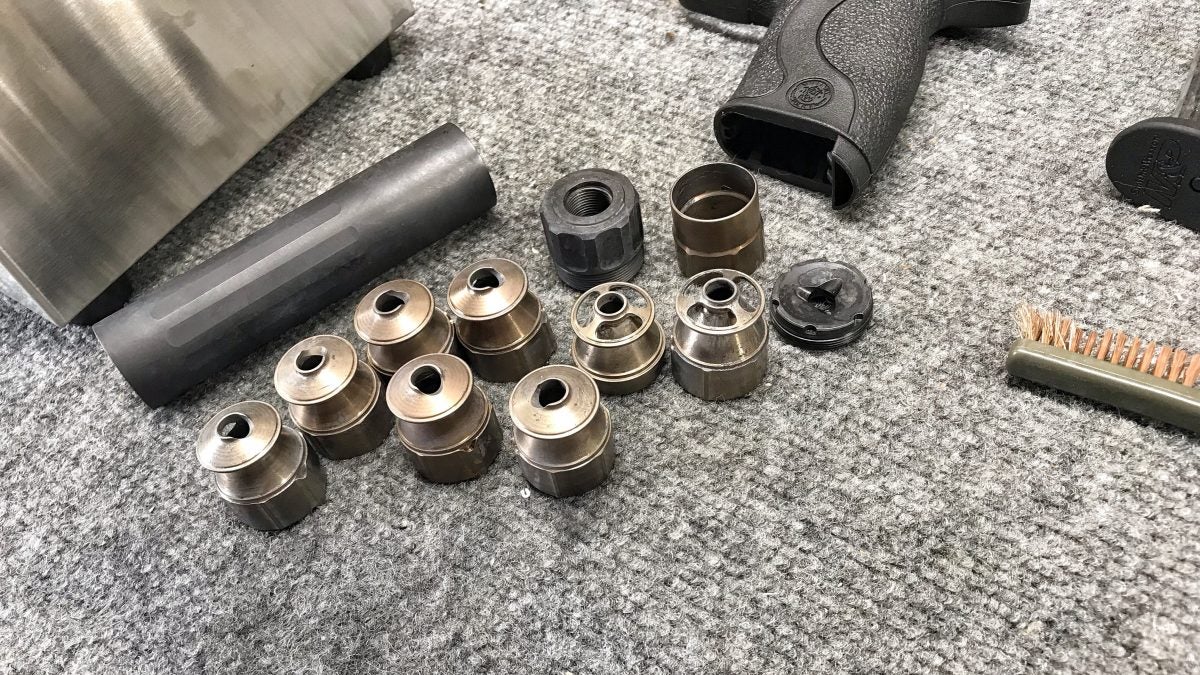 In closing, I want to say thank you to Greg Infante and Infante Ultrasonics for allowing AllOutdoor and myself the opportunity to try out their Infante S6 Model. That is greatly appreciated. Also, we would like to know what all of you guys and gals think? Do you believe that this Ultrasonic Cleaner is worth spending your money on? Would you use this in your shop? Would this be your go-to cleaning method? Let us know all of your thoughts in the Comments below! We always appreciate your feedback.