The Path Less Traveled #038: New Path: Shot Show 2022
Andrew D 12.20.21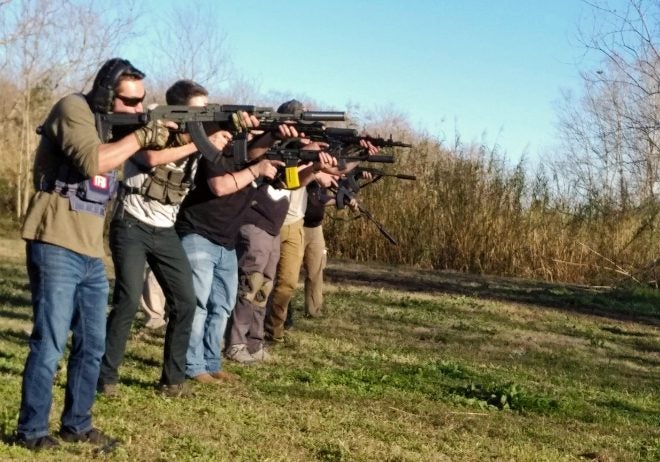 After visiting New Orleans, meeting all of the TFB and AllOutdoor gang for Gun Fest 2021, I've stuck around for a little while as you guys can tell. Shot Show 2022 will be nothing like what I experienced at Gun Fest and will feel like a new path for me.
The planning and preparation for a complete newb must feel similar to the first time I packed for an overnight hike. So many things to think about… Flights, hotel, meeting up with employer, having a plan as to who does what or getting an assignment. Did I talk about the gear? Holy shit… The gear is going to be ridiculous to try and bring quality writing AND video to you guys.
---
Welcome to our recurring series of "The Path Less Traveled." In this series, we want to take you along for our exploits out in the wilderness while hiking, camping, exploring, and general adventuring. This will include our small daily victories, foibles, tips, tricks, and reviews of gear we authentically appreciate and frequently utilize. While a well-worn trail can often be the pathway to a leisurely day, the paths less traveled can often spur on some of the greatest memories, misadventures, and fun we could imagine. Join us in the Comments as we share our travels and hopefully, we can all come together for a greater appreciation of the outdoors.
---
Remember them old Shot Show years before the Pandemic? Me either…
Just like your first hike…
Typically when you're new at something, you tend to pack your fears. With going to Vegas for Shot Show, and never being there before, I've re-honed my photography and videography skills to a fine edge. Have been practicing with Premiere for a couple weeks and have gotten a decent amount of camera gear. Actually, a lot of camera gear.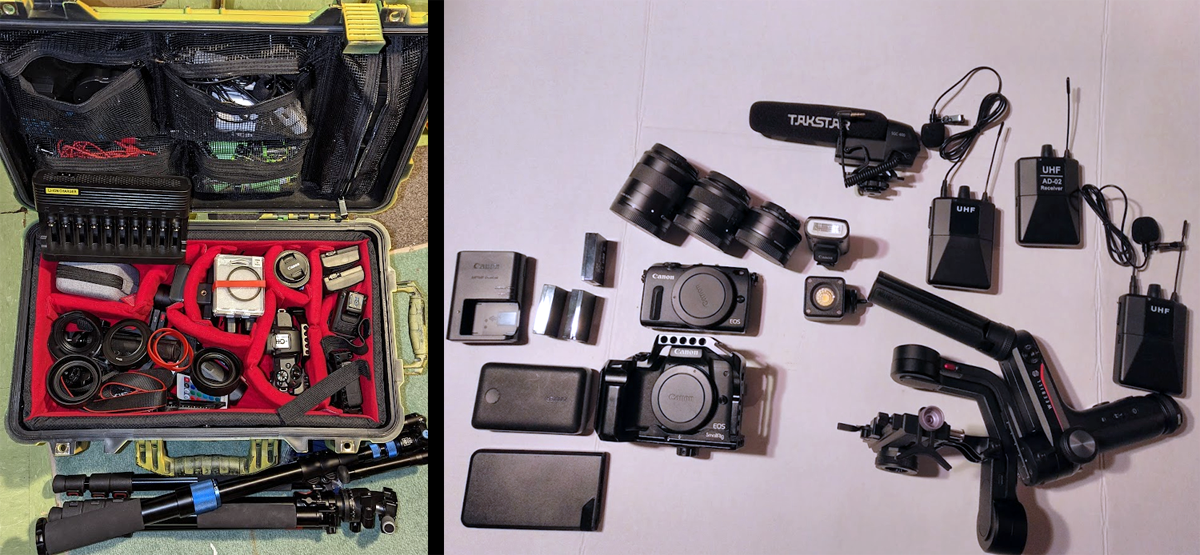 Pelican case with protective interior and pockets.
Two mirrorless cameras; one for candid photos or B-roll, with another for main filming.
Tripod. Monopod.
Wireless microphones, shotgun mic.
Stabilization gimbal.
Few lens filters, etc.
Enough proprietary batteries to power your wife's back massager for like three and a half days straight.
Not knowing how Ryan O does James's great video footage, I'm (likely over-) prepared, but these materials will play valuable if I continue making content for this site.
How Much Longer 'Til We Get There?
Air transportation was the only consideration when 3500km (2200 miles) are between me and Sin City. Flying is a pretty common affair as I go on 4-6 trips a year for work and leisure. Started planning flights in mid-November and booked flight for Vegas the first week of December.
Not sure what the other individuals of AO and TFB are doing for transportation, did hear one person is going in their RV!
Hotels in Vegas are relatively expensive. Like, $200+ a night. My mortgage is $500+/- a month, so I started asking other members where they're staying to be able to split the costs. Everyone seemed to have huddled and bunked up before I started asking. Luckily, I've got a friend in Vegas, and he was gracious enough to let me hang out with for the week!
This Ain't Your Daddy's Shot Show
Shot Show is not how it was when that one guy who always talks about Without Rule of Law or Size and Weight Constraints first started doing videos. I mean, back then it felt like anyone was getting in, right?
https://www.youtube.com/watch?v=Ow8ySAsrj9M
Not anymore. These days, you have to show credentialing by a listed method of identification. Several peers I know have had a bit of hassle with this, but it is in the utmost importance of safety and security.
Required methods of ID:
Name listed in an editorial position.
Name listed in a publication masthead.
Link to Website dealing with industry-related subjects with my real name.
Have some bones from your grandmother dug up for DNA verification.
Request a relic from the Pope as well as three forms of federal ID, which is one more than the DMV requires to get a REAL ID.
Vendors Galore!
According to my calculations, there are 2500+ exhibitors at Shot Show this year. These will be covered in four days.
Four days. 2500 vendors… That's 625 vendors a day, or one every 57.6 seconds if you wanted to see every single one of them. This doesn't include time to walk, eat, breathe, use the restroom or crack jokes with Phuc Long if he shows up this year.
I've whittled my list of desired exhibitors to see down to 291 over four days. That still is only roughly 8 minutes a booth. More judgement will be needed on the fly.
My predictions will be a hundred booths, but I'm going to aim for 150.
If you're a veteran media member here and have played this game before, please laugh and correct me. Heck, let me in on some of the cheat codes.
My list of desired exhibitors at Shot Show 2022 can be seen on Google Drive, here.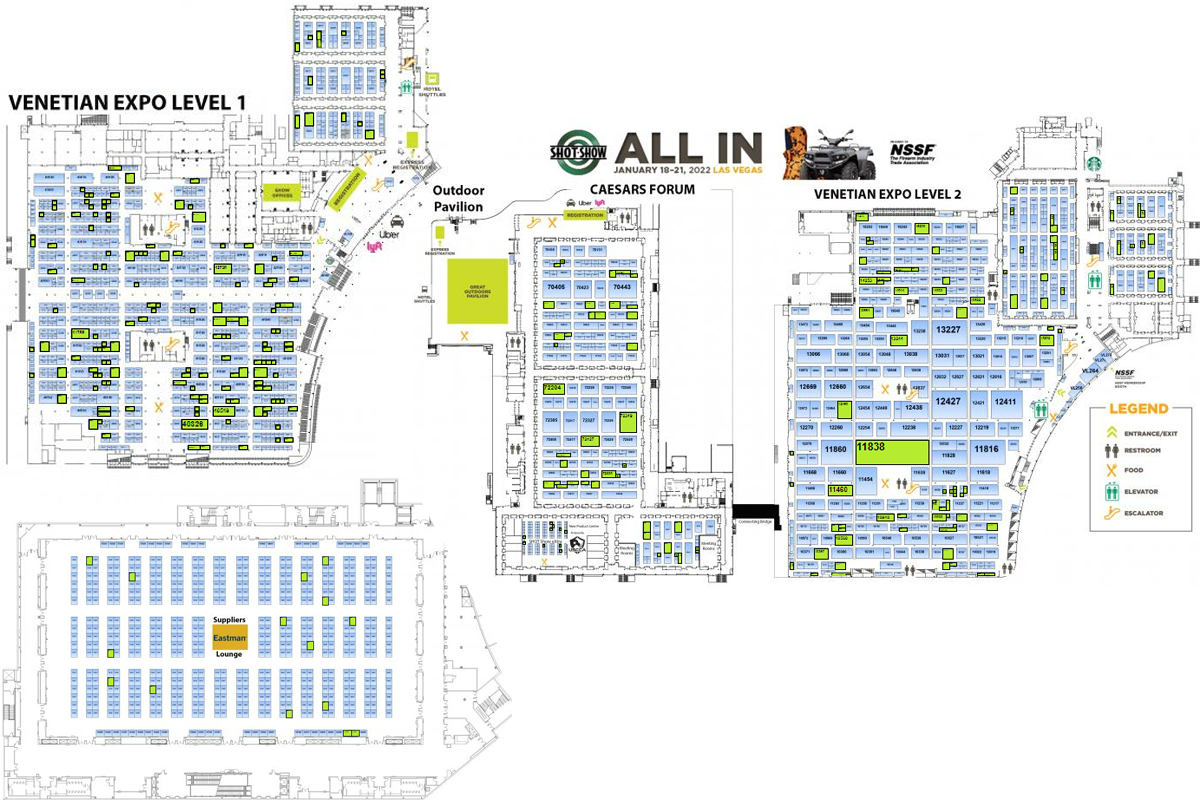 Donald Rumsfeld Was a Smart Man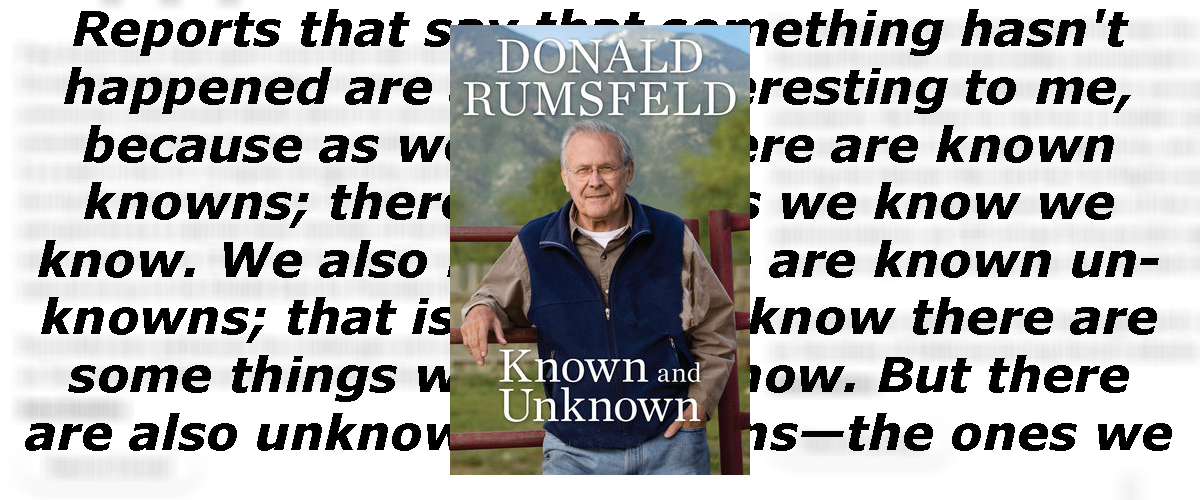 Good 'ol Donny's known-knowns, known-unknowns and unknown-unknowns are just as true here as they are in the woods on a new trail.
You can have maps tell you where you should be going, what to expect, or even what kind of critters you may see… but you'll never be able to predict the fallen trees over the trail, or running into fit running girl's golden doodle who wants to hump your leg.
It is still vital to have a game plan, as well as some sort of direction, otherwise chaos can occur.
Same with a new event in a manmade situation. Vendors will be where they're supposed to be, but timing with a plethora of people will throw things off. When will you have time to post articles or videos? LOL! What is sleep?!
Will you be assigned certain tasks, or will the team meet up at certain times of the day to review progress and work together to complete assignments?
I have no clue but I look forward to the experience!
Near Future
Before Shot Show 2022 begins, I plan on making a poll for readers to complete in order to get a better understanding of our reader's desires. Please pay attention and answer this poll to provide me with the best ability to provide you the content you desire!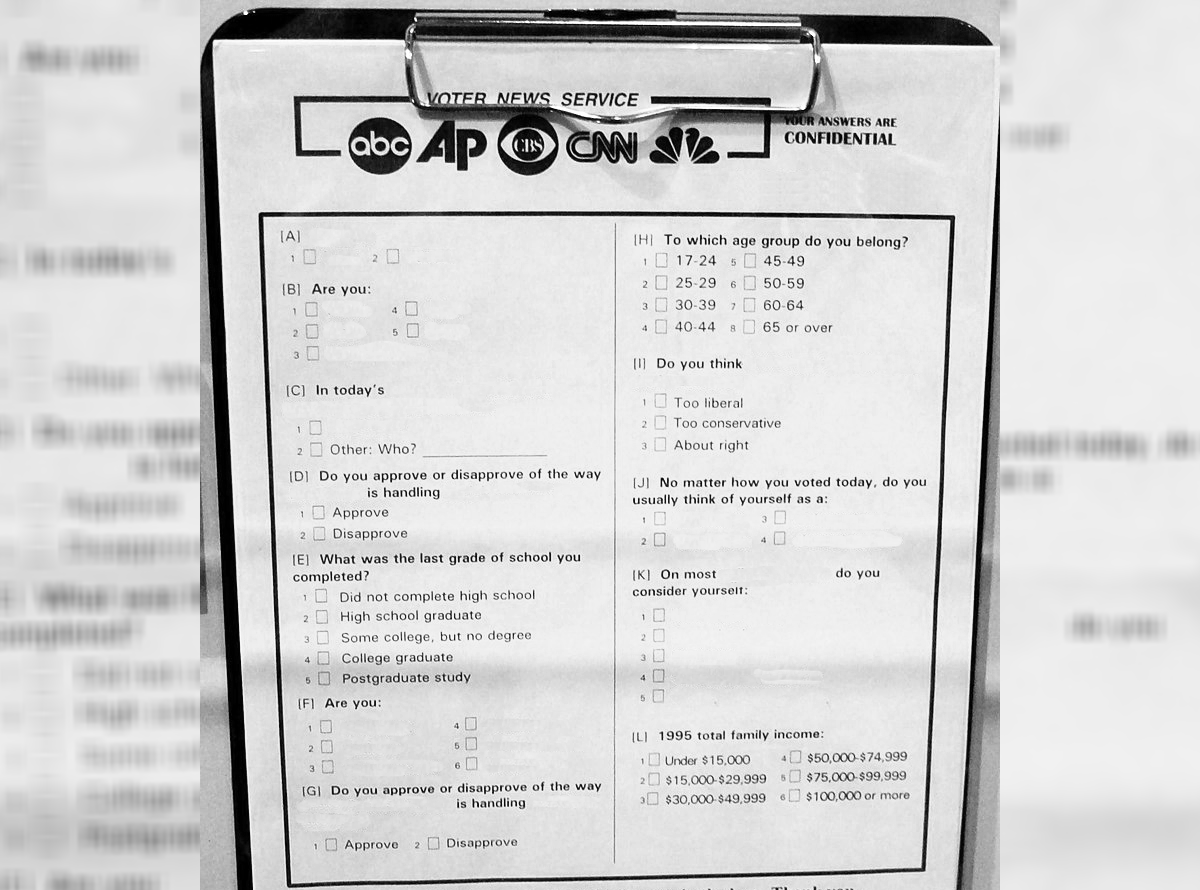 Advice on This New Path
Readers, Subscribers; I've done a lot of traveling in my brief life so far, but feel free to school me on things when it comes to trade expos.
What do's and don'ts would you tell someone?
What recommended booths are best? Which ones are worth avoiding?
Is Guy Savoy's restaurant worth dining at?
Just as I've taken on new hikers under my wing, I'm hoping there's a mentor I can gather information from ahead of arrival.