Build a High-Performance P365 with Accessories from Strike Industries
Eve Flanigan 01.05.22

Strike Industries, formerly of California and now based in Nevada, has added upgrade parts for the popular SIG Sauer P365 to their product selection. The newest addition, a barrel, was announced this week. These aftermarket parts promise better handling and accuracy from the diminutive pistol.
The Strike Barrel is made of 416R stainless, and is black nitride coated for a great match to the P365's nitride finish. For weight reduction, the barrel is fluted. Faster-cooling metal is also a benefit of fluting. At the muzzle end, a reverse target protects rifling. The chamber is made to SAAMI specifications. The barrel, 3.1 inches, is a simple drop-in replacement for the original at a price of $197.95.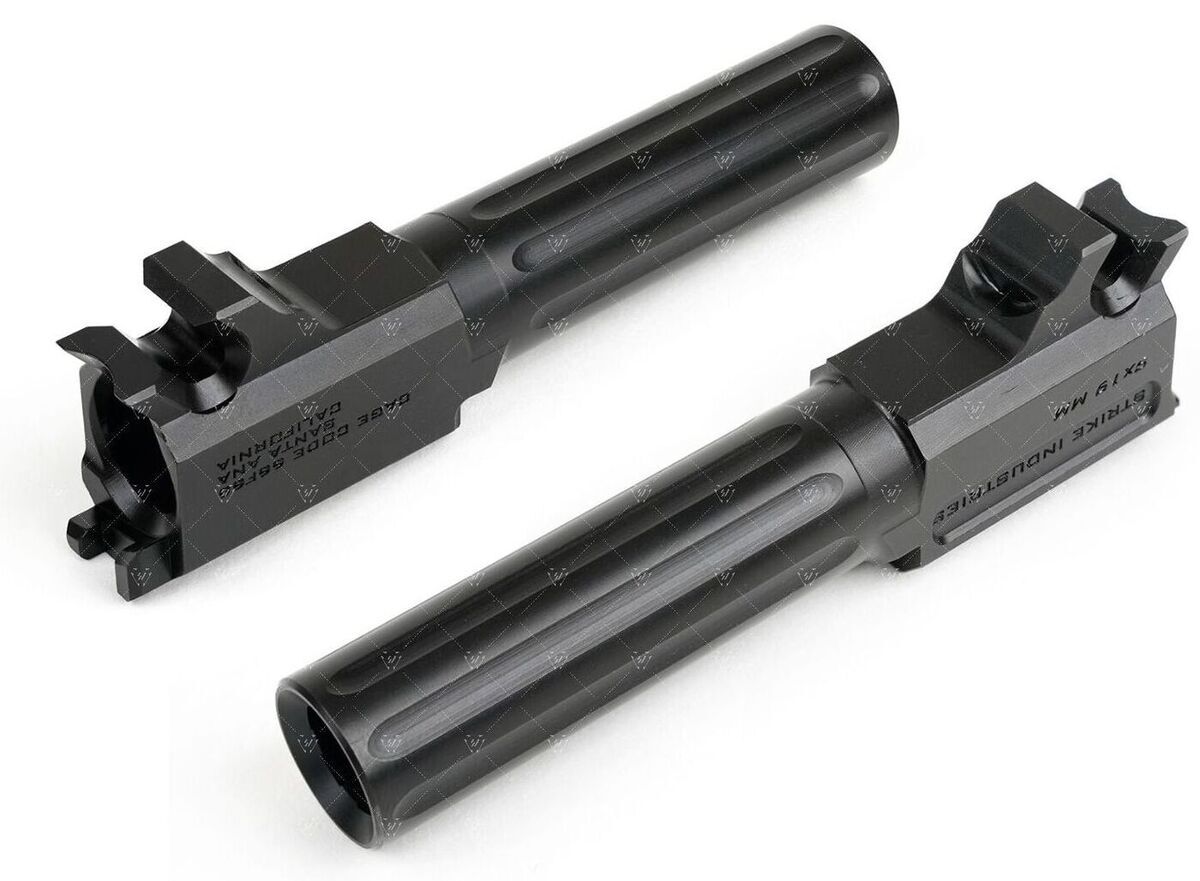 Not new, but a great complement to the Strike Barrel is called, simply, the Strike Slide. This slide is constructed of machined billet 17-4 stainless steel. It features porting and aggressive serrations for front or rear cocking. Large port relief cuts promise plenty of clearance for fast cycling. The user can install a provided left or right charging "handle" (a bump, really) on the left or right of the rear of the slide. Installation uses a single screw. The Strike Slide is also pre-milled for the Shield and Doctor/Noblex optics or compatible footprints. Add-on mounting plates are available for other optic types. A cosmetic optic port cover is included as well as all needed screws so the user can mount their own optic without buying more parts. As for iron sights, the rear sight is integral. The Strike Slide will accommodate a standard P365 front sight. Color choices are black or flat dark earth.
Strike Industries cautions that the Strike Slide is, apparently, most compatible with the current, not the original, P365 extractor/striker. There is some confusing language about this on the company website, but clear pictures are provided to allow potential buyers to determine which extractor/striker they have. The slide is not meant to be used with an SAS ported barrel. It is compatible with both manual safety models and those without. The Strike Slide is sold for $259.95 in black, $269.95 in FDE, or save $20 on a slide/barrel set. All are made in the USA.