POTD: Scarce Lakeside Machine Vindicator BF-1 Belt Fed Semi-Auto Rifle
Sam.S 01.07.22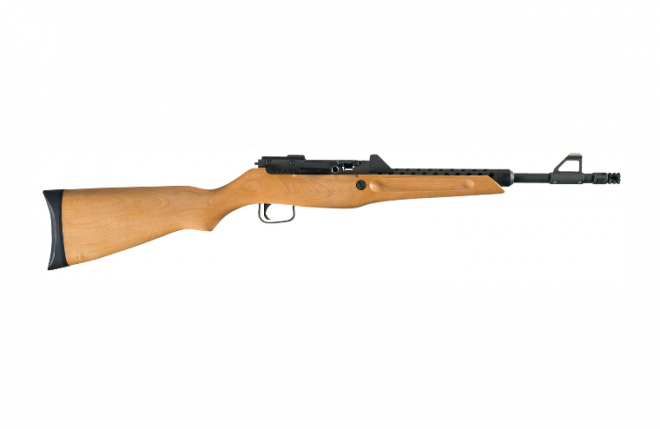 Welcome to today's Photo of the Day! Here we have a BF-1 Vindicator. After laws were passed in the late 1980s that prevented newly manufactured machine guns from being fully transferable. Before/during this time Tippmann (of paintball fame) was manufacturing miniature versions of Browning belt-fed machine guns in .22 Long Rifle. When those laws were passed Tippman sold his tooling and remaining parts by the name of Eric Graetz who owned Lakeside Machine. Graetz used the spare parts and tools to make belt-fed guns (some NFA and some not) in both .22 Long Rifle and .17 Mach II. These rifles were not modeled after anything specific, but still used the Tippman/Browning mechanisms left over. These became the Vindicators!
"The BF-1 Vindicator is built around an action patterned after the Browning machine gun, scaled down to a rimfire shoulder arm for an belt-fed plinking gun in a virtual class of its own. It was originally designed by Eric Graetz at Tippmann Arms. Graetz then formed Lakeside Machine and purchased the rights, tooling, and all existing parts from Tippmann. All parts are interchangeable with the Tippmann versions. The included factory letter signed by Graetz states that this rifle is one of only 11 in .17M2 and is one of a limited production of 61 total Vindicatory BF1 rifles. They letter also states, "there is no existing plan for continued production in the future, thus they will become quite a collector's item." Sighting is via the proprietary "summit system." It also has a flash hider on the threaded muzzle and a vented heat shield covering 2/3rds of the barrel. The action is compatible with woven cloth belts and disintegrating plastic links, and the smooth pistol grip stock is fitted with a solid recoil pad. Also included with the rifle is a plastic hard case, two 50 round cloth belts, a pack of loose links (gray magnetic), spare springs, manual, and warranty card."
Lot 804: Lakeside Machine Vindicator BF1 Rifle 17 M2. (n.d.). Rock Island Auction Company. photograph. Retrieved January 6, 2022, from https://www.rockislandauction.com/detail/66/804/lakeside-machine-vindicator-bf1-rifle-17-m2.