TFBTV – VHS-2! NEW Springfield Hellion Bullpup Review & Mud Test
Adam Scepaniak 01.14.22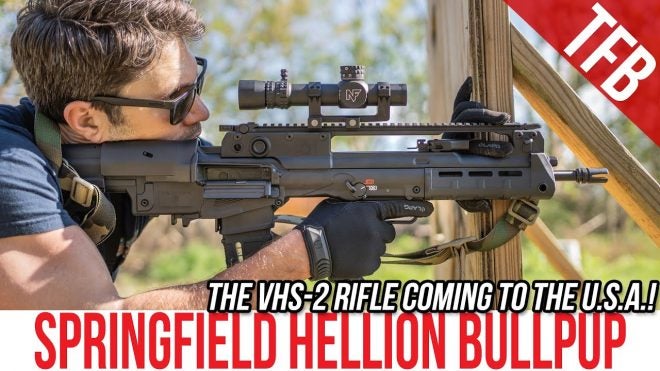 In this very exciting episode of TFBTV, James Reeves is pleased to announce the Springfield Hellion bullpup rifle, aka the HS Produkt VHS-2 (specifically, the VHS-K2). Springfield is going to be importing this rifle which has been in production in Croatia since 2008. It serves as the national rifle of Croatia and – of all places – Iraq. A little like a FAMAS (but good) the VHS-2 has quite a reputation to uphold. Does Springfield do it justice with this imported version? Check today's video on TFBTV to see how it holds up to a range review and a little but of mud/water testing, as well as accuracy testing.
Per HS Produkt:
"The VHS-2 is a fully ambidextrous 5.56 NATO caliber assault rifle. Designed on bullpup modular platform it maintain all the ballistic benefits of a longer barrel in a shorter package without sacrificing overall length, accuracy and muzzle velocity. The polymer receiver is equipped with an 5 point adjustable buttstock. Combination of all of this with dual dust cover ejection ports on both sides of the receiver and specially designed empty case deflectors create flexible and user friendly multi-purpose rifle. The rifle is equipped either with an carrying handle with NATO STANAG 4694 rail and flip up iron sights or with integrated 1.5X optical red dot sight. VHS-2 uses proved short-stroke gas piston operating system with rotating bolt."
Contents:
0:00 Intro
1:15 History
4:27 Features and Specs
7:17 Range Review
11:27 Accuracy Testing
12:46 Range Review, Cont.
13:39 Torture Testing
17:25 Conclusion
««« GEAR USED IN THIS VIDEO »»»
‣ Shoes – James is wearing Altama OTB Mids ☞ https://amzn.to/3r6Xtqv
‣ Eye Pro, Non-Tactical – James wears Electric Knoxville sunglasses ☞ https://amzn.to/2YOVr3J
‣ Eye Pro, Tactical – James also wears Oakley M-Frames ☞ https://amzn.to/3hEFrI9
‣ Ear Pro, Over Ear – Walker Razors ☞ https://amzn.to/3nl29ss
‣ Ear Pro, In Ear – Surefire Sonic Defenders ☞ https://amzn.to/2ZI5xns
‣ Watch – James and Ryan wear the Garmin Fenix 6 ☞ https://amzn.to/3lexr1B
‣ Apparel: All TFBTV apparel is sponsored by 5.11 Tactical and you can get it at www.511tactical.com
««« GUN AND GEAR GIVEAWAYS »»»
Check out our Patreon and SubscribeStar pages if you enjoy our program, and consider helping us at TFBTV out. We do not take money for positive reviews and we give away guns and gear EVERY month to our supporters. NOTE: We prefer SubscribeStar as they are a more gun-friendly platform.
https://www.patreon.com/tfbtv
https://www.subscribestar.com/tfbtv
Gun and gear giveaways are not affiliated with, associated with, or in any way endorsed by YouTube and TFBTV is solely responsible for the giveaways mentioned in this video and this description. No purchase required for gear worth over $250. Full rules and terms are found at http://tfbtv.gun.team/
««« FOLLOW US ON SOCIAL MEDIA »»»
https://www.facebook.com/TheFirearmBlogTV/
https://www.instagram.com/TFBTV/
https://www.reddit.com/r/tfbtv/
««« SPONSORS »»»
Please Support Them! They help make our videos possible.
– Ventura Munitions – www.venturamunitions.com
– Federal Premium – www.federalpremium.com
– Blue Alpha Gear – www.bluealphagear.com
– Top Gun Supply – www.topgunsupply.com
««« TFB CHAT ROOM »»»
Want to join the TFBTV chat room? Use our Discord Invite: discord.gg/tfbtv
#TFBTV