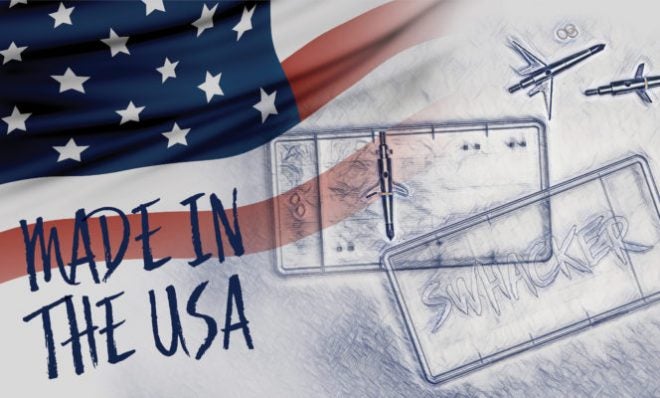 Swhacker, the manufacturer of "slice-twice" technology mechanical broadheads, has recently announced that starting this year its entire line will be made exclusively in the United States. This announcement places the Swhacker brand among other Kelly Outdoor Products Group brands that already bear this designation including C'Mere Deer attractants, TAC Vanes, and Steel Force broadheads.
"Every Swhacker broadhead that is going to be made from this point forward is always going to be made in the United States," Kelly Brands Director of Outdoor Products Randy Groff said. "Consumers can trust that Swhacker broadheads will be made, assembled and packaged with integrity."
Starting now, orders fulfilled in 2022 will begin to include American-made Swhacker products. Products will be fully assembled from the home base of Kelly Brands in Covington, Georgia. Swhacker broadheads utilize slice-twice technology, which creates the massive internal hemorrhaging, and thus, a quick, clean, ethical kill. They have two wing-blades to penetrate the hide and force the main blades to open once they're past ribs, or other bones that would otherwise significantly dull the blades. Swhacker broadheads were first developed by retired aerospace engineer Rick Forrest. He sought to create a reliable broadhead whose main cutting blade opened after passing through the ribs.
Swhacker – Also New for 2022
Another update for Swhacker in 2022 is the recently rolled out updated packaging that is designed to create a better user experience. Swhacker's new reusable case pack features a strong snap closure, designed to carry expandable broadheads and accessories with room for an extra head. Packaging keeps broadheads sharp and easily accessible. With all of these modern updates and bringing manufacturing stateside, Swhacker is poised to have a great 2022. Would you by these broadheads for archery hunting? As always, let us know all of your thoughts in the Comments below! We always appreciate your feedback.