New P365XL Spectre Comp Pistol Introduced by SIG Sauer
Luke Cuenco 02.02.22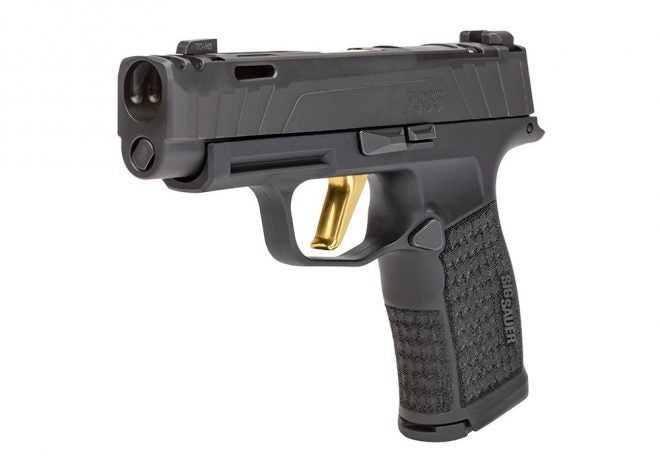 Finding the perfect carry gun that can also be your range toy is a difficult task. Many of the best carry pistols out there just don't cut it in the competition or "range fun" fields and those that are designed purely just for fun or for high round counts tend not to be the best guns to carry – especially when you're loaded down with a hunting rifle, binoculars and a game bag. SIG Sauer has added a new option to the field of Carrying guns with the introduction of their new P365XL Spectre Comp.

New P365XL Spectre Comp Pistol Introduced by SIG Sauer
The main feature of the P365XL Spectre Comp is its new SIG Custom Works Slide with an integrated compensator that reduces felt recoil and muzzle flip by up to 30%. In addition to the integrated compensator, the P365 Spectre Comp will also include a Titanium Nitride gold barrel, a SIG XSeries flat-faced trigger, and a new laser stippled LXG XSeries grip module. The P365XL Spectre Comp and its SIG Custom Works slide will also be optics ready right out of the box, so there will be no need to wait several months for a second introduction that only adds optics capabilities.
Features:
Integrated compensator
Laser Stippled LXG XSeries grip module
Custom Works Spectre optic-ready slide
Titanium Nitride gold barrel and XSeries flat trigger
Compatible with all 365XL holsters
XRay3 Day/Night sights
(2) 12rd or (2) 10rd Steel Magazines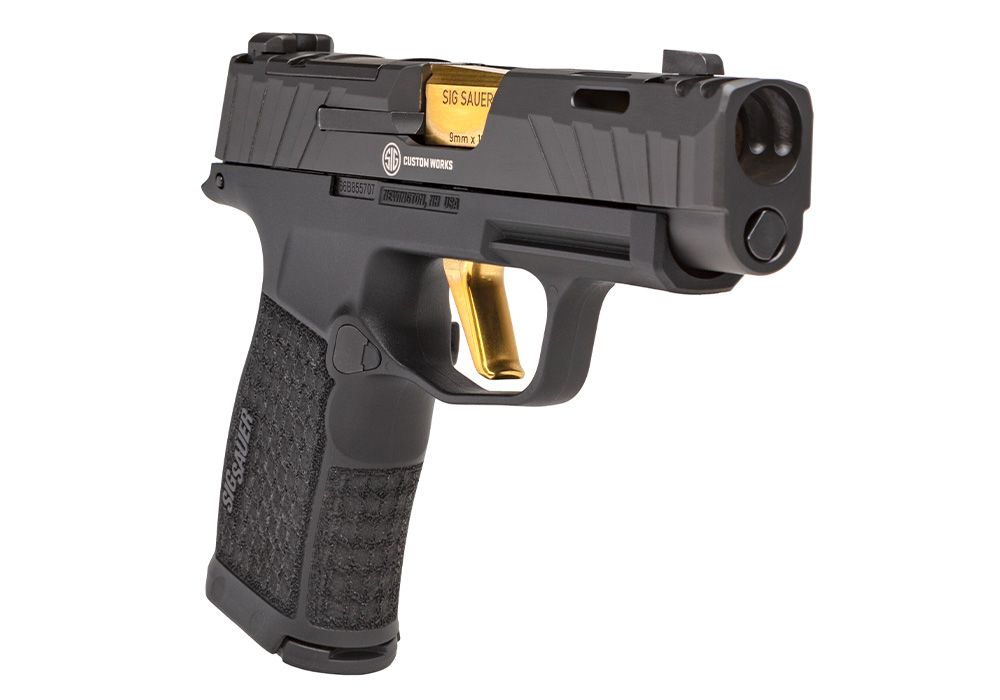 The P365XL Spectre Comp features an XSeries LXG laser stippled grip module, and a Custom Works slide exclusive to this model, with updated cocking serrations giving the pistol a unique look with theTitanium Nitride gold barrel and trigger. But what makes the Spectre Comp truly stand out is its integrated compensator. Not only does it reduce muzzle flip by nearly 30%, but it also can never come loose or cause function issues, because of its uniquely integrated construction with the slide. In addition, with an optic-ready slide and rear dovetail sight, an installed new Romeo Zero Elite optic can be co-witnessed with suppressor height sights. The P365XL Spectre Comp offers all the benefits of a compensated pistol in a reliable, concealable, everyday carry package.
The new SIG Sauer P365XL Spectre Comp is available for order now from your local SIG Dealer and will be available in both standard 12-round magazine offerings as well as 10-round magazine offerings. As someone who has spent lots of time customizing his own P365 pistol, the P365XL Spectre Comp looks to be a great place to start if you're looking to do more than just carry your pistol. The MAP of the new P365XL model is set at $1,199 as configured on the SIG Sauer website.