POTD: Century Gun Co. Model 100 .45-70 Gov't Single-Action Revolver
Sam.S 02.08.22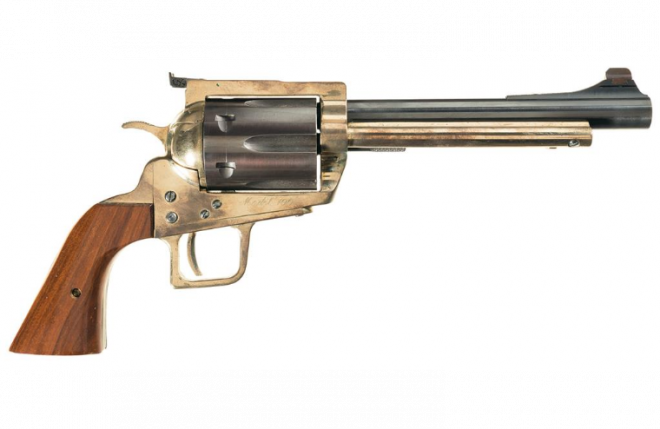 Welcome to today's Photo of the Day! Here we have a BFR before it was cool. This is the Century Gun Company Model 100 single-action revolver in .45-70 Government. This absolute beast was the creation of two gentlemen by the name of Earl Keller and Gene Phelps. They were produced starting in 1973 in honor of the anniversary of the Colt 1873. They would go on to also produce these revolvers in .50-70 and call it the Model 500. They also made guns like this Model 100 in .30-30 Winchester, .375 Winchester, and 444 Marlin. These revolvers use a basic and classic Colt 1873 Single-Action Army mechanism completely scaled up to handle their respective cartridges. One new key design feature is that these revolvers have a cross-bolt safety just above the rear of the trigger guard. They are described as being not unwieldy, but stout to fire. A modern comparison would be Magnum Research's own BFR in some of the exact same cartridge offerings.
"Manufactured between 2002 and 2004."
Lot 6863: Century Gun Co 100 Revolver 45-70. (n.d.). Rock Island Auction Company. photograph. Retrieved February 7, 2022, from https://www.rockislandauction.com/detail/1026/6863/century-gun-co-100-revolver-4570.