POTD: Cyrus Alger Model 1841, 24 Pound Mortar – Not So Modern Mortar
Sam.S 02.14.22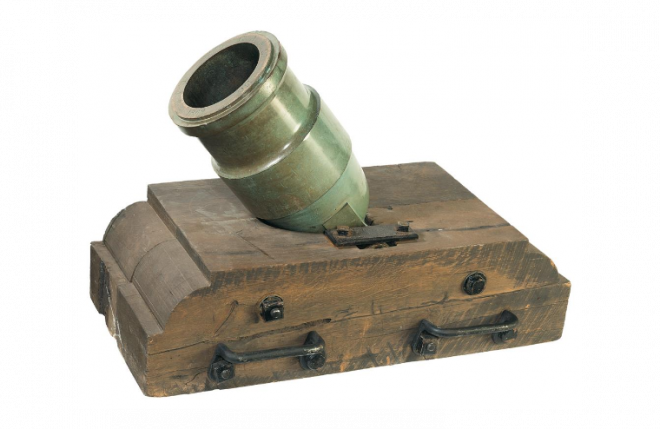 Welcome to today's Photo of the Day! Here we have the mortar before modern mortars! This is a rare Cyrus Alger & Co. Model 1841, 24 Pound Coehorn Mortar. These old school, mid-1800s style mortars are basically cannons tilted at a wide angle in order to lob a very big projectile toward enemy lines. Starting out in the early 1800s Cyrus Alger & Co. would manufacture and ship supplies plus ammunition at the US government's discretion. Later during the second half of the American Civil War, they took it upon themselves to also help manufacture artillery pieces such as this mortar. They would be shipped to both the Union Navy and Army, and were widely documented as used in the trenches around Richmond and Petersburg, Virginia.
"This mortar has a 5.82 inch bore and is 16 inches long overall and 12 1/2 inches wide at the trunnions. It is marked "No. 45 C. A. & Co. 170 LBS. T.J.R. 1863" around the face of the muzzle and "1410" on the right just ahead of the trunnion. It is on a fine, reproduction bed built to government specs…

This pattern was scarce early on and were unavailable during the Vicksburg campaign in July of 1863 where General Grant lamented the fact that he had no Coehorns. 200 Coehorns were produced after this proclamation by the end of the war. These small artillery pieces could launch explosive ordnance at ranges varying from 20 to 1,200 yards and were able to hit targets concealed in trenches or behind other fortifications and could be moved to where they were needed much faster than traditional artillery and placed near the front of the trench line. They required relatively little powder charges (1/2 pound) making them easier to supply. The most recent sale we could find of a similar gun was for over 33k, without a bed. A wonderful gun, worthy of the finest private or museum collection."
Lot 112: Rare, Cyrus Alger & Co. Model 1841, 24 Pound Coehorn Mortar with. (n.d.). Rock Island Auction Company. photograph. Retrieved February 13, 2022, from https://www.rockislandauction.com/detail/67/112/rare-cyrus-alger-co-model-1841-24-pound-coehorn-mortar-with.