POTD: Large Belgium 15mm Pinfire Revolving Rifle with Snap Bayonet
Sam.S 02.21.22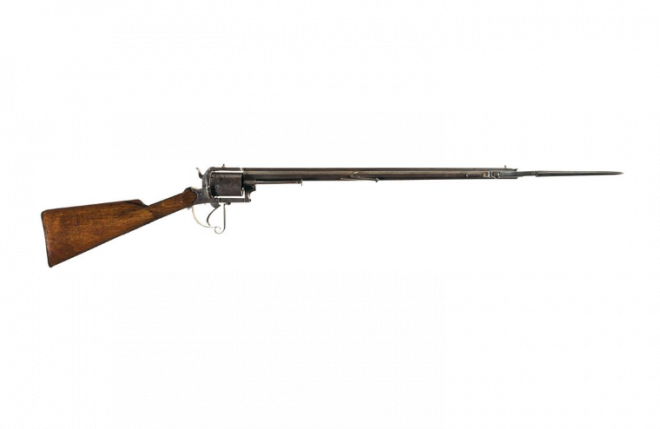 Welcome to today's Photo of the Day! Anyone who knows me knows that I have a peculiar affection for obsolete firearms – but arguably and more importantly –  obsolete cartridge designs are equally entrancing. I have written extensively about pinfire in the past and even that does not quite do it justice because it is one of the first real instances of self-contained metallic cartridges. Here, we have a very cool Belgium 15mm Pinfire Revolving Rifle along with its bayonet. Pinfire cartridges were known to be pretty wimpy and the fact that someone out there made a 15mm Pinfire Revolving Rifle is really quite different. It makes me wonder if the increase in barrel length and resulting velocity would make these old-time cartridges more worthwhile.
"This is a very interesting pinfire revolving rifle that was manufactured in Europe, proofed in Liege, Belgium, and then sold in Argentina where there was a successful struggle for independence from Spain in 1810-1820 followed by multiple civil wars which finally came to a close in the 1880s. The rifle has a folding, spring loaded bayonet on the left side of the barrel. Similar bayonets were often used in the late 1700s and early 1800s primarily on blunderbusses. The barrel is marked "JUAN LOPEZ ST. MARTIN 18 BUENOS-AYRES" on top of the rib, and a blade front sight is dovetailed at the front. A rear peep sight is fitted on the top strap. Juan Lopez appears at San Martin in directory records from as late as the 1870s and 1880s as a dealer in arms and ammunition and drops from listings by the early 20th century. A Liege oval "E/LG/*" proofmark ahead of a "crown/U" proof is on the side of the cylinder, and "NN" is on the face. There are three script letters on the bottom of the barrel that appear to read "LTY." Chris Curtis, in his book "System Lefaucheux" on page 219, indicates that 15mm revolving rifles are at a Level 9 (out of 10) for rarity & desirability. The Argentine retailer markings further add to the rarity. Multiples rifle manufactured by various Belgian and French firms with similar design aspects and nearly identical trigger guards are pictured on pages 168-170. The large guard and trigger allow for a two finger pull to combat the heavy double action mechanism. Three 15mm pinfire rounds are included."
Lot 1369: European Pinfire Rifle 15 mm pinfire. (n.d.). Rock Island Auction Company. photograph. Retrieved February 21, 2022, from https://www.rockislandauction.com/detail/67/1369/european-pinfire-rifle-15-mm-pinfire.