POTD: Rare World War II Japanese Hamada Type 2 Semi-Automatic Pistol
Sam.S 03.01.22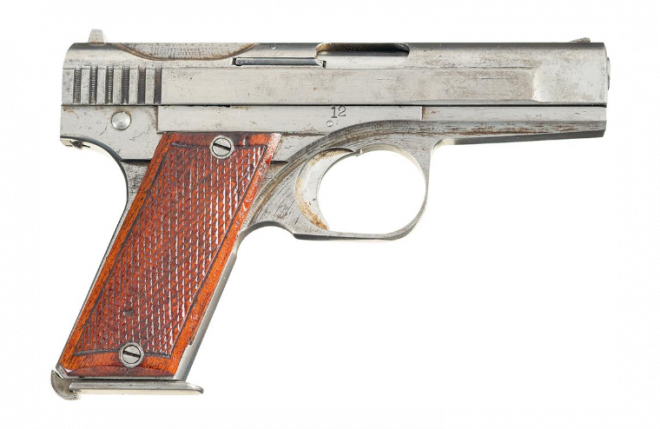 Welcome to today's Photo of the Day! Here we have an extremely rare Hamada Type  2 pistol. These Hamada Type 2 pistols were the 8mm Nambu iteration of an already existing 32 ACP pistol. As I understand it the Japanese military in World War Two was fairly desperate for firepower to the point where they contracted out small gunshops to make firearms. This specific pistol as I mentioned is the younger sibling of a smaller 32 caliber brother which had production numbers of around 5000. The military decided that their 8mm Nambu cartridge should be the standard cartridge so the design was essentially scaled up and improved. This sounds great on paper but the military authority that it was submitted to rejected it several times due to it not being designed by military personnel. This is an especially strange situation given the 32 pistol was accepted and there was a war on. The Hamada Type 2 was eventually "refined" to the point where it went from an 8 round capacity to 6 and its finish left "in the white". Today there is an estimated handful of these guns in existence. Serial number records only mention up to number 50. This one is number 12.
"This is a rare example of a WWII Japanese "Hamada" Type 2 semi-automatic pistol. This model was a continuation of the early Type I Hamada as developed in 1940. The Type I pistols were produced from 1941-1944 with approximately 4500 actually produced. These Type 2 pistols were actually only produced from late 1944 until the fall of Japan in late 1945. Both pistols were designed and developed as a low cost substitute for the Type 94 Pistol. In a unique patterning arrangement, the Type 2 pistols were manufactured by the Notobe factory using tooling and provided by Nagoya Arsenal and then shipped "in the white" to Nagoya's Toriimatsu factory, where they would be inspected, blued and issued to the various Japanese military units. They are a simple blow-back design with the recoil spring around the outside of the barrel and housed inside the upper slide. It has a very comfortable grip angle and was fitted with mahogany grips. The original production contract was intended for 500 guns however only 10 guns of the 500 actually exist today. All of them are "in the white" with the exception of pistol #2, which was later blued in the U.S. It is speculated that the original unfinished pieces were destroyed after the war with these few examples having been saved as souvenirs by returning GIs. It has the standard Kanji markings on the left hand side of the slide, with this example having the serial number "12" stamped on the right side instead of the left side of the frame. The slide is fitted with a standard blade front sight and raised fixed rear sight. It is fitted with an original set of mahogany set of checkered grips both numbered "12" on the back sides. It comes complete with its original magazine also numbered "12" on the spine. As noted, this super rare pistol has all matching serial numbers."
Lot 1635: Japanese State Military Weapons Hamada Pistol 8 mm Nambu. (n.d.). Rock Island Auction Company. photograph. Retrieved March 1, 2022, from https://www.rockislandauction.com/detail/67/1635/japanese-state-military-weapons-hamada-pistol-8-mm-nambu.