The High Ready Chest Holster: NEW From Galco Holsters
Nicolas Lenze 03.04.22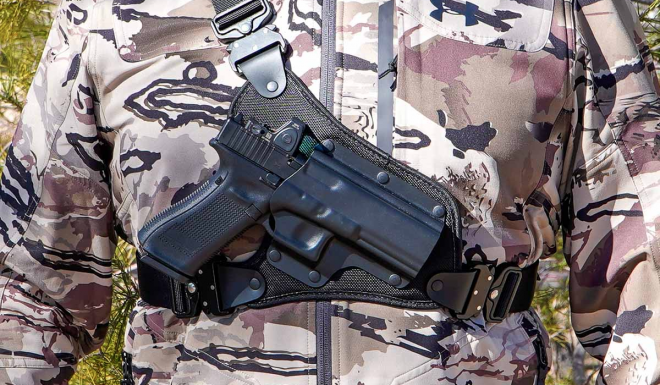 The wilderness is…well, wild! Forests, wetlands, and deserts have different dangers, but each is just as dangerous. Running into a two- or four-legged predator while trekking through nature can quickly turn deadly. This is why many of us choose to carry a sidearm. There's nothing quicker and more comfortable than carrying on your hip, but sometimes that's not an option. Backpacks and other gear can interfere with an efficient draw, which is why chest holsters have been gaining popularity. Galco Holsters has just introduced another option with the new High Ready chest holster.
Galco Holsters News Coverage on AllOutdoor:
Galco's High Ready™ chest holster system is the latest in an expanding line of torso-mounted hunting and outdoor holsters. Very comfortably carrying a large-frame semiauto in an easily-accessible chest position, the High Ready is ideal for protection when hunting, fishing, camping or hiking in bear country. Positioning on the chest keeps the handgun clear of gear carried near the waistline or on the back. This also helps keep the handgun dry when wading, and is a great choice for riding, whether on an ATV or horseback.
The High Ready Chest Holster: NEW From Galco Holsters
The High Ready chest holster is constructed like a hybrid IWB holster, using Kydex, nylon, and padding. The Kydex shell is formed specifically for your model of firearm. It's attached to closed-cell foam padding, which is wrapped in nylon for added durability. This padded piece rides against your body and is covered in Galco's Comfort Cloth. This is an Adaptive Performance Mesh that will wick your sweat and keep you dry. It's all held to your chest using two straps. The straps are two inches wide and connect at three points. Currently, this holster is only available for Glock pistols.
SPECS
Materials: Kydex, nylon
Strap width: 2″
Compatibility: Glock
MSRP: $169.00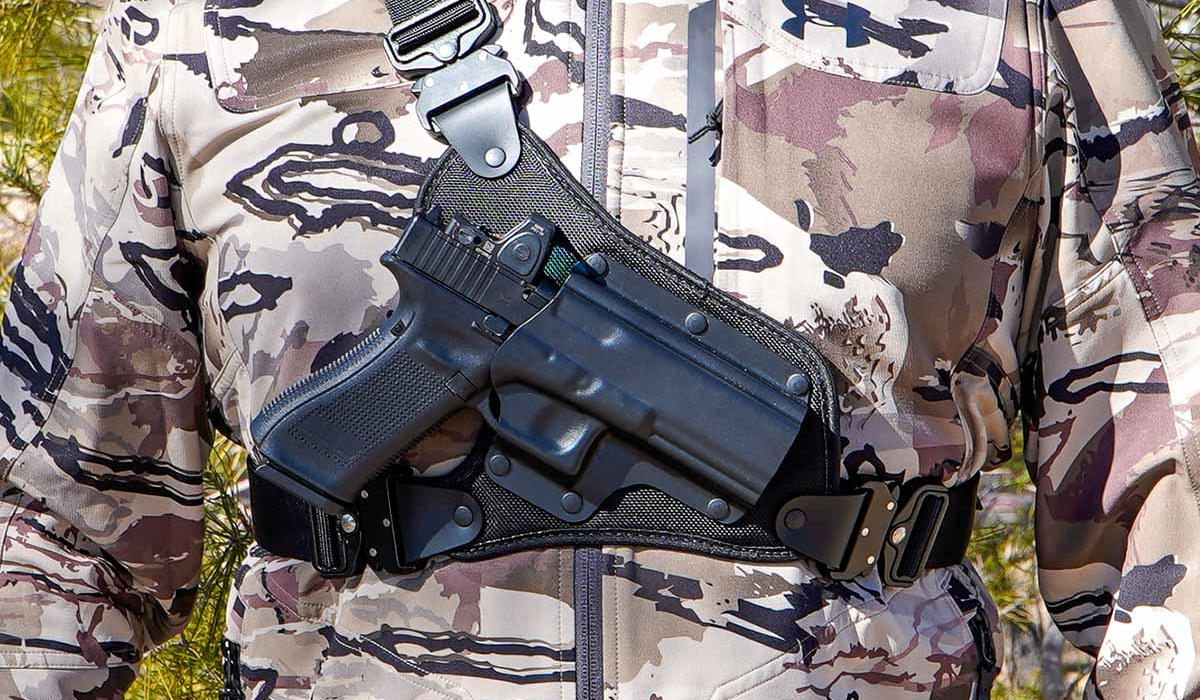 If you would like more details, head over to the Galco Holsters website. You can get more news by following them on social media. They can be found on Facebook, Instagram, YouTube, and Pinterest.