NEW Springfield Armory Hellcat Pro – A Tactical Compact Defense Pistol
Adam Scepaniak 03.04.22

Springfield Armory debuted the world's highest capacity micro-compact only a few years ago with their Hellcat which set the firearms industry on fire. It boasted solid handling with its Adaptive Grip Texture, high capacity with 11-round flush plus 13-round extended magazines, and it was an incredibly small footprint for concealed carry. Now, Springfield has upped the ante on this darling of the self-defense market by creating a Hellcat Pro! A version of the Hellcat with even more capacity, rail space for accessories, a longer barrel, and smoother recoil.
Springfield Armory Hellcat News Coverage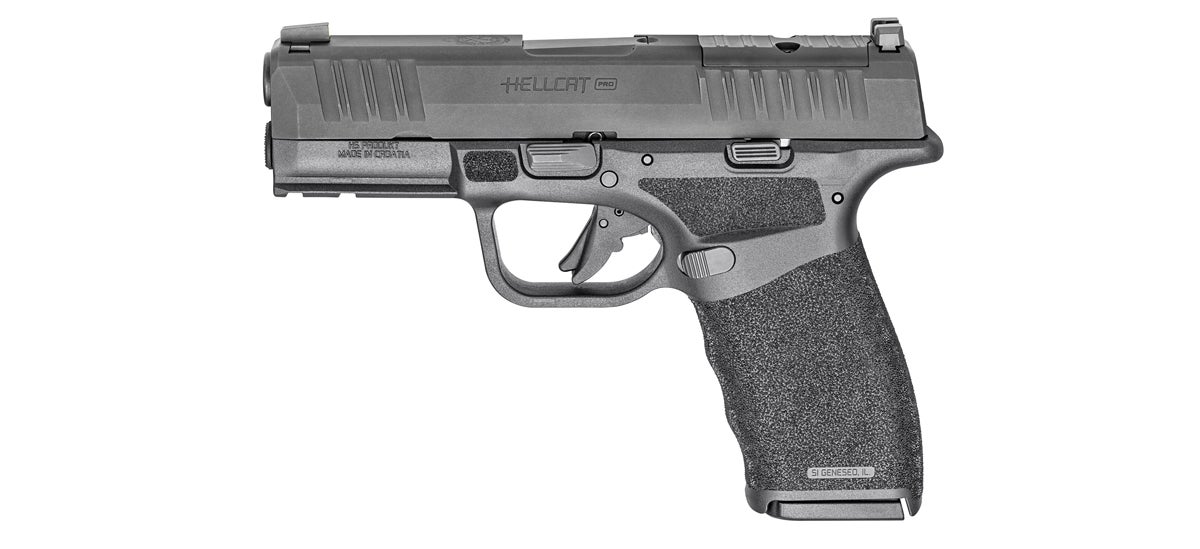 Everything that you love about the original Hellcat is retained in the Hellcat Pro, but you get some additional upgrades to make this nearly full-size carry pistol even better. Most people will immediately notice the longer grip which affords you 15 rounds of 9mm. You also have a slightly extended barrel that now reaches out to 3.7″ in length. The rest of the nitty-gritty specifications can be read below as presented by Springfield Armory:
Cartridge: 9mm
Barrel: 3.7″ Hammer Forged Steel w/ a Melonite® Finish and 1:10" Twist
Slide: Billet Machined, Melonite® Finish, Optics Ready
Frame: Black Polymer w/ Adaptive Grip Texture
Sights: Tritium/Luminescent Front, Tactical Rack U-Notch Rear
Recoil System: Dual Captive Recoil Spring w/ Full Length Guide Rod
Magazines: (2) 15-Round
Width: 1″
Weight: 21 oz
Length: 6.6″
Height: 4.8″
The current MSRP is $634 for the Springfield Armory Hellcat Pro OSP and it also carries their Lifetime Warranty in the rare event that you should ever need service for your firearm. The Hellcat Pro is adaptable to common micro red dots including the popular Hex Wasp which is already known for fitting and suiting the Hellcat RDP (Rapid Defense Package) very well. For someone who wants to blend the edges of concealed carry with a dominant near-full size pistol, the Hellcat Pro looks to be a perfect addition to anyone's arsenal. As always, let us know all of your thoughts in the Comments below! We always appreciate your feedback.