TFBTV – [IWA 2022] The German Norlite USK-G Glock Carbine Chassis
Adam Scepaniak 03.08.22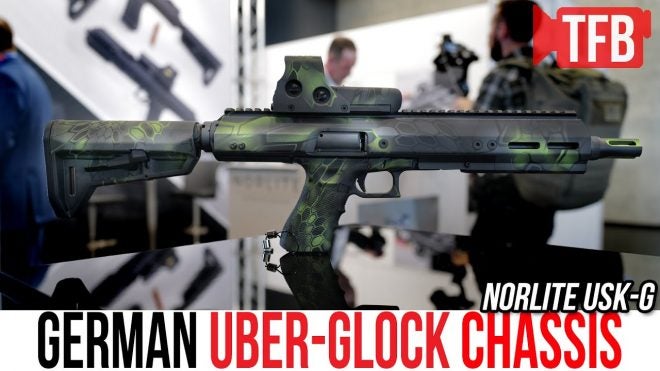 In this episode of TFBTV, James Reeves visits Norlite to discuss the amazing Norlite USK-G Glock carbine/chassis. Essentially, the USK-G is very much a stand-alone 9mm carbine, but it needs a Glock frame to be installed to borrow the fire control group and pistol grip. That means that, under most laws, the kit is not a firearm, but a Glock "part" or accessory. While this is not as big of a deal to US shooters, in some European countries where firearm ownership is limited to a certain number of guns, the ability to have a pistol caliber carbine and pistol while only using one pistol license is worth its weight in gold.
««« GUN AND GEAR GIVEAWAYS »»»
Check out our Patreon and SubscribeStar pages if you enjoy our program, and consider helping us at TFBTV out. We do not take money for positive reviews and we give away guns and gear EVERY month to our supporters. NOTE: We prefer SubscribeStar as they are a more gun-friendly platform.
https://www.patreon.com/tfbtv
https://www.subscribestar.com/tfbtv
Gun and gear giveaways are not affiliated with, associated with, or in any way endorsed by YouTube and TFBTV is solely responsible for the giveaways mentioned in this video and this description. No purchase required for gear worth over $250. Full rules and terms are found at http://tfbtv.gun.team/
««« FOLLOW US ON SOCIAL MEDIA »»»
https://www.facebook.com/TheFirearmBlogTV/
https://www.instagram.com/TFBTV/
https://www.reddit.com/r/tfbtv/
««« SPONSORS »»»
Please Support Them! They help make our videos possible.
– Ventura Munitions – www.venturamunitions.com
– Blue Alpha Gear – www.bluealphagear.com
– Top Gun Supply – www.topgunsupply.com
««« TFB CHAT ROOM »»»
Want to join the TFBTV chat room? Use our Discord Invite: discord.gg/tfbtv
#TFBTV