Curious Relics #034: The Reliable and Robust Spanish Star BM – Part III
Sam.S 03.09.22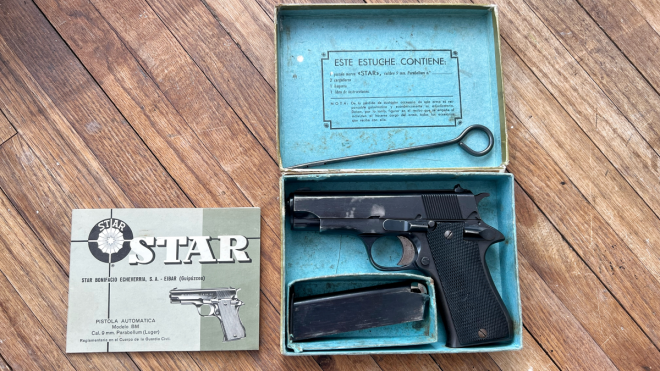 Welcome, if you are a newcomer to this fun bi-weekly segment of AllOutdoor.com! The last time around I covered the history, its variations, and how to date your personal Star Model BM. Today we are jumping back into the Spanish Star BM and closing it out with some specifications, aftermarket parts/accessories, and a range trip. This pistol is one of my personal favorites to punch paper with. Let's dive right into the rabbit hole!
---
Welcome to our recurring series of "Curious Relics." Here, we want to share all of our experiences, knowledge, misadventures, and passion for older firearms that one might categorize as a Curio & Relic  – any firearm that is at least 50 years old according to the ATF. Hopefully along the way you can garner a greater appreciation for older firearms like we do, and simultaneously you can teach us things as well through sharing your own expertise and thoughts in the Comments. Understanding the firearms of old, their importance, and their development which lead to many of the arms we now cherish today is incredibly fascinating and we hope you enjoy what we have to share, too!
---
Specifications: Spanish Star BM
The Star Model BM was produced in numbers of roughly 217,700 and was widely thought to be a very adequate addition to the 1911 lineage that it sourced its design features from. Its small stature and 9mm chambering made it compact, but not insignificant. The steel construction and abstention of a grip safety made it a robust carry piece and service pistol valued throughout the 1970s through the 1990s when other hammer-fired reliable 9mms started to take its place. The Star Model BM was known to come in cardboard boxes (and later fragile plastic boxes) featuring its brand in all caps. These boxes included a manual which gives a very detailed look at the pistol as well as a cleaning rod and an extra magazine. Most surplus pistols that do come with their box will exclude the extra magazine.
Years Produced: From 1972–1992
Years in Service: 1972 to present (in small numbers and various police/military capacities)
MSRP In 1978: Roughly $209 (about $901.23 in 2022)
Chambering: 9x19mm (9mm Luger)
Barrel Length: 3.90 Inches
Overall Length: 7.17 inches from heel to crown
Weight: Roughly 35 Ounces
Action: Single Action
Safety: Manual Right Handed Thumb Safety, Magazine Safety
Capacity: 8 round box magazine
Front Sight: Fixed Front Ramp
Rear Sight: Rear Square Notch Doivetailed Sight
Grip: Black Plastic
After Market Parts & Accessories: Spanish Star BM
Since the Star BM is a relatively new addition to the surplus market it has many different places to source parts from. I say parts because "accessories" are and were pretty seldom made for this underrated handgun. The usual spots like eBay, Liberty Tree, and Numrich have parts, although Numrich seems to be dwindling on them which tells me the import or at least Numrich's import of these guns has slowed. J&G Sales has a decent amount of parts (no doubt sourced off of guns bought by them), as well as SARCO, Apex Gun Parts, and Jack First. You may note that in some of my photos there are a set of aftermarket wood grips. Different grips are EVERYWHERE for this pistol since it has entered the United States in such numbers and it is affordable. I believe my set of grips came from the website at the link here, although it looks like they are out of stock.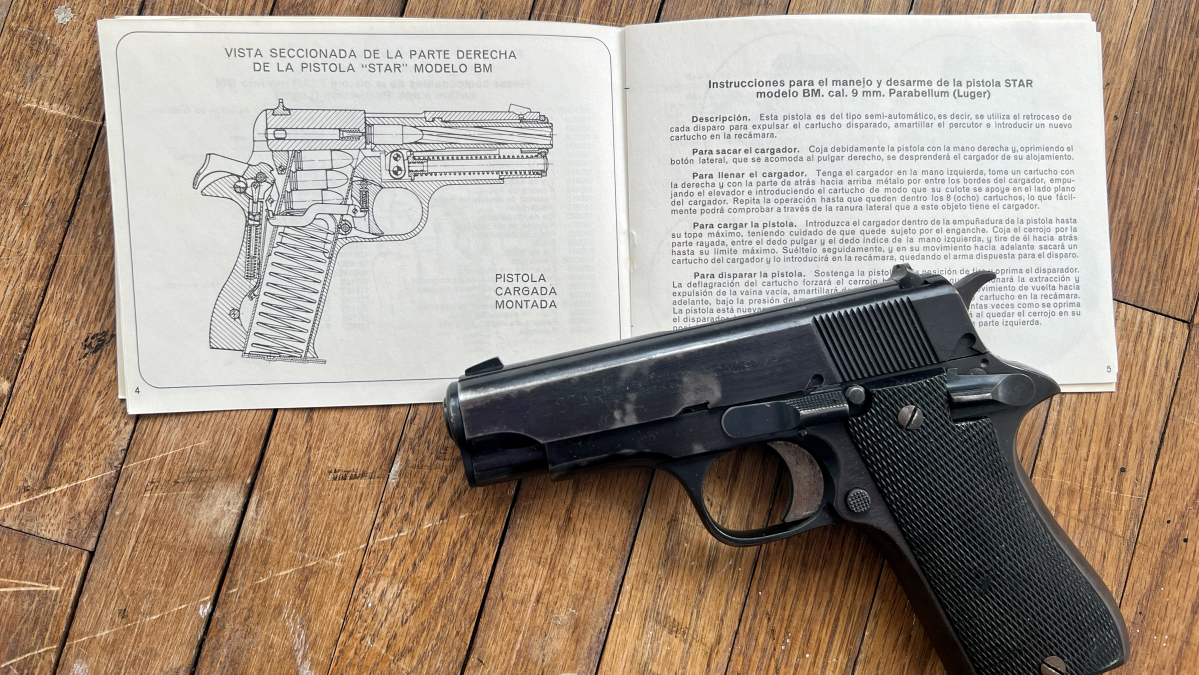 Range Time: Spanish Star BM
This was not my first time taking my Star Model BM to the range. In actuality, I carried this fine little 9mm 1911 for about a year and a half. It was compact and not too heavy. Although I would be lying if I said it did not feel heavier after working a ten-hour day. The part that always annoyed me about it was the magazine safety which you rarely see in newly manufactured guns these days. Yes, I do understand I could remove the magazine safety and I am more than capable to do so, but a part of me just wanted to keep it as is.
Range time with the Star BM is always a joy because it is sort of effortless. I say sort of because, given the barrel length and lightweight nature of the handgun, it can be snappy if it is not handled with a firm hand. The snappy nature of the BM is easily overcome and gotten used to with a few range sessions. The magazine is easy to insert although it does not shoot out very well when depressing the release, not that it was ever meant to per se. Manipulating the safety does not rely on the readjustment of my hand and the sights are typical of most 1911 handguns. The overall fit and feel of this gun are very comfortable and it makes it an enjoyable shooter.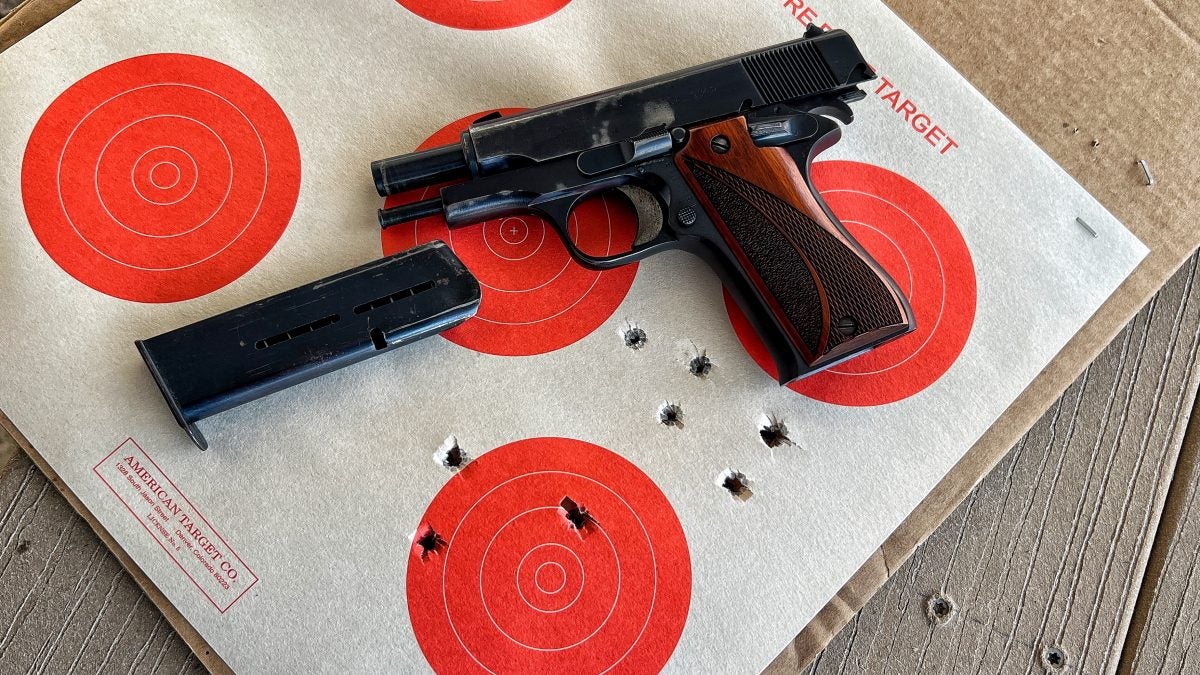 As you can see from my "grouping" above this gun does not shoot hole-in-hole. When I received this surplus gun I noticed it was well used besides its obvious holster wear. When you shake it, it sounds like a maraca. I have shot it much better than this, but this would probably be the last gun I take to the range to impress anybody because no matter what ammo or how patient I am it just does not shoot well or I do not shoot it well. It was plenty good for me to carry (mind you this target was at 15 yards) and I was confident in its ability to function reliably and hit what I was aiming at. I am very certain that a Star BM in better shape would outshoot mine any day.
Final Thoughts: Spanish Star BM
If you have not been able to pick up on it already, I have an affinity and respect for this underrated underdog of a handgun. It is not junk nor does it have any mechanical issues. I have been nothing but pleased with the fit and reliability of my personal Star BM and would wager others are also, considering this all-steel 1911 style 9mm can still be had for around $250. All in all, I think it has a quiet and neat place in history and still has more story to be told if someone had the time and research capabilities that exceed my own. Thank you to all that followed along and stayed with this last set of three Star BM articles! I am looking forward to covering the next topic soon. Take care and stay safe out there!
In closing, I hope our Curious Relics segment informed as well as entertained. This all was written in hopes of continued firearm appreciation and preservation. We did not just realize how guns were supposed to look and function. It was a long and tedious process that has shaped the world we live in. So, I put it to you! Is there a firearm out there that you feel does not get much notoriety?  What should our next Curious Relics topic cover? As always, let us know all of your thoughts in the Comments below! We always appreciate your feedback.