TFBTV – [IWA 2022] NEW Israeli 1911s: Bul TAC 2011 & Updated SAS II
Adam Scepaniak 03.12.22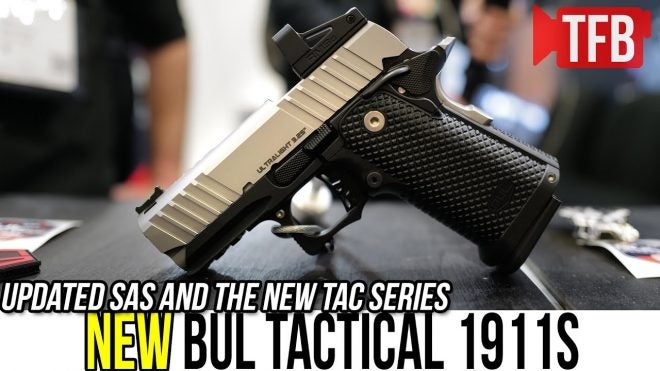 In this episode of TFBTV, James Reeves is at IWA to see the new 2011-style pistols from Bul Armory. This year, Bul has introduced a new model the Bul TAC 2011 series, in a number of configurations. Bul also has an updated version of the SAS II Ultralight coming to market, with a number of improved features and better optics readiness. See today's video to learn more.
««« GUN AND GEAR GIVEAWAYS »»»
Check out our Patreon and SubscribeStar pages if you enjoy our program, and consider helping us at TFBTV out. We do not take money for positive reviews and we give away guns and gear EVERY month to our supporters. NOTE: We prefer SubscribeStar as they are a more gun-friendly platform.
https://www.patreon.com/tfbtv
https://www.subscribestar.com/tfbtv
Gun and gear giveaways are not affiliated with, associated with, or in any way endorsed by YouTube and TFBTV is solely responsible for the giveaways mentioned in this video and this description. No purchase required for gear worth over $250. Full rules and terms are found at http://tfbtv.gun.team/
««« FOLLOW US ON SOCIAL MEDIA »»»
https://www.facebook.com/TheFirearmBlogTV/
https://www.instagram.com/TFBTV/
https://www.reddit.com/r/tfbtv/
««« SPONSORS »»»
Please Support Them! They help make our videos possible.
– Ventura Munitions – www.venturamunitions.com
– Blue Alpha Gear – www.bluealphagear.com
– Top Gun Supply – www.topgunsupply.com
««« TFB CHAT ROOM »»»
Want to join the TFBTV chat room? Use our Discord Invite: discord.gg/tfbtv
#TFBTV