TFBTV – [IWA 2022] Spuhr Ideal Chassis System for Remington and Tikka
Adam Scepaniak 03.12.22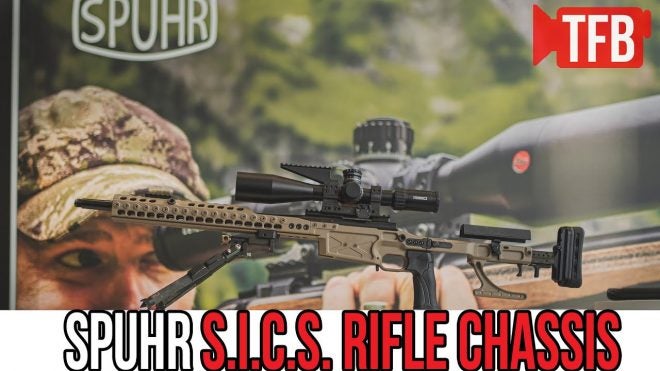 In this episode of TFBTV, James Reeves visits the Spuhr booth to see the new Spuhr Ideal Chassis System, also known as the Spuhr S.I.C.S. According to Spuhr, the S.I.C.S. is available for the following systems:
Remington 700 (Short Action) – (685mm length folded / 975mm length unfolded / weight 2370g)
Tikka T3x (Short Action) – (685mm length folded / 975mm length unfolded / weight 2430g)
Remington 700 (Long Action)
Tikka T3x (Long Action)
Also from Spuhr:
"All variants are designed for right-hand shooters. The system is optimized to accommodate AICS magazines. The magazine well is slightly tapering towards the front, so that it offers enough surface area and can also be used as a barricade stop. There is also an ISMS interface on each side of the magazine shaft for attaching accessories. This can be a DOPE card holder (shot table holder) or timer etc. for example. Inside the body itself there are QD eyelets on each side for attaching a carrying strap. In addition, there is another QD eyelet on the rear left side of the housing just before the transition to the shoulder rest. The handle itself can be adjusted forwards or backwards by 8mm in order to achieve an optimal distance for the trigger finger."
««« GUN AND GEAR GIVEAWAYS »»»
Check out our Patreon and SubscribeStar pages if you enjoy our program, and consider helping us at TFBTV out. We do not take money for positive reviews and we give away guns and gear EVERY month to our supporters. NOTE: We prefer SubscribeStar as they are a more gun-friendly platform.
https://www.patreon.com/tfbtv
https://www.subscribestar.com/tfbtv
Gun and gear giveaways are not affiliated with, associated with, or in any way endorsed by YouTube and TFBTV is solely responsible for the giveaways mentioned in this video and this description. No purchase required for gear worth over $250. Full rules and terms are found at http://tfbtv.gun.team/
««« FOLLOW US ON SOCIAL MEDIA »»»
https://www.facebook.com/TheFirearmBlogTV/
https://www.instagram.com/TFBTV/
https://www.reddit.com/r/tfbtv/
««« SPONSORS »»»
Please Support Them! They help make our videos possible.
– Ventura Munitions – www.venturamunitions.com
– Blue Alpha Gear – www.bluealphagear.com
– Top Gun Supply – www.topgunsupply.com
««« TFB CHAT ROOM »»»
Want to join the TFBTV chat room? Use our Discord Invite: discord.gg/tfbtv
#TFBTV