TFBTV – A Real Life Spy Gun: The B&T Station Six Review
Adam Scepaniak 03.25.22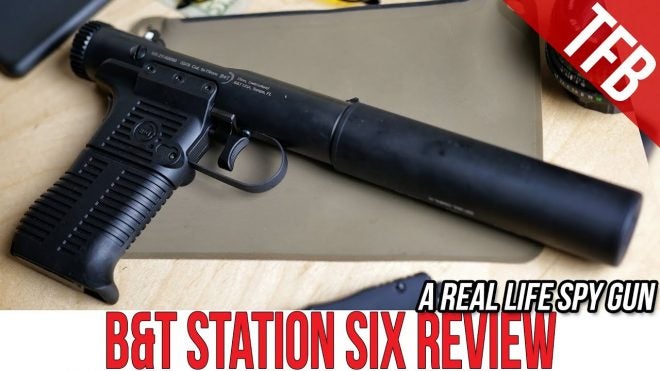 In this episode, James Reeves reviews the modern Welrod pistol, the B&T Station Six. The Station Six is truly a real-life spy gun and a modernized take on the integrally suppressed Welrod pistol from the World War II era. This Swiss 9mm bolt-action pistol with removable integral suppressor could be one of the quietest guns ever made, but is it worth the $2,250 street price these are going for? Watch today's video to get James' opinion and to hear the Station Six in action.
««« GEAR USED IN THIS VIDEO »»»
• Recommended Subsonic Ammo – Federal Syntech 150gr https://bit.ly/3Nh708w
• James' Sunglasses of Choice: https://amzn.to/3Iso4F4
• Oakley Ballistic M-Frame Shooting Glasses: https://amzn.to/3tg58Uj
• Walker Razor Slim Electronic Muffs: https://amzn.to/3CdwC1b
• Apparel: All TFBTV apparel is sponsored by 5.11 Tactical and you can get it at www.511tactical.com
««« GUN AND GEAR GIVEAWAYS »»»
Check out our Utreon and SubscribeStar pages if you enjoy our program, and consider helping us at TFBTV out. We do not take money for positive reviews, we don't push video games or sketchy products, and we give away guns and gear EVERY month to our supporters. Consider supporting us on Utreon or SubscribeStar:
https://utreon.com/c/TFBTV
https://www.subscribestar.com/tfbtv
Gun and gear giveaways are not affiliated with, associated with, or in any way endorsed by YouTube and TFBTV is solely responsible for the giveaways mentioned in this video and this description. No purchase required for gear worth over $250. Full rules and terms are found at http://tfbtv.gun.team/
««« FOLLOW US ON SOCIAL MEDIA »»»
https://www.facebook.com/TheFirearmBlogTV/
https://www.instagram.com/TFBTV/
https://www.reddit.com/r/tfbtv/
««« SPONSORS »»»
Please Support Them! They help make our videos possible.
– Ventura Munitions – www.venturamunitions.com
– Blue Alpha Gear – www.bluealphagear.com
– Top Gun Supply – www.topgunsupply.com
««« TFB CHAT ROOM »»»
Want to join the TFBTV chat room? Use our Discord Invite: discord.gg/tfbtv
#TFBTV
Contents:
0:00 Intro and Welrod History
3:33 Station Six Intro
5:50 Features and Specs
8:16 Suppressed Performance
12:41 Conclusion