POTD: The Praga – Czechoslovakia's First Military Semi-Automatic Pistol
Sam.S 04.22.22

Welcome to today's Photo of the Day! Here we have Czechoslovakia's very first martial handgun, the Praga! When Czechoslovakia gained its independence from the Austro-Hungarian Empire after the cessation of World War One they were left with a surplus bunch of Austrian small arms. Quantity alone made it clear that these guns were not enough to standardize new military small arms. Not to mention the cost of some of the guns like the Steyr 1912, the Roth Steyr, and outdated arms like the Gasser revolvers. That all being said they were tasked with finding a new pistol design to be the standard military issue handgun. This led to the government looking to the Zbrovka Praga gun company (more known for their sporting guns like drillings, double barrels, and bolt action rifles) to design and manufacture their first military issue pistol.
"With a Rampant Lion and "22" stamped on the slide and a matching numbered "FN" magazine.
Manufacturer: Zbrovka
Type: Pistol
Gauge: 32
Barrel: 3 3/4 inch round
Finish: blue
Grip: hardwood"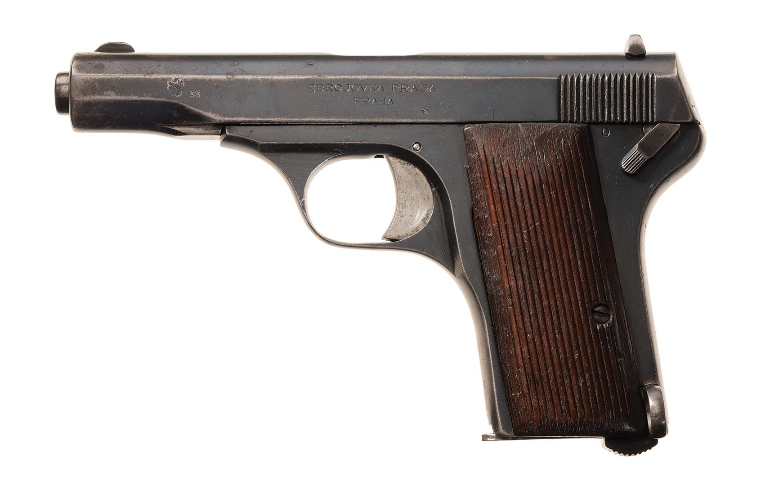 Lot 4414: Praga Zbrovka 1921 Pistol 32. (n.d.). Rock Island Auction Company. photograph. Retrieved April 20, 2022, from https://www.rockislandauction.com/detail/1027/4414/praga-zbrovka-1921-pistol-32.