AllOutdoor Review: Caverns Armory CA-9 PDW 9mm
Eve Flanigan 04.26.22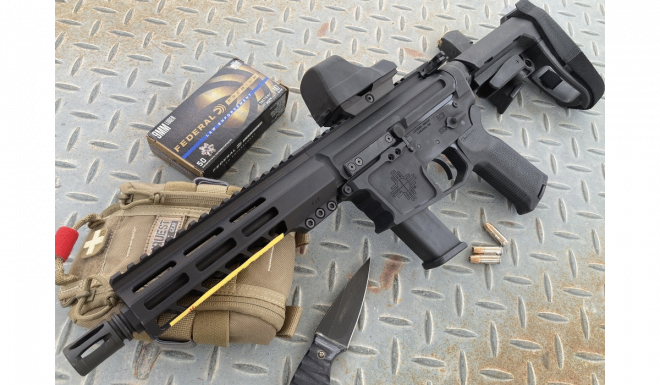 The city of Carlsbad, New Mexico is best known as the home of Carlsbad Caverns – and for the speleo-serious – Lechugilla Cave. A gun-making startup has adopted Carlsbad as its base and name. It's called Caverns Armory, established by Dustin Farnsworth, who answered the call to make guns more than a hobby and to bring some new designs to market.
So far, Caverns Armory has turned out a prolific assortment of AR-platform rifles and pistols. The difference with this company is the availability of chamberings normally thought of as bolt gun fodder, i.e. 6mm Creedmoor and .224 Valkyrie. There are left hand-receiver models, too. All sport New Mexico pride in the form of the zia, an ancient symbol for the sun, stamped boldly into each lower receiver.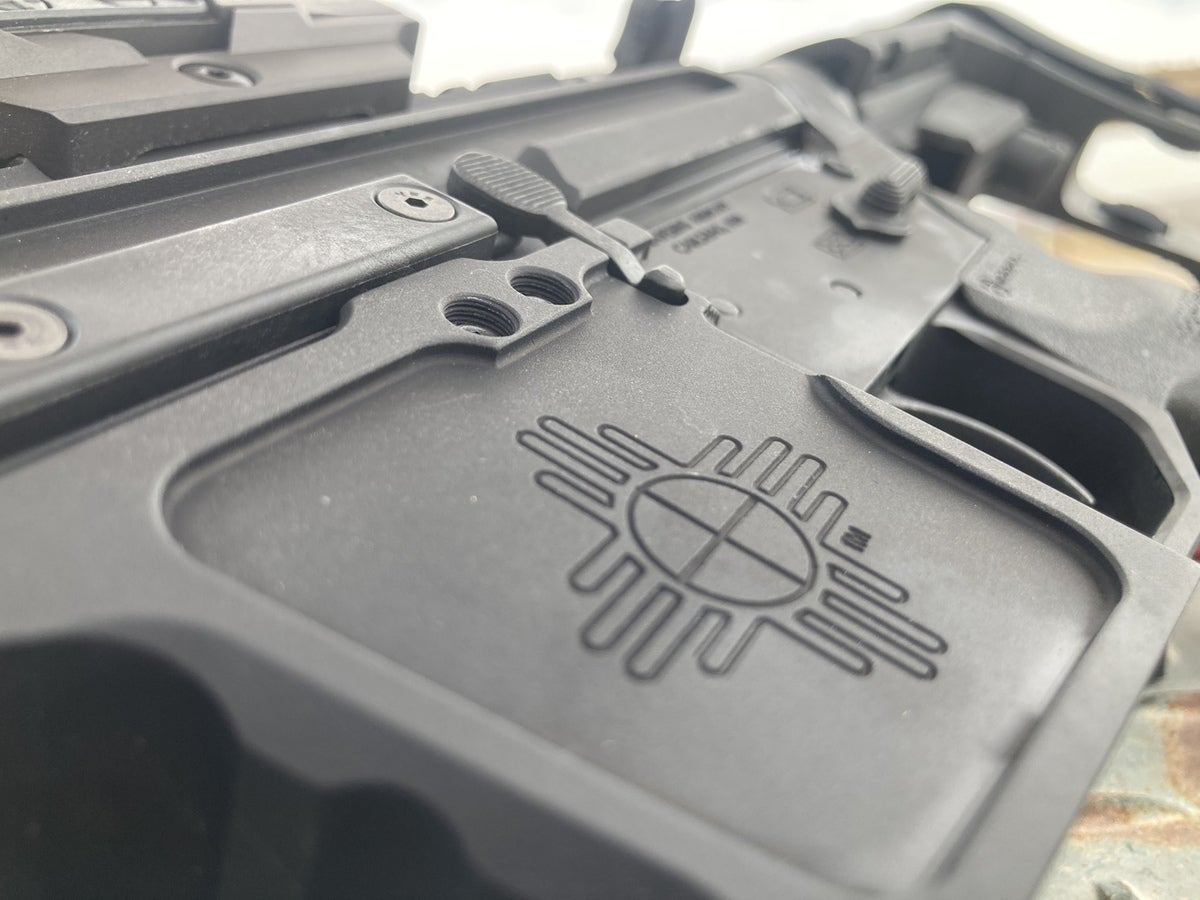 Farnsworth offered me my choice of a gun to test. Given that ammo is dear and Lucky Gunner had just shared a nice selection of 9mm ammo with me, I opted to try out the CA-9 PDW chambered in 9mm. It's also offered in .308 Winchester, a popular choice among the Armory's growing customer base. The PDW is a smart little pistol that wears an 8.5-inch chrome steel, nitride-finished barrel that's topped with a recoil-dampening, birdcage style flash hider that's only vented on the sides and top. A light, 6061 aluminum handguard offers plenty of room for attachments, even on this short package. The upper and lower are anodized 6061 aluminum. The bolt is 8620 steel with a black nitride finish. A Magpul MOE K2 grip offers good purchase and a little bit of storage. Bringing up the rear is an SB Tactical HB-PDW telescoping brace over a 7075-T6 aluminum buffer tube. Farnsworth notes that a padded buffer tube option will soon be available.
The pistol takes Glock-compatible magazines. It ships with a Magpul GL9 PMAG 27 with a capacity of 27 rounds. Buyers in "un-fun states" will receive a 10-round version of that mag. I was forewarned that the bolt doesn't go to lock-back after the last round when using the 10-round magazine.
In this test, I didn't incur a high round count, but I did run a wide range of ammunition through the pistol including mixing brands and grain weights in the same magazine to see if I could induce a malfunction. I am pleased to say the CA-9 PDW ran without a hiccup. Feeding, both upon the initial and auto loads, was smooth and consistent. With a nice Holosun sight on the top, installed and zeroed before the gun came into my possession, it was easy to ring steel at 175 yards from a standing position.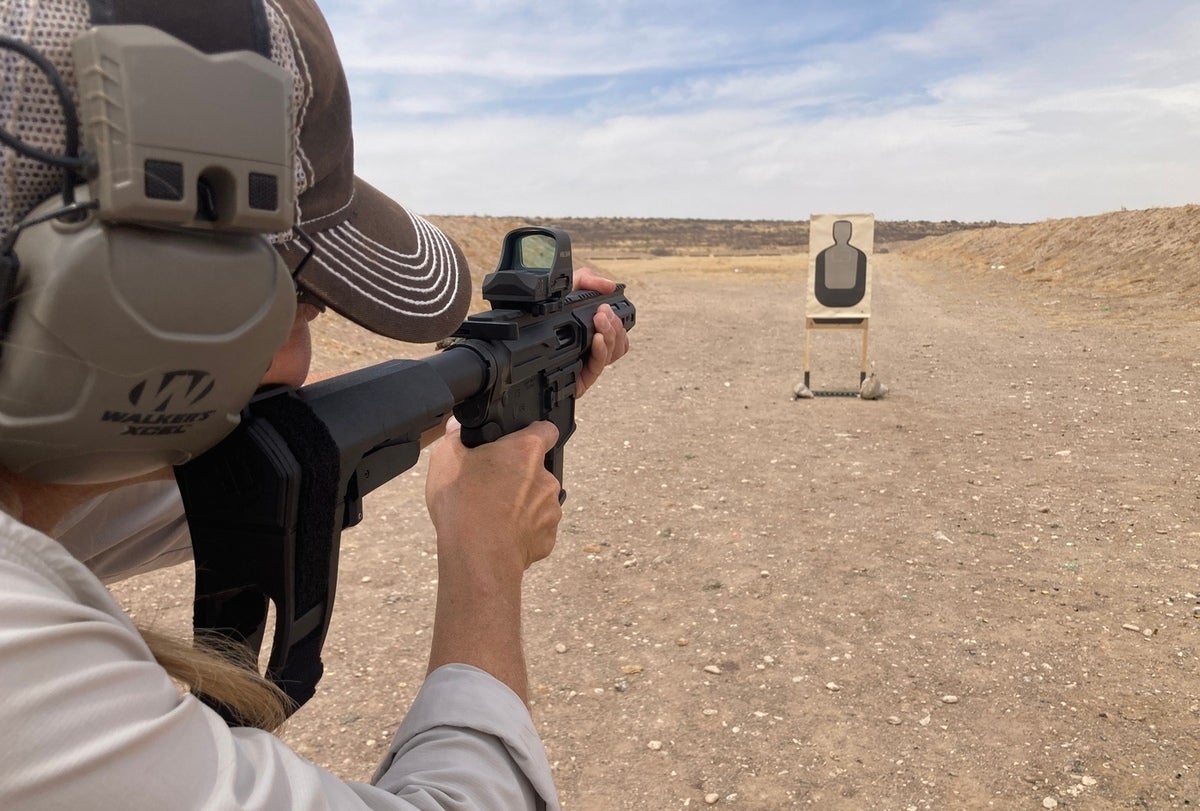 The following ammo was run through the gun in a single session, with no malfunctions or failures to feed the first round:
Federal American Eagle Indoor Range Lead-Free 75 grain
TulAmmo 115 grain steel case FMJ
Hornady Critical Defense 115 grain FTX
Winchester USA Ready Defense 124 grain +P JHP
Sig Sauer M17 124 grain +P JHP
Federal Premium HST Tactical 147 grain
The bolt stayed open upon firing the last round with consistency. Based on this short test, I'd give this pistol an "A" grade for reliability – even when setting up ammo to encourage inconsistent blowback, it just did its job.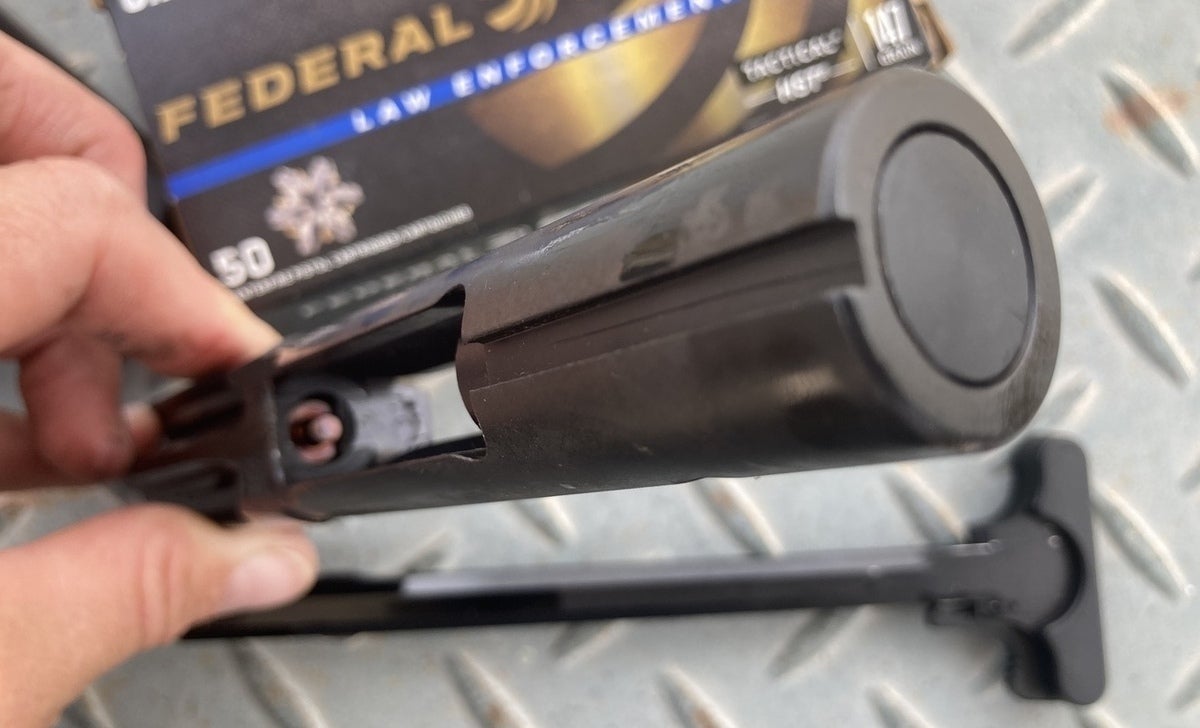 I didn't have a scale on hand, and the website says "varies" under the weight category of the spec list. Suffice to say, this is a super-lightweight carbine that's easy to handle. There are some exercises I can no longer do with 10-pound dumbbells held at arm's length, but I had no problem running through a magazine with the brace strapped on per its design for adaptive shooting, and firing without a pause at arm's length. If I can handle it, most people can.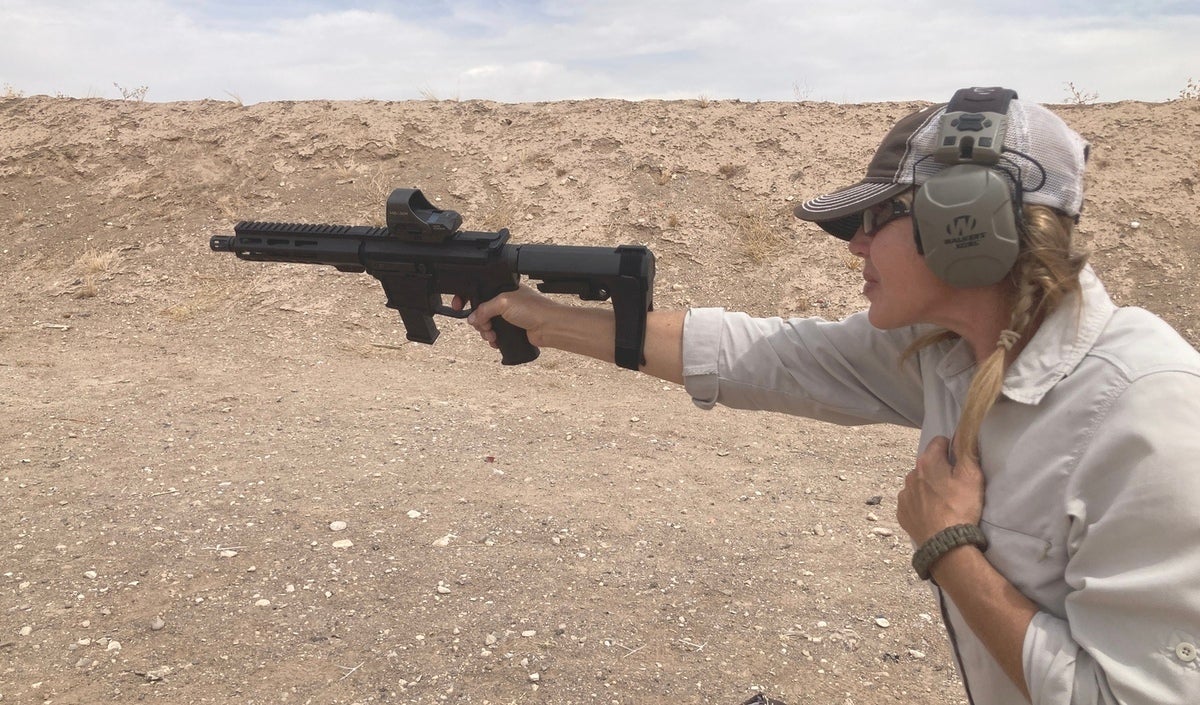 It never hurts for a gun to look good, and this one checks that box. In basic black anodized finish it's all business, but of course, Cerakote is an option for anyone who wants a little more flash. The look is well-balanced with the shape of the brace visually balancing a profile that has a lot going on up front with a full-length handguard and rail. The trigger guard has a distinctive profile that's practical for gloved use, but elegant as well. Like most PCCs, the CA-9 has no dust cover. The Zia symbol on the receiver makes this a little different from the other AR-style guns at the range or on the shelves of the gun store, where Caverns Armory products are showing up in increasing numbers. I asked Farnsworth to comment on his reasons for building this particular gun with his response below:
"For this particular model, we wanted something fun to shoot. Muzzle blast from a 5.56 is a bit too loud for all-day fun, where the 9mm isn't going to blow out your eardrums. While we build a lot of precision ARs, we wanted something that we could go spend a day at the range and shoot several hundred rounds and not break the bank. We think we hit the nail on the head as it's a perfect balance of fun and is still affordable to shoot even with today's ammo prices."
If you're in the market for a pistol caliber carbine or a precision AR, Caverns Armory is worth checking out. You'll get a level of personalized attention and the chance to include options that is simply not possible with the big producers.