AllOutdoor Review: Springfield Armory Emissary 4.25″ 9mm
Eve Flanigan 05.11.22

The Springfield Armory Emissary, a standout precision 1911, has until recently only been available in a traditional .45 ACP chambering. Today, the company released a commander-size 9mm edition of the pistol. I had the chance to test a pre-release copy, and here's how it went! Before even seeing the Emissary, I was struck by its weight when my gun dealer handed over the box. It's heavy for its size. Upon further inspection, it's easy to see why with a solid steel construction and crowned bull barrel contributing to its 2.5 Lb unloaded weight.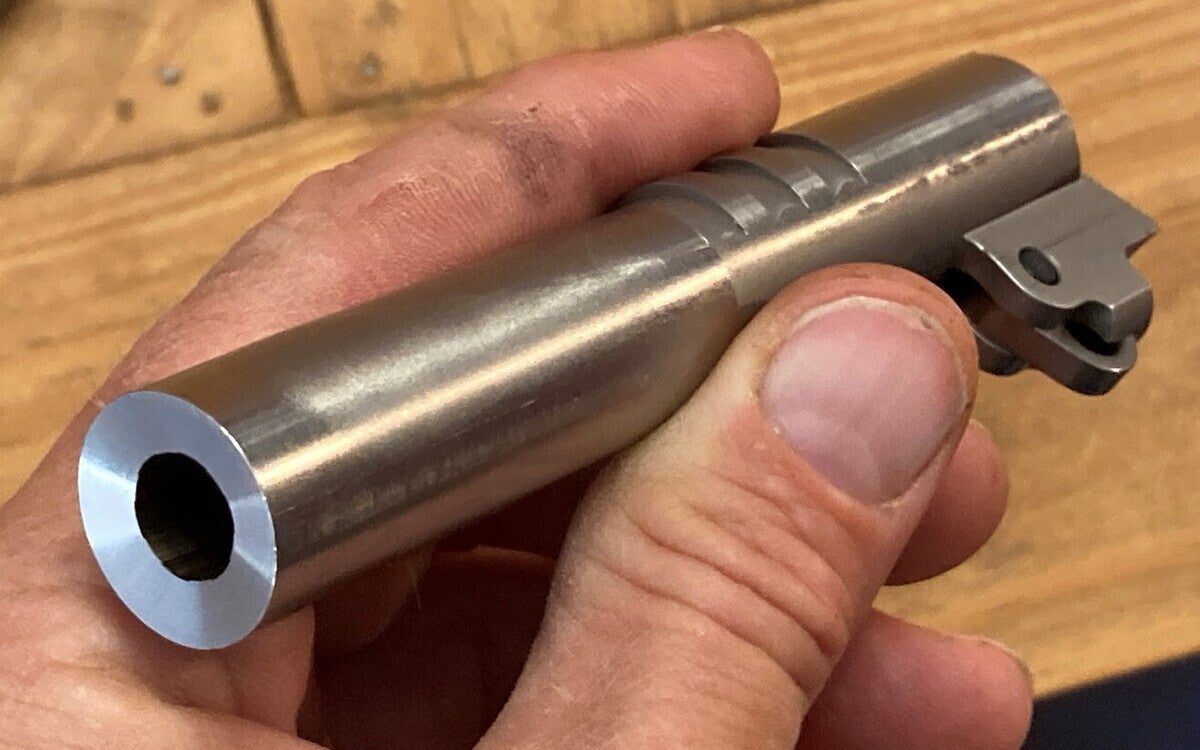 This is an eye-catching gun. Its lines are futuristic with a square-ish trigger guard and angular slide that lend a profile that is unique in the handgun world. Also, unusual in both appearance and profile, are the grip panels. They are what I've been wishing for since I first started shooting 1911s: flat. Unlike most guns in the class, my medium hand has no difficulty keeping the grip safety fully depressed and I can even reach the standard-size slide lock with my thumb thanks to there being no excess bulk in the grip. For those who like a lot of traction, these grips have it. The grip texture is as rough as it gets thanks to aggressive sculpting on the G10 grip panels.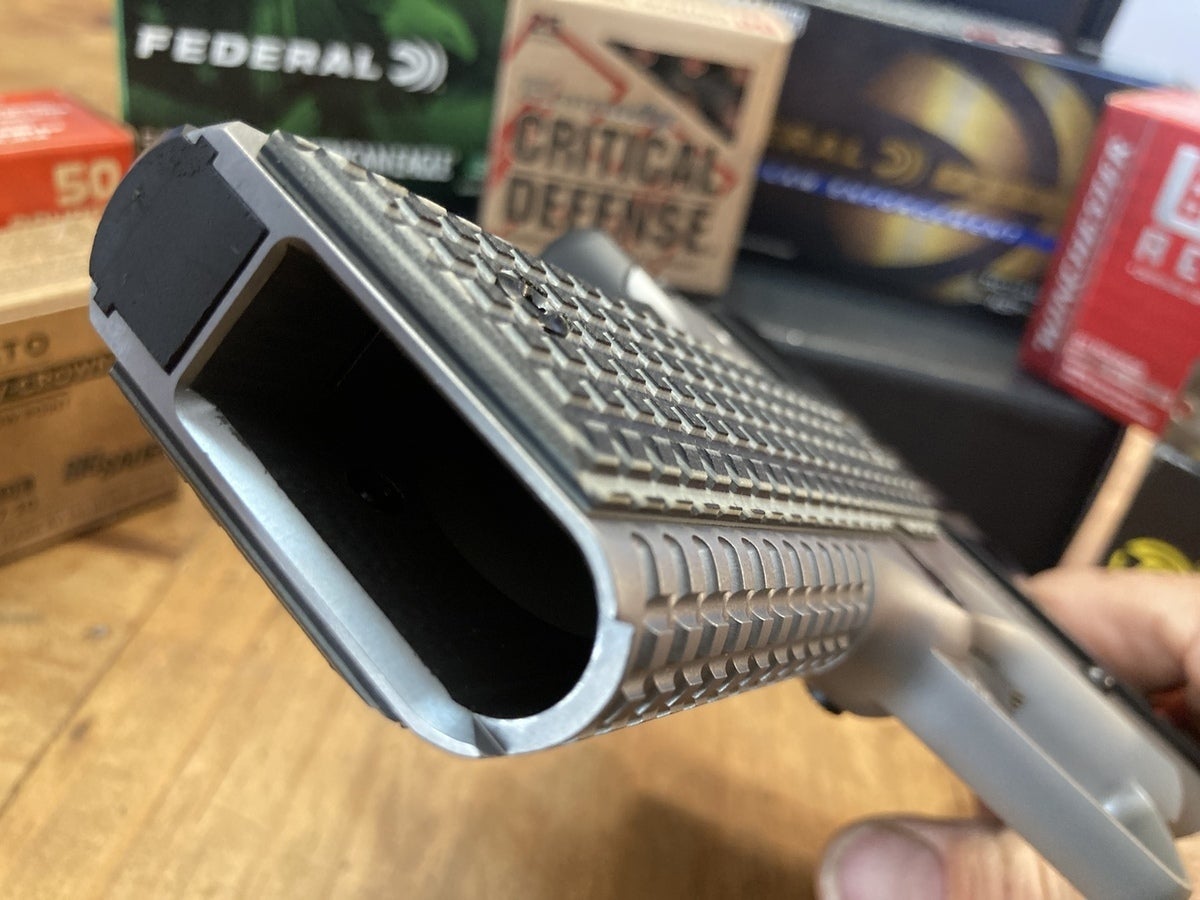 Two nine-round magazines are included with the Springfield Armory Emissary. A little effort is needed to completely seat the last several rounds rearward; nothing painful. Since I had an Uplula Universal Magazine Loader on hand, I tested it on these magazines. It worked just fine without the 1911 extension needed for some mags, so those who rely on a standard Uplula – aka Maglula – can use it with the 9mm Emissary.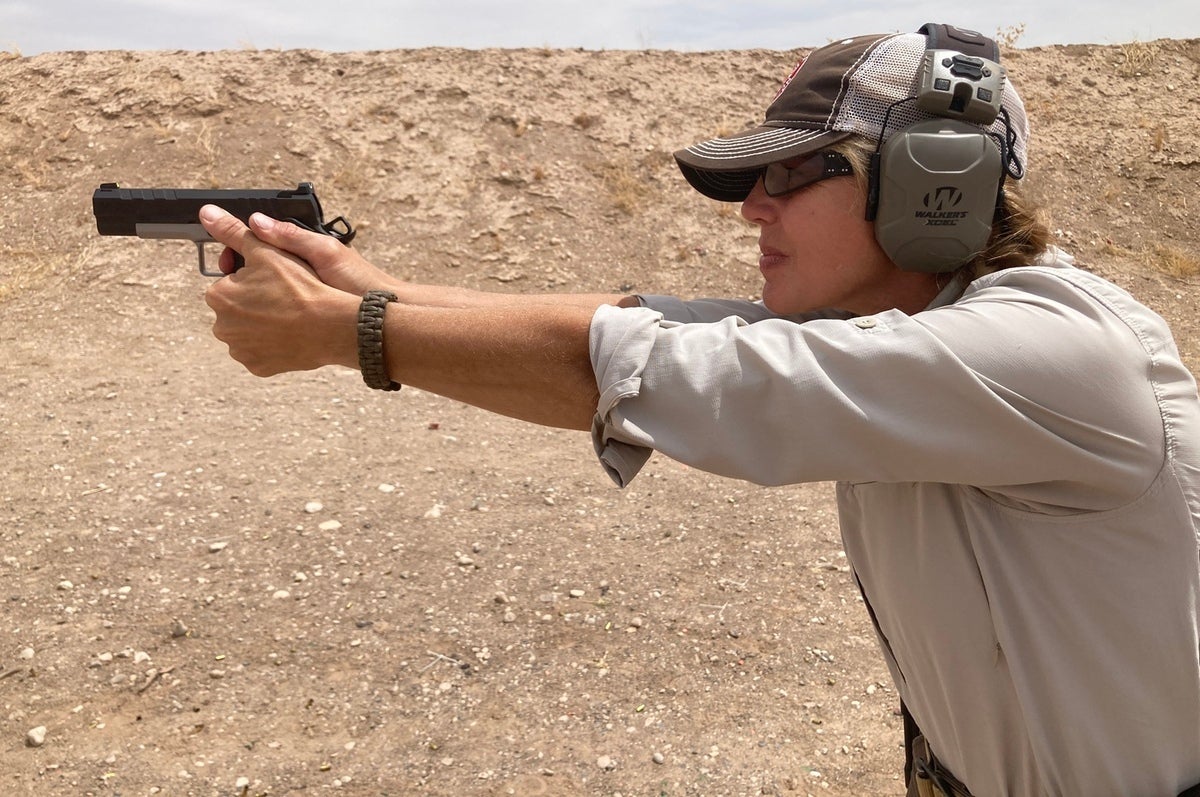 Lucky Gunner generously supplied a wide sampling of ammo for this test in weights ranging from 75 – 147 grains. My partner and I did rapid-fire mag dumps with:
Federal American Eagle Lead-Free 75 grain
TulAmmo 115 grain steel case FMJ
Hornady Critical Defense 115 grain FTX
Winchester USA Ready Defense 124 grain +P JHP
Sig Sauer M17 124 grain +P JHP
Federal Premium HST Tactical 147 grain
No issues were encountered during firing. The Sig Sauer ammo did require two attempts at loading the initial round which only half-fed on the first try from full compression of the recoil spring by the support hand; not from slide lock release. Both of us who tried the gun remarked that the slide feels sluggish upon loading the initial round, easing forward with less speed and force than most pistols. This did not seem to be the case during firing only upon loading.
The magazines drop free from the pistol when the mag release is pushed; in my book this is an important trait for efficient operation regardless of intended use. I dropped empty, partially full, and full mags; all released with zero resistance.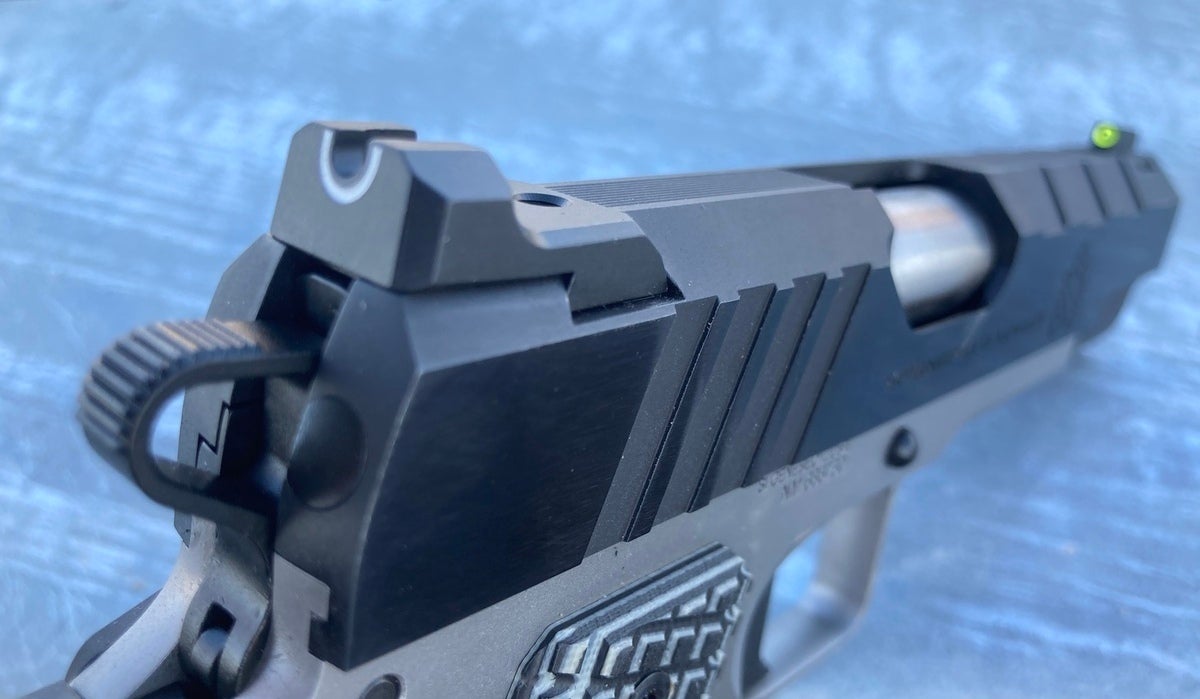 Sighting is easy with a U-shaped rear sight and a bright yellow front sight with tritium in the center. Both are drift-adjustable. The narrow "U" makes precise shots easy to attain. Grooves are molded into the length of the narrow top of the slide cut glare – and while it's splitting hairs to say so – the angular, cut-away sides of the slide make the periphery of the target more visible when the gun is at eye level.
In an era when skeletonized, aluminum triggers are all the rage, Springfield did something different here. The trigger is solid black and lightweight compared to the rest of this gun. Apparently made of polymer or G10 with no skeletonized action here. It's nestled inside a trigger guard that is square, but with a rounded front corner. It's a highly unusual setup, but it works. The trigger's operation is what one would expect from a premium Springfield 1911 with a short take-up, clean break, and short reset.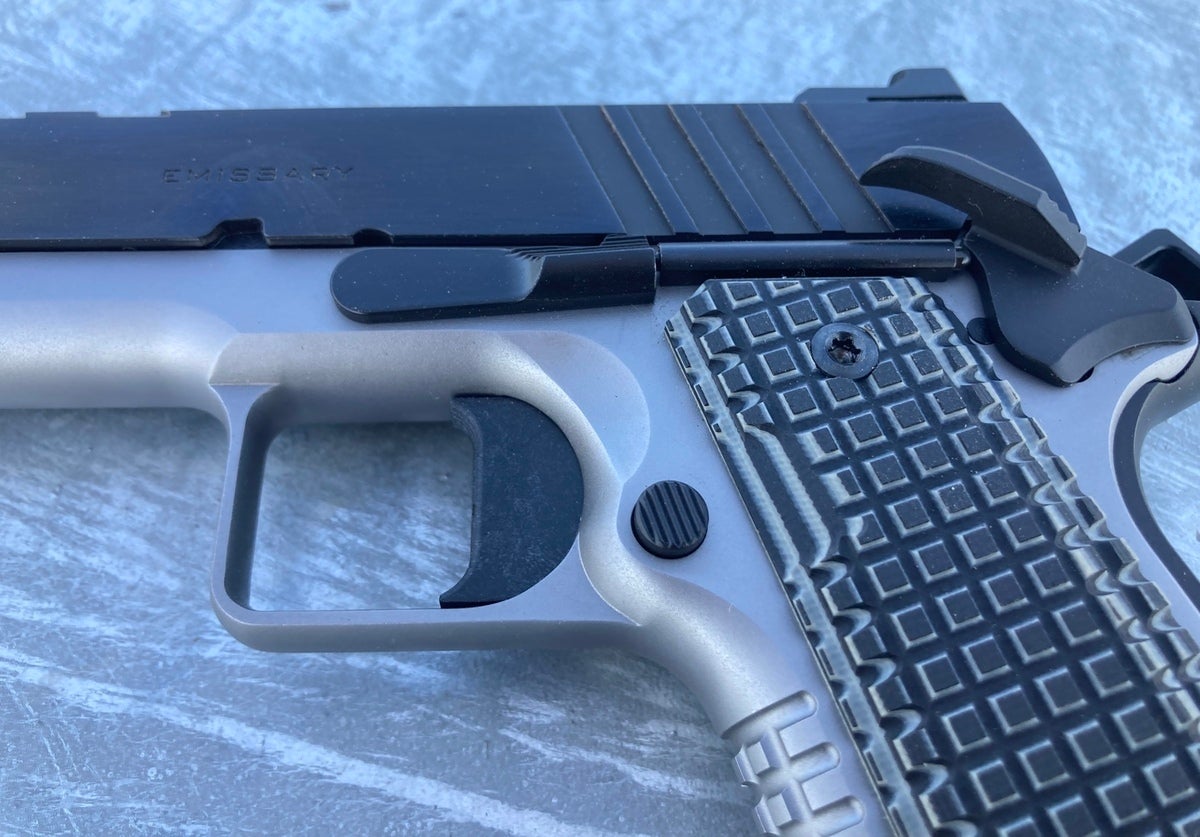 The Emissary's weight and 9mm chambering make for negligible recoil. While the grip texture isn't for everyone, this is a 1911 that can carry its user through a 1,000-round day without recoil fatigue.
Disassembly of the Emissary is, like the rest of the gun, a little different from your everyday 1911. An Allen wrench is included, or per the user manual, a thin paperclip folded into the approximate same shape will do. Takedown entails pulling the slide back to the clearly marked takedown notch and inserting the Allen wrench through the guide rod housing. This allows the recoil spring/captive guide rod to be removed from the inside of the slide, followed by the barrel. Reassembly is simply the reversal of this process. It's not difficult once a body knows what to do. I found the pictures and description in the manual inadequate as there is more than one way to interpret them. Thankfully, others who have posted videos of earlier editions of the Emissary put me on the right path.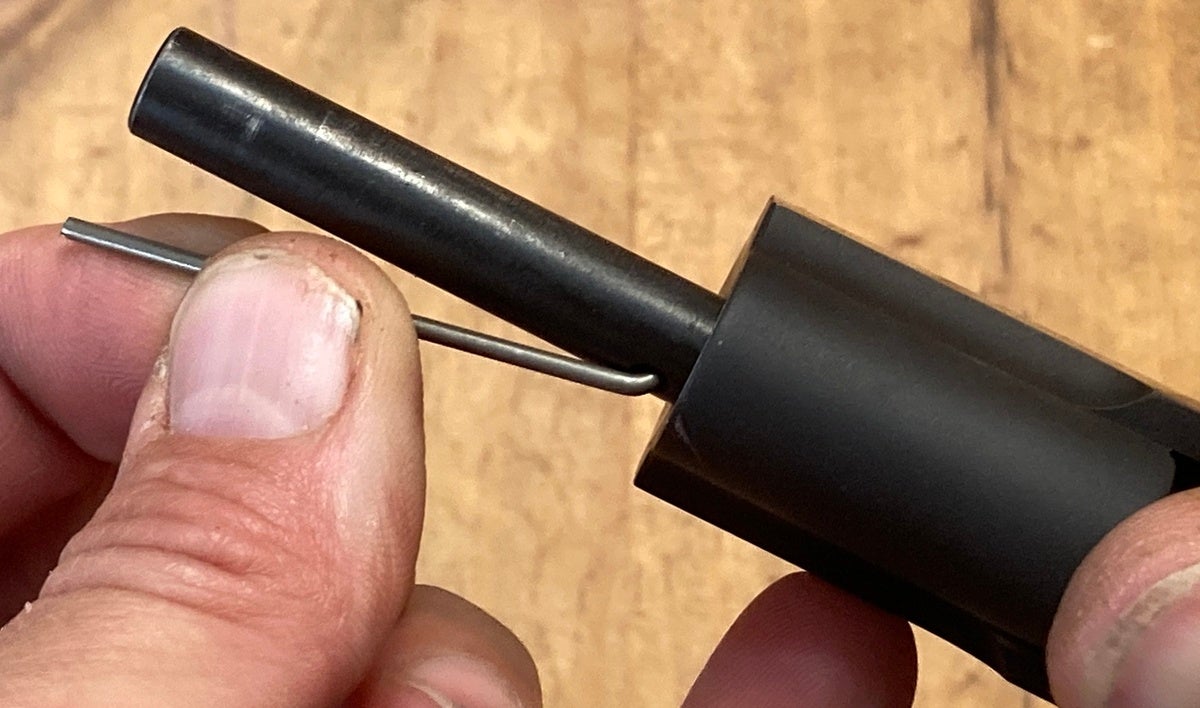 We didn't bench the gun for formal accuracy testing. In windy conditions when targets won't stay stationary, there's not much to be learned from doing so. At the 10 – 12 yard maximum distances from which we fired the Emissary, it's easy to drill tight groups. With its heavy barrel and some experimentation in ammunition, this could be an ideal bullseye, competition gun for a smaller-handed shooter. As a defensive gun, those who like to open carry will get plenty of admiring glances with a Springfield Armory Emissary on their hip. It's a joy to shoot and looks good in any setting.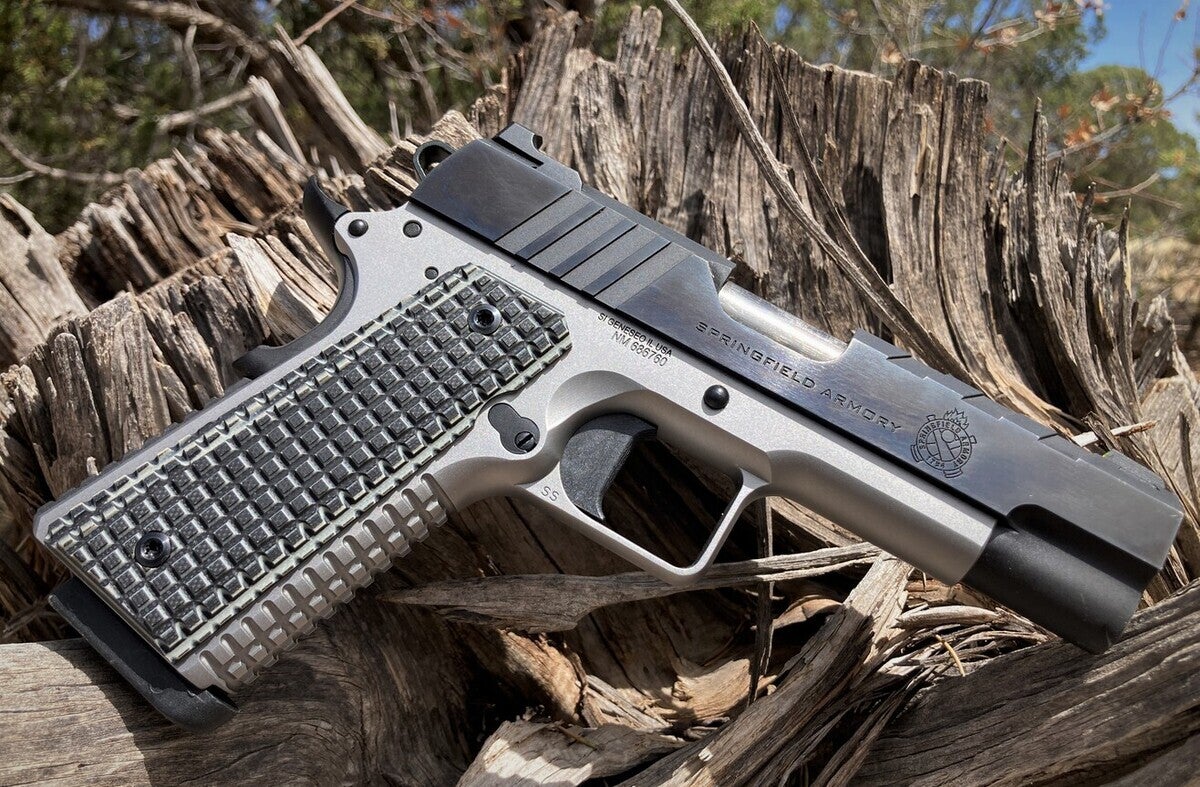 Specifications: Springfield Armory Emissary 4.25″ 9mm 1911
Chambering: 9mm Luger
Barrel: 4.25″ Forged Stainless Steel, Match Grade, Fully Supported Ramp, Bull, 1:16 Twist
Slide: Forged Carbon Steel, Blued
Frame: Forged Carbon Steel
Recoil System: Commander Length
Overall Length: 7.75″
Overall Height: 5.25″
Weight: 2.5 Lb
MSRP: $1,349