AllOutdoor Review: Fifth and Cherry F&C 14 Cutting Board
Adam Scepaniak 05.16.22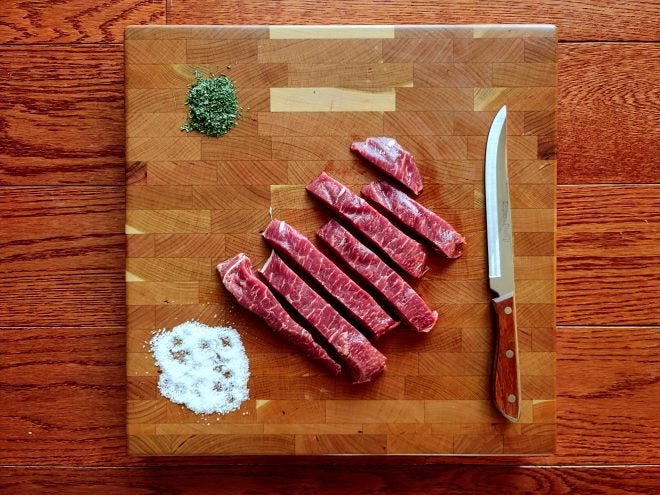 As men and women who love the outdoors along with the plentiful resources it affords us – wild fruit, native plants, and indigenous game animals – we all need a way to prep and process this sustenance. Cutlery is another rabbit hole that can be explored on another day, but what we need as a starter is a good base; a platform to which we can prepare our meals. That foundation for meals, family, and memories is often a cutting board. Some are a dime-a-dozen while others can be passed down for generations. They often carry character and sturdiness to which we rely on. One company who reached out to AllOutdoor to share their cutting board is Fifth and Cherry. It has an elegant aesthetic that anyone would be proud to have in their kitchen, but we will share our experiences to see if it is right for you. Let's dive in!
AllOutdoor Coverage on Cooking
About the Company – Fifth and Cherry F&C 14 Cutting Board
Fifth and Cherry is a company that was born out serendipity. An heirloom cutting board was almost destroyed by a simple washing mistake and that jettisoned them into starting a full-fledged company making the best cutting boards they could envision. They expand upon this below:
"In today's disposable society, very few items have sentimental value. The truth is, time passes and memories fade. What we leave behind is all that remains.

The kitchen is the center of all activity; it's where you'll carve your first turkey, make cookies with your grandmother, teach your children to cook, laugh with your partner and cry to your best friend. The kitchen is where love, warmth, and memories live. Our boards are designed to keep those memories alive so every time you use it, you're not alone."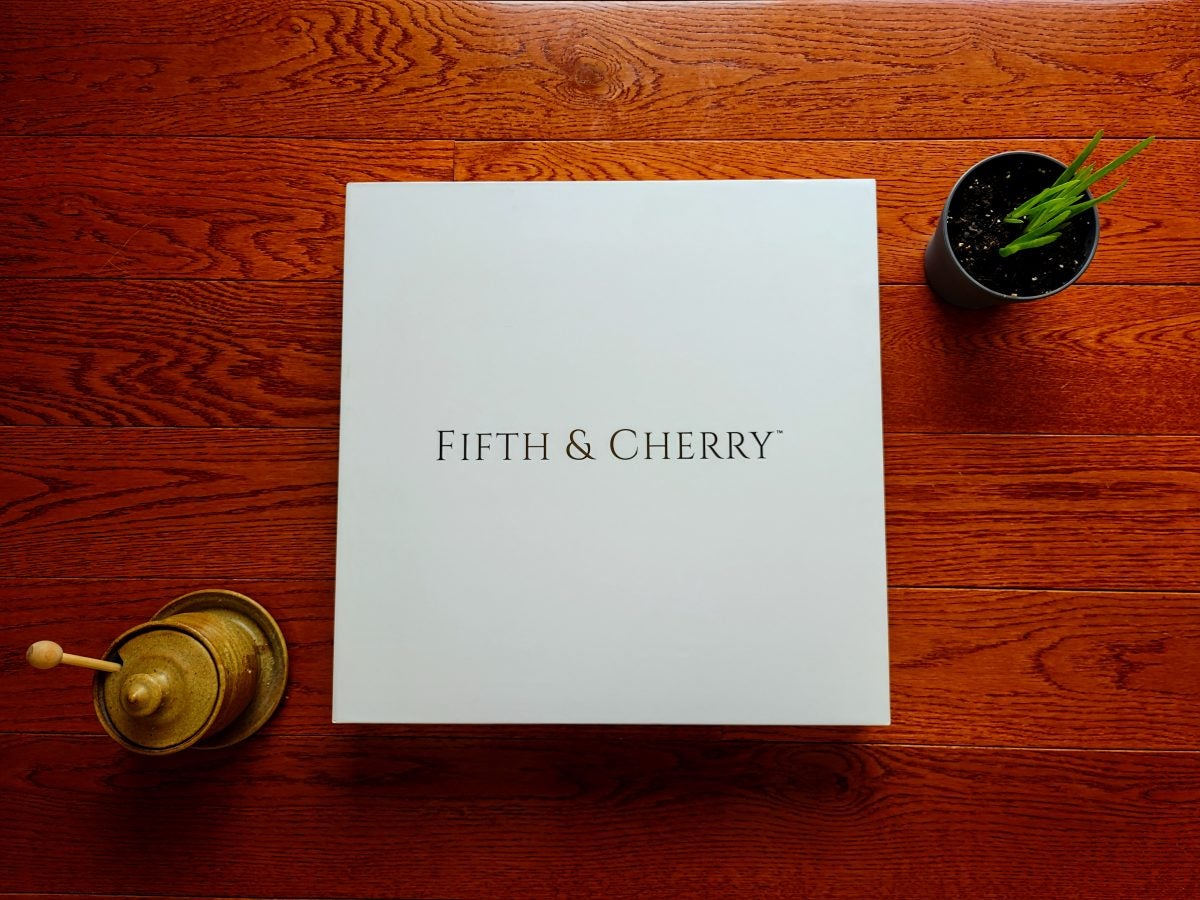 Specifications – Fifth and Cherry F&C 14 Cutting Board
When it comes to cutting boards, in terms of quality, they are very unassuming. Like most things in life though, the simplest of items can have some of the deepest thought and engineering deployed into them without our knowing. While the Fifth and Cherry F&C 14 cutting board we received for review is stunning in appearance, it equally has had its design and construction poured over with meticulous care and thought. Fifth and Cherry better outlines that though their specifications listed below:
Steel Reinforced End-Grain Cherry Wood
Staggered Seams for Extra Strength
Proprietary 28-Step Process that includes Hand Clamping and Gluing to prevent Delamination
Dimensions: 14" Wide x 14" Deep x 1.75" High
Weight: 7 Lb
Care: Hand Wash ONLY, Do Not Wash in the Dishwasher, and Avoid using Harsh Chemicals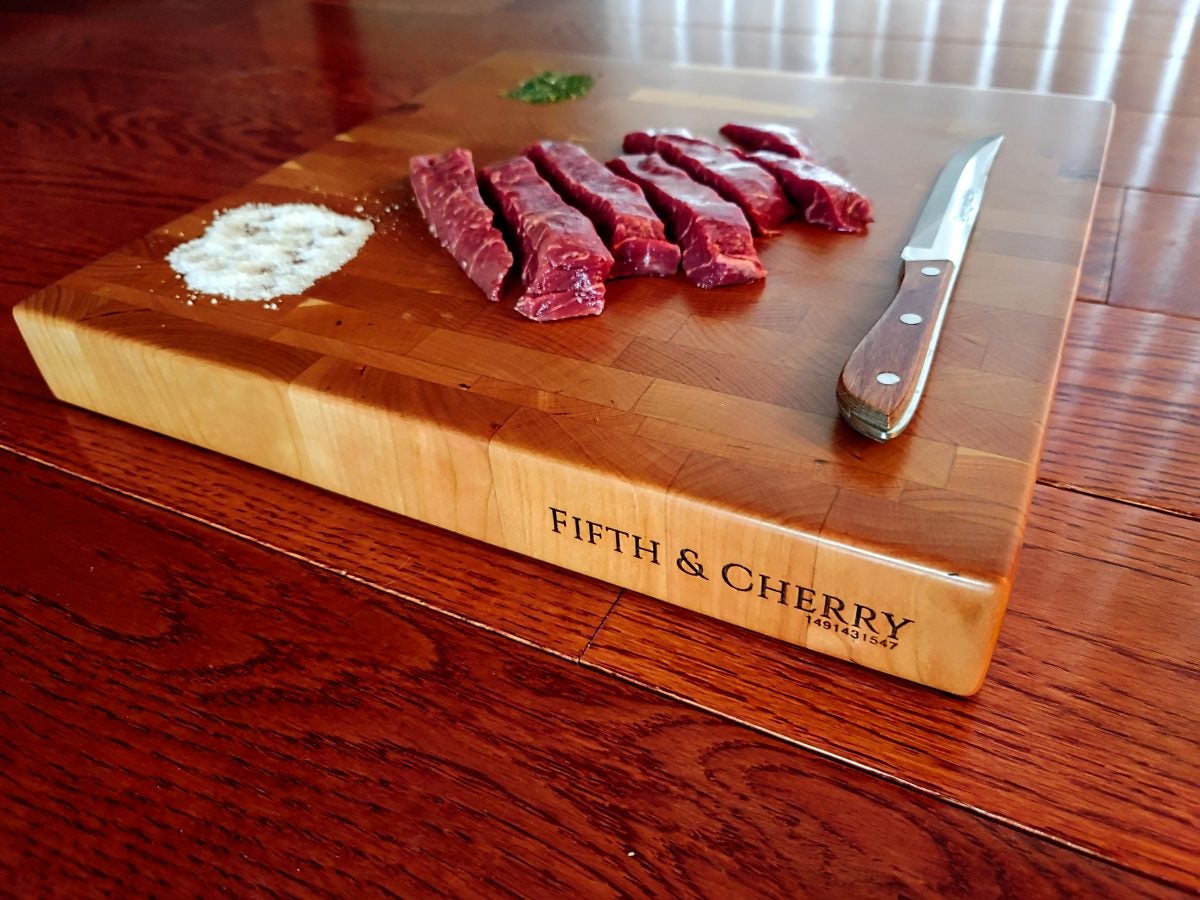 All Fifth and Cherry cutting boards carry a Lifetime Warranty as well as an offer of a Free Refinishing should the cutting board incur excessive wear through extensive use. Also, there is Free Shipping on all of their cutting boards on their website. The MSRP for the F&C 14 cutting board we are reviewing here today is benchmarked at $299. As a whole, Fifth and Cherry offers cutting boards in varying sizes and custom boards can be made upon request as well.
"The F&C 14 features a generously sized reversible cutting surface, yet is compact enough for kitchens with smaller counter and/or storage space. Handcrafted in the USA from 100% responsibly sourced cherry wood. Each of our boards comes with a Lifetime Warranty that includes complimentary refinishing for life, which means this is the last cutting board you'll ever have to buy."
Food Prep – Fifth and Cherry F&C 14 Cutting Board
When it came to prepping food on our Fifth and Cherry cutting board we tried to use a diverse range of food as well as various different knives. A simple, but favorite meal for me is strips of steak cut into one inch in width that are appropriately seasoned and pan seared. This requires long, firm cuts into a cutting board. After my steak was prepped for the frying pan, there was no sign of cuts, marks, or streaking in the cutting board; it held its own.
I also used the F&C 14 cutting board as a prep station for a rather large roast that would be finished in a crockpot. For this portion of meat, I let the roast "rest" and be seasoned on the board for close to an hour before it found its home in a crockpot. Throughout that time, no juices or seasonings seeped into the board at all. With a damp cloth I could simply wipe the board clean and it continued to look and smell like a brand new cutting board.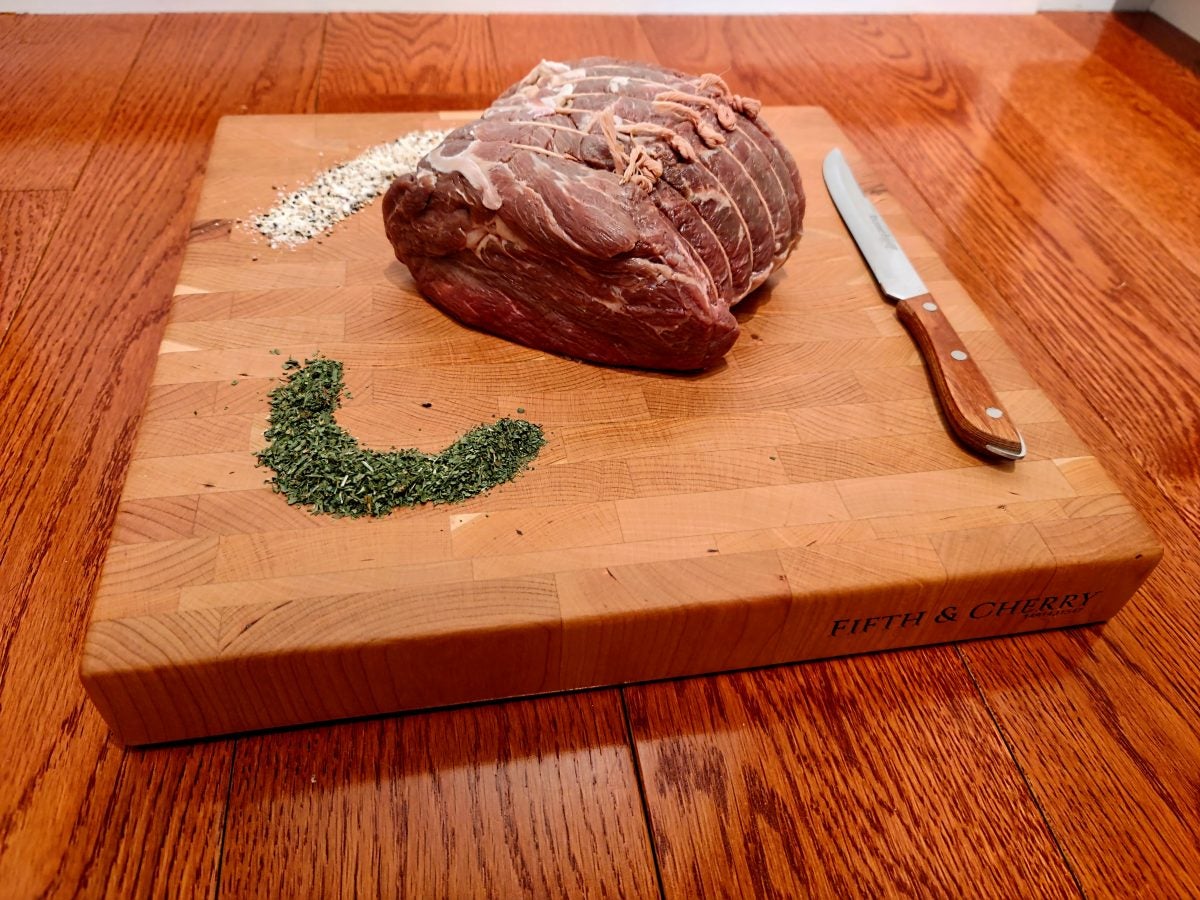 The F&C 14 cutting board we have had close to 4 months now and it has seen vegetables, roasts, steaks, and other delicious food on itself with varying cutlery being put to work. This has been everything from cleaver knives to pairing knives and even longer-edged blades like that used for making my favorite cuts of strip steak. While a cutting board is not something you use everyday in the kitchen, this one has seen a good volume of use throughout its time with us.
Final Thoughts – Fifth and Cherry F&C 14 Cutting Board
So, what are our final thoughts on the Fifth and Cherry F&C 14 Cutting board?… Overall, it has lived up to our expectations and then some. When placed on a counter it stays firm in one place. It is not shifting and/or sliding around while you are trying to work. Also, it has sustained essentially no visible wear at all in our condensed 4 month period of using it. While the price might invoke a bit of sticker shock at $299, I suggest people give it a try. It is better to add something of quality to your kitchen that will honestly last a lifetime as opposed to going through 3 – 4 cheaper iterations that break or are thrown away over the years.
In closing, I want to say thank you to Fifth and Cherry for allowing AllOutdoor and myself the opportunity to try out their Fifth and Cherry F&C 14 Cutting Board. That is greatly appreciated. Also, we would like to know what all of you guys and gals think? Do you believe that the Fifth and Cherry F&C 14 Cutting Board is something worth spending your money on? As always, let us know all of your thoughts in the Comments below! We always appreciate your feedback.