TFBTV – 9 Rounds in a Glock 43? NEW Shield Arms Z9 Magazine Review
Adam Scepaniak 05.16.22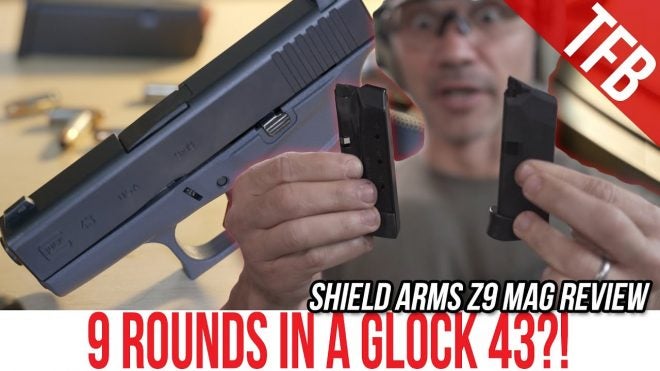 In this episode of TFBTV, James Reeves reviews the new Shield Arms Z9 magazine for the Glock 43. Adding less than a half-inch of length to the G43, the Shield Arms Z9 magazines increase the Glock 43's magazine capacity by 50%, with 9 rounds of 9mm instead of the 6 rounds provided by the factory magazine. Magazines are a critical piece of equipment: Are these Shield Arms Z9 mags reliable, or even worth your attention? James tests them out in today's video.
According to Shield Arms' Website:
The Z9 magazine is a 9 round magazine for the Glock® 43. The Z9 is a steel magazine, and is the same length as the OEM Glock® magazine with pinky extension, but holds an additional 3 rounds.

Increased Capacity, Same Reliability
Glock® pistols and magazines are known for reliability – the Z9 maintains that same Glock® reliability, while giving you a 50% increase in magazine capacity in the same overall footprint.

We accomplished this increased capacity with our patent-pending magazine geometry, allowing the rounds to stagger, thereby fitting more in the same amount of space.

Proudly made in the USA by Check-Mate.

Mag Catch Recommendation
We recommend swapping out your plastic OEM mag catch with either our standard steel mag catch or our premium steel mag catch. Here's why. If you don't swap your mag catch you may have reliability issues. If you use another manufacturer's mag catch you may have reliability issues.

Specifications:
9 round capacity
Same length as an OEM Glock 43 magazine with pinky extension
Easy to remove, impact resistant base pad
High lubricity finish, Black Oxide coating
Made in the USA
Finish Options
Powercron
Powercron is a cationic epoxy coating that offers excellent corrosion resistance and low VOC in a lead-free film electrocoat surface finish. If you are in a humid or salt water environment, or if you sweat a lot, we recommend Powercron, Electroless Nickel, or Black Electroless Nickel finish.

Note: because we have multiple Powercron vendors, there may be slight cosmetic variations in the finish. This is cosmetic only and does not affect performance. If you are concerned about a "matching" finish from mag to mag, you might be happier with one of the electroless nickel finishes.

Warranty
Like all Shield Arms products, our S15 magazine comes with our 100% lifetime warranty against manufacturing defects. Additionally, we also offer a Spring for Life Guarantee – wear out your spring, get a new one for free, for life.
««« APPAREL IN THIS VIDEO »»»
• Apparel: All TFBTV apparel is sponsored by 5.11 Tactical and you can get it at www.511tactical.com
««« GUN AND GEAR GIVEAWAYS »»»
We give away guns and gear EVERY month to our supporters. Consider supporting us.
Gun and gear giveaways are not affiliated with, associated with, or in any way endorsed by YouTube and TFBTV is solely responsible for the giveaways mentioned in this video and this description. No purchase required for gear worth over $250. Full rules and terms are found at http://tfbtv.gun.team/
««« FOLLOW US ON SOCIAL MEDIA »»»
https://www.facebook.com/TheFirearmBlogTV/
https://www.instagram.com/TFBTV/
https://www.reddit.com/r/tfbtv/
««« SPONSORS »»»
Please Support Them! They help make our videos possible.
– Ventura Munitions – www.venturamunitions.com
– Blue Alpha Gear – www.bluealphagear.com
– Top Gun Supply – www.topgunsupply.com
««« TFB CHAT ROOM »»»
Want to join the TFBTV chat room? Use our Discord Invite: discord.gg/tfbtv
#TFBTV