POTD: Useful or Useless – E.H. Collier Patent Revolving Flintlock Carbine
Sam.S 05.18.22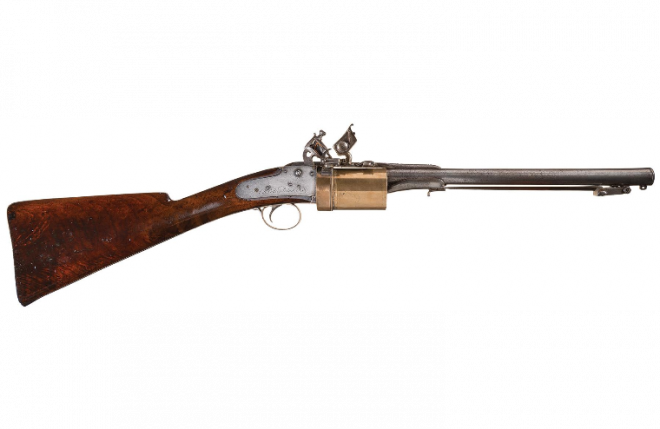 Welcome to today's Photo of the Day! Here we have an E.H. Collier Patent Revolving Flintlock Carbine. these puppies were produced in England in around 1818 or 1819. They were among four total designs. There was a rifle, a carbine, a Shotgun, and a handgun. They were the brainchild of both E.H. Collier and a guy named Artemus Wheeler.
The whole plan after they were initially patented in the United States was that Artemus Wheeler would manufacture and sell them in the United States while E.H. Collier brought the revolving flintlock design to England and patent it there. Turns out Americans were not all that interested in an expensive and complicated revolving flintlock design so a majority of the revolving flintlocks made were manufactured in England by English gunmaker Henry Nock. these were all sold through Collier's own shop entitled Collier & Co., Gunmakers.
" Total production of Collier firearms is estimated to be approximately 150 pieces. Collier firearms are historically significant, in part, because the revolving cylinder is believed to have influenced Samuel Colt in his subsequent revolving firearms designs. This is confirmed by a pamphlet Colt used in his lecture "On the Application of Machinery to the Manufacture of rotating-breech fire-arms and their peculiarities" in which the Collier, very similar to this example is identified/shown on page 52. In 1851 Collier was compelled to testify in a lawsuit involving Colt (Samuel Colt v. the Massachusetts Arms Company) in which he had to define his hand-rotated design. This carbine has a 14-inch, round .69 caliber smoothbore barrel with bronze (gunmetal) five-shot cylinder, and automatically primed flash pan with large frizzen that serves as a reservoir for priming powder. The barrel and frame are jointed by a fluted top strap. The carbine has a flat-faced, flush-fitted lock plate and tang with simple iron trigger guard. The barrel has an under lug with a latch for a 8 1/4-inch spring-loaded bayonet. The nicely figured English walnut stock has an iron, musket-style buttplate. The bottom of the stock has an inlet for a wooden ramrod with horn tip. The lock plate is engraved: "E.H. Collier Patent No. 9″ in flowing script. The carbine has no other visible markings. The action functions by cocking the hammer and manually retracting and rotating the cylinder. The spring-loaded cylinder is then forced forward against the barrel to provide a tight gas seal, and the pan is primed by the automatic primer."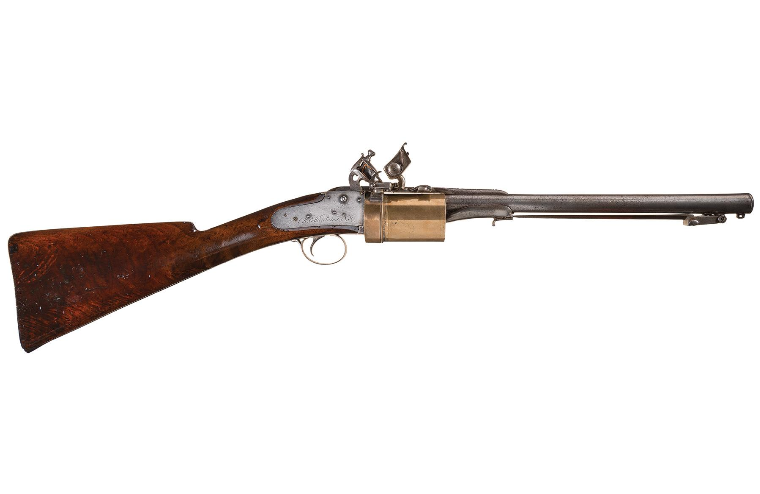 Lot 220: E.H. Collier Patent Revolving Flintlock Carbine-Snap Bayonet. (n.d.). Rock Island Auction Company. photograph. Retrieved May 17, 2022, from https://www.rockislandauction.com/detail/69/220/eh-collier-patent-revolving-flintlock-carbinesnap-bayonet.