POTD: A Look at Evolution – Prototype Colt 1860 Army
Sam.S 05.20.22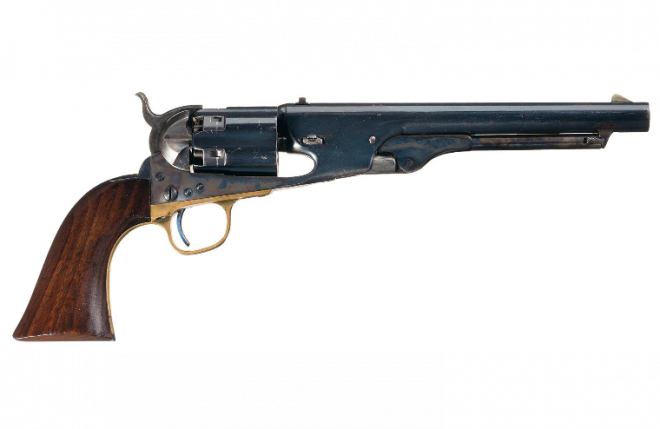 Welcome to today's Photo of the Day! Here we have a Prototype Colt 1860 Army. After the raging success of the Colt 1851, Colt moved on to further refine the design per feedback from the public at large. This Prototype Colt 1860 Army gives us a very good glimpse of what the gun would come to be. I personally think it is very cool to see a prototype that is so close to the finished product. Notable differences from the revolver this would turn into would be things such as the iron sights mounted on the barrel would eventually become much more like the Colt 1851 notched hammer style of sights. This was most likely done to use the same hammer and save money. they both share quite a few of the same parts. The loading lever is another difference because this one does not have the cogs that work in tandem with the creping lever that would come to be on the official Model 1860.
" The front grip strap is uniquely lengthened from Model 1851 short grip to the long, soon to be accepted, 1860 Army length. The 8 inch barrel has a nickel/silver front sight blade and unique, dovetail mounted rear sight just ahead of the breech. The recoil shield cut-out has a capping channel. The rear face of the cylinder is drilled for safety pins but the safety pins have not been fitted. The only markings on this revolver are the serial number "7" stamped on the loading lever, barrel lug, frame, trigger guard, rear face of cylinder, wedge, and back strap. The barrel, cylinder, and back strap have the Colt high polish commercial blue finish. The loading lever, hammer and frame are color casehardened ,and the trigger guard is un-finished brass. The frame screws, stock lugs, wedge screw and trigger have a fire blue finish. The one-piece walnut grip is oil finished."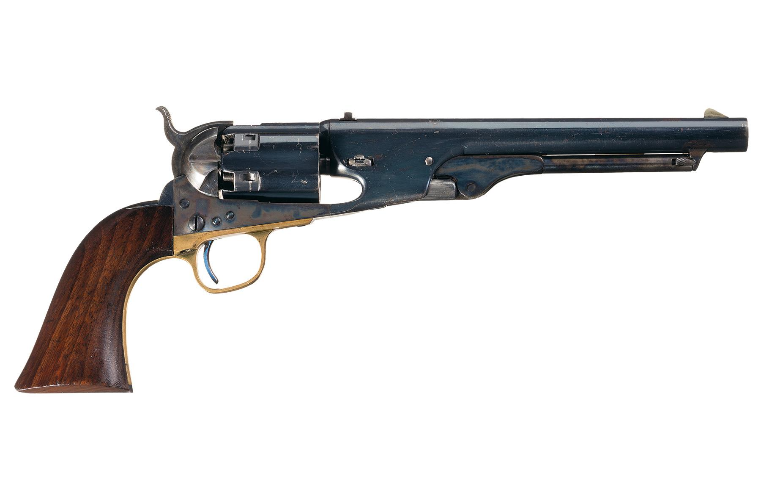 Lot 1129: Prototype Colt Model 1860 Army Percussion Revolver. (n.d.). Rock Island Auction Company. photograph. Retrieved May 18, 2022, from https://www.rockislandauction.com/detail/69/1129/prototype-colt-model-1860-army-percussion-revolver.