POTD: Taking Shape – Second Issue Colt Police Positive Special
Sam.S 05.25.22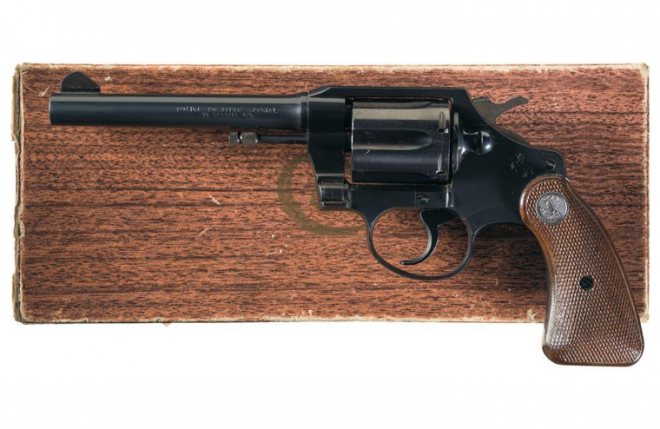 Welcome to today's Photo of the Day! Here we have the middle child of the first three true to form Colt Police Positive Specials. This is the Second Issue Colt Police Positive Special. The Second Issue Colt Police Positive Special was introduced in 1928 to an already very interested audience and it featured minor modern upgrades. the grips were walnut and started out smooth and sleek. From smooth and sleek the walnut grips changed to a checkered pattern with a square or bell-shaped lower half to provide better grip. The front sight was changed from a half-moon to a ramp and the top strap was cut in order to decrease glare from the blued or nickel finish. Lastly, the space between the trigger guard and grip frame was widened to make more room for fingers. The Second Issue Colt Police Positive Special was made up until 1946.
"Manufactured in 1959. Standard markings on the sides of the barrel with the Rampant Colt on the left rear of the frame, fixed blade front and frame notched rear sights, all blue finish and fitted with checkered walnut grips with silver Colt medallions. Comes with a two- piece woodgrain box with correct lid end label and numbered to the gun. In the box is the Colt warranty card, "Firearms Safety depends On You" brochure and cleaning brush."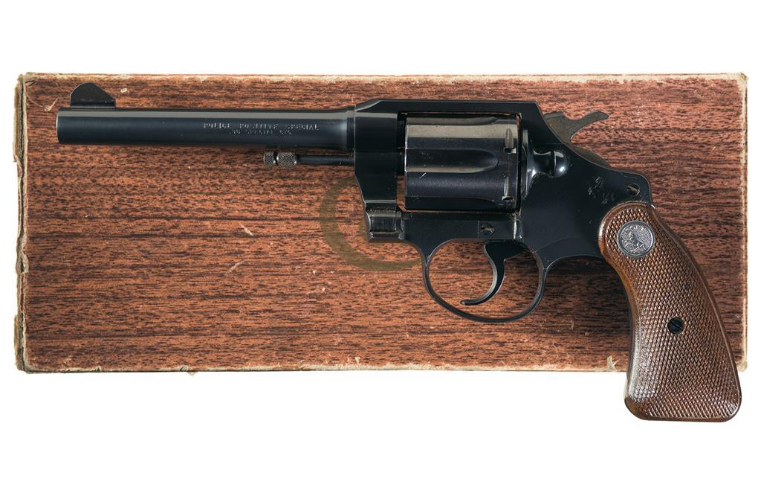 Lot 1690: Colt Police Positive Special Revolver 38 special. (n.d.). Rock Island Auction Company. photograph. Retrieved May 16, 2022, from https://www.rockislandauction.com/detail/61/1690/colt-police-positive-special-revolver-38-special.