TFBTV – The SIG P320 in 10mm is HERE! SIG P320 X-Ten Review
Adam Scepaniak 05.26.22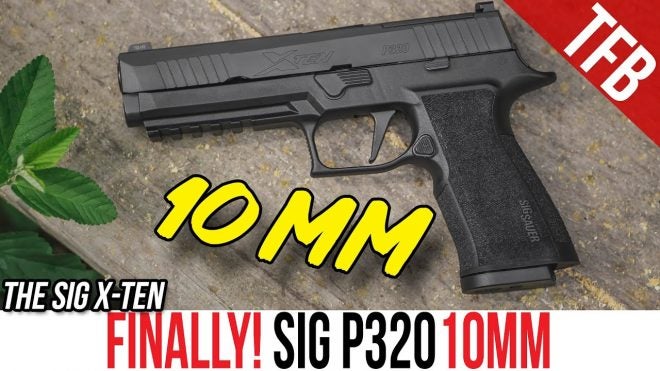 In this episode of TFBTV, James Reeves reveals the new SIG P320 X-Ten, SIG's long-awaited 10mm P320. The X-Ten is not an entry-level P320. Instead, SIG's 10mm polymer pistol is being released as a premium product built for accuracy. With optic readiness (Trijicon RMR footprint and compatible with the SIG Romeo 2), a 4lb flat match trigger, improved ergonomics, a 5″ bull barrel, and a full-sized frame, this is a large pistol. But how does it handle the mighty 10mm? Check today's video to find out.
Per SIG's P320 X-Ten spec sheet:
– Optic Ready Slide compatible with Romeo2 and Trijicon RMR
– All-new XSeries Grip Module
– 5" Bull Barrel
– Flat XSeries trigger with 90 degree break
– XRAY 3 Day/Night Sights
– (2) 15rd Steel Magazines
PLEASE check out our Patreon page if you enjoy our program, and consider helping us at TFBTV out!
https://www.patreon.com/tfbtv
Gun and gear giveaways are not affiliated with, associated with, or in any way endorsed by YouTube and TFBTV is solely responsible for the giveaways mentioned in this video and this description. No purchase required for gear worth over $250. Full rules and terms are found at http://tfbtv.gun.team/
««« FOLLOW US ON SOCIAL MEDIA »»»
https://www.facebook.com/TheFirearmBlogTV/
https://www.instagram.com/TFBTV/
https://www.reddit.com/r/tfbtv/
««« SPONSORS »»»
Please Support Them! They help make our videos possible.
– Ventura Munitions – www.venturamunitions.com
– Blue Alpha Gear – www.bluealphagear.com
– Top Gun Supply – www.topgunsupply.com
««« TFB CHAT ROOM »»»
Want to join the TFBTV chat room? Use our Discord Invite: discord.gg/tfbtv
#TFBTV
CONTENTS:
0:00 Intro to 10mm
4:12 The Sig P320 X-Ten Revealed
7:43 5.11 Rush 24 Backpack Contest
8:48 X-Ten Range Review
13:20 Will it Shoot .40S&W?
14:10 Negatives
16:46 X-Ten Compared with Other 10mm Pistols
19:44 Conclusion