POTD: Second Line of Defense? Sub-Caliber Artillery Piece
Sam.S 05.27.22

Welcome to today's 
Photo of the Day
! Here we have an extremely interesting piece and something out of the norm for Photo of The Day. This one comes courtesy of the Rock Island Arsenal Museum's Facebook Page (Make sure to check them out!). I saw this cool picture thanks to the Managing Editor of TFB: Hrachya H. This is an 1897 75mm artillery piece equipped with a 1903 Springfield rifle chambered for .30-06 Sprg. These sub-caliber devices were intended to cut down on the cost of expensive and dwindling artillery ammunition. The 1903 Springfield Rifle mounted to the top of this gun would mimic a trajectory similar to the artillery piece. This was a way of training troops on how to use the gun to fire accurately without expending a bunch of money.
"Sub-caliber devices were used in training artillery soldiers and allowed them to practice without utilizing more expensive, full-size ammunition, and reduced wear and tear on the gun tube.
Pictured here is a M1897 75-mm gun fitted with a T2E2 sub-caliber mount holding a M1903 Springfield Rifle. The rifle would fire a bullet down-range on the same trajectory as a full-size round, allowing soldiers to practice firing the gun and targeting.
It is likely that almost everything pictured was produced at Rock Island Arsenal including the carriage, recoil mechanism, rifle, and mount."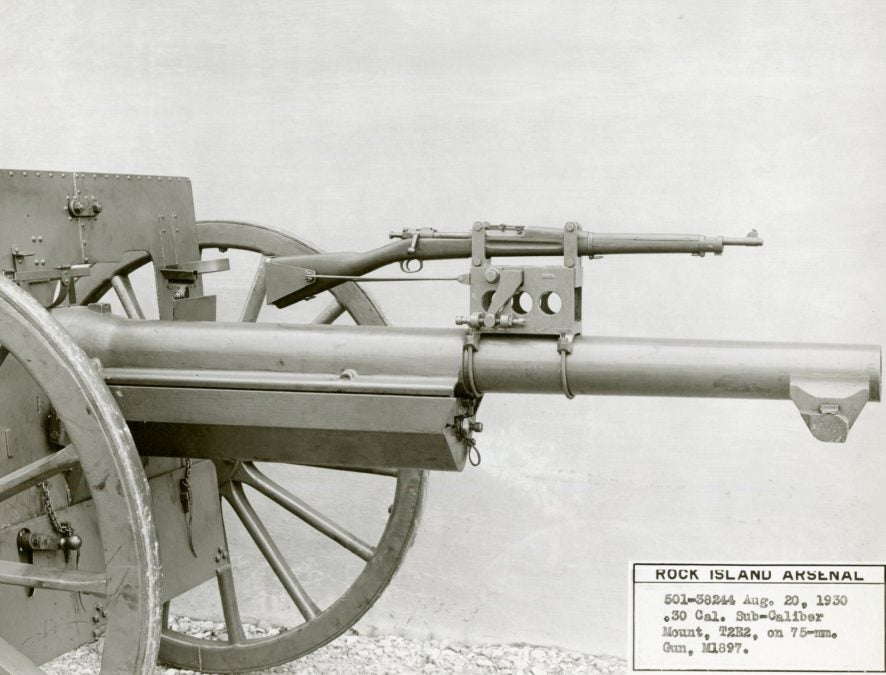 Sub-caliber devices. (n.d.). facebook.com/RIAMuseum. photograph. Retrieved May 26, 2022, from https://www.facebook.com/RIAMuseum.