TFBTV – NEW S&W Shield Plus .30 Super Carry VERSUS 9mm
Adam Scepaniak 05.31.22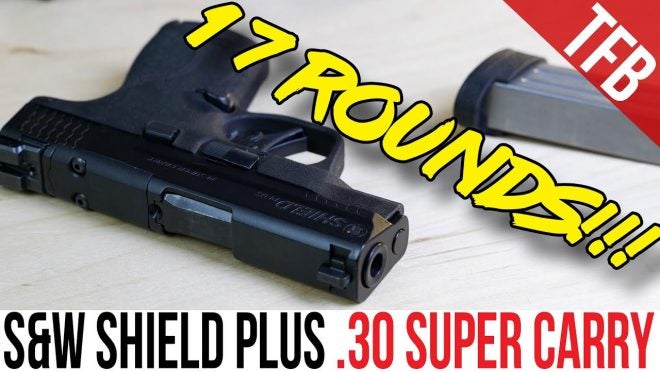 In this episode of TFBTV, James Reeves reviews the new Smith & Wesson Shield Plus 30 Super Carry. James has reviewed the Shield Plus already in 9mm, but in this video, James is bringing you a comparison of the specs and features with a short discussion of the PLUSes and minuses of the .30 Super Carry round. Best of all, James takes 6 shooters and has them shoot the .30 Super Carry back to back with 9mm to get their impressions. What do you think? Sound off in the comments.
If you'd like more detail on the .30 Super Carry, Ian McCollum of Forgotten Weapons dropped a video on the cartridge at the same time this video published, and you can see it here: https://youtu.be/Et4C7_fmoG8
PLEASE check out our Patreon page if you enjoy our program, and consider helping us at TFBTV out!
https://www.patreon.com/tfbtv
Gun and gear giveaways are not affiliated with, associated with, or in any way endorsed by YouTube and TFBTV is solely responsible for the giveaways mentioned in this video and this description. No purchase required for gear worth over $250. Full rules and terms are found at http://tfbtv.gun.team/
««« FOLLOW US ON SOCIAL MEDIA »»»
https://www.facebook.com/TheFirearmBlogTV/
https://www.instagram.com/TFBTV/
https://www.reddit.com/r/tfbtv/
««« SPONSORS »»»
Please Support Them! They help make our videos possible.
– Ventura Munitions – www.venturamunitions.com
– Blue Alpha Gear – www.bluealphagear.com
– Top Gun Supply – www.topgunsupply.com
««« TFB CHAT ROOM »»»
Want to join the TFBTV chat room? Use our Discord Invite: discord.gg/tfbtv
#TFBTV
Contents:
0:00 Intro
2:30 .30 SC Energy, Penetration, and Expansion
5:47 .30 Super Carry Pricing
6:13 TEST! 30 SC Recoil vs. 9mm Recoil
13:52 S&W Shield Plus .30 SC Review
21:15 Conclusion