FN Unveils Latest Edition of Designated Marksman Rifle, DMR3
Eve Flanigan 06.01.22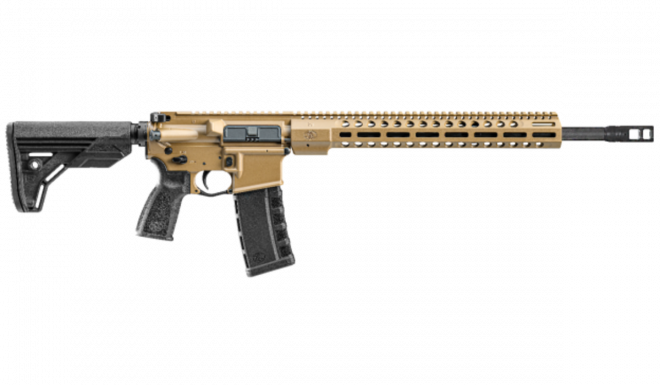 FN, of Virginia, just announced the release of three new rifles that mark the latest updates to their DMR (Designated Marksman Rifle) series, called the FN15 DMR3. These AR-platform guns offer attractive upgrades to the line. Most obvious among the new choices are new colors. These include matte black anodized, flat dark earth (FDE), or tungsten gray Cerakote, but the real news is in performance-related upgrades. These include a free-floated, 18-inch barrel, chrome-lined with a 1:8 twist. The barrels are made from what FN calls its proprietary machine gun steel. Topping the barrel is brand new feature, a SureFire ProComp muzzle brake, which is promised to tame what muzzle rise and felt recoil the 5.56 NATO ammo delivers.
Surrounding the barrel is a generous 14.6 inches of aluminum handguard with a full-length Picatinny rail and wrap-around M-Lok. FN chose Hodge Defense's design with a wedge lock for rigidity. Beneath the handguard is a pinned gas block, marking the distal end of its rifle-length gas system which also features an H buffer. FN promises the gas keys to be sealed, torqued, and staked according to milspec.

The DMR3 trigger is a two-stage Geissele model named GS2. There's a 2.75-3.0-pound pull on the first stage; 1.5 to 1.75 pounds on the "bang" stage. Lightweight but aulty construction continues at the receiver. It's made of forged aluminum. The bolt carrier group is made to milspec of 8620 steel. The bolt is constructed from durable Carpenter 158 steel, FN ponied up for luxury with an ambi charging handle, the Radian Raptor LT. Likewise the Radian Talon selector switch is also ambi.
FN subtly brands DMR3s with their 19.5-degree angle, high-traction pistol grip. The DMR3 also wears the company's branded six-position, snag-resistant, rubber-padded buttstock. As of this writing FN is mum on the suggested retail price. Based on existing market prices for DMR3 predecessors, this writer predicts market prices to be a bit north of $1,500.

SPECIFICATIONS: FN DMR3
Caliber: 5.56x45mm
Operation: Direct impingement
Mag Capacity: 30 Rd.(One black polymer FN mag included)
Weight: 7.4 lb.
Barrel Length: 18″
Overall Length: 35.2″ – 38.5″
Twist Rate: 1:8 RH