TFBTV – Beretta PMX Review: The Beretta M12s Reborn
Adam Scepaniak 06.07.22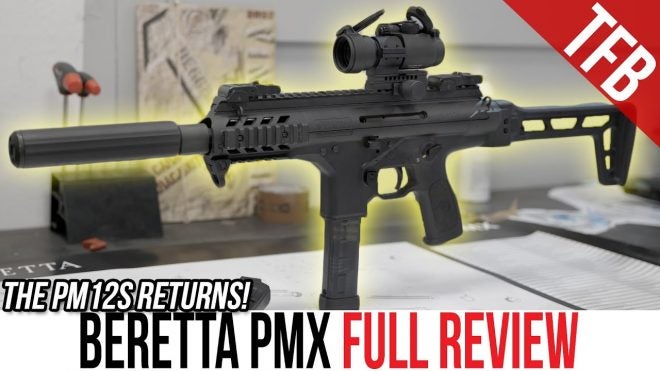 In this episode of TFBTV, James Reeves reviews the Beretta PMX, which is about to be imported into the United States as the Beretta PMXs. The Beretta PMX is a 9mm pistol caliber carbine or SMG that will be the successor to the Beretta M12 and PM12 series, and the PMX mostly shares the manual of arms with the Beretta M12, as well as sharing a number of design features with the Intratec Tec-9 and the UZI. Check today's video to see if the NEW Beretta PMX s worth your attention.
««« APPAREL IN THIS VIDEO »»»
• Apparel: All TFBTV apparel is sponsored by 5.11 Tactical and you can get it at www.511tactical.com
««« GUN AND GEAR GIVEAWAYS »»»
We give away guns and gear EVERY month to our supporters. Consider supporting us.
Go to tfbtv.gun.team for details.
Gun and gear giveaways are not affiliated with, associated with, or in any way endorsed by YouTube and TFBTV is solely responsible for the giveaways mentioned in this video and this description. No purchase required for gear worth over $250. Full rules and terms are found at http://tfbtv.gun.team/
««« FOLLOW US ON SOCIAL MEDIA »»»
https://www.facebook.com/TheFirearmBlogTV/
https://www.instagram.com/TFBTV/
https://www.reddit.com/r/tfbtv/
««« SPONSORS »»»
Please Support Them! They help make our videos possible.
– Ventura Munitions – www.venturamunitions.com
– Blue Alpha Gear – www.bluealphagear.com
– Top Gun Supply – www.topgunsupply.com
««« TFB CHAT ROOM »»»
Want to join the TFBTV chat room? Use our Discord Invite: discord.gg/tfbtv
#TFBTV
Contents:
0:00 Introduction
1:59 History of the Beretta M12
6:35 Beretta PMX versus M12
14:18 Range Review
18:25 Beretta PMXs (Civilian) Discussion
23:02 Conclusion