POTD: Worth It? Winchester Model 55 Single Shot Semi Auto
Sam.S 06.08.22

Welcome to today's Photo of the Day! Here we have a Winchester Model 55 semi-automatic single shot. That is right! You read correctly and I wrote correctly. The Winchester Model 55 (not to be confused with their lever-action rifle) was an open bolt design. It fired 22 short, long, and long rifle. It was a single-shot rifle, with no magazine tube or box magazine in sight. A shell would be loaded by hand, shot, and automatically ejected. There are other notable open bolt 22 rifles out there such as the Marlin Model 50 but that was semi-automatic and fed by a magazine. It was also later regulated due to its potential to be modified to be a machine gun. The Winchester Model 55 got away with its design by making it an open bolt single shot that automatically ejected its empty shell.
"This is one of about 45,000 rifles manufactured between 1957 and 1961. Has a nickel beaded blade front sight and an elevation adjustable rear sight. The "W/P" proofmark is stamped on the rear of the barrel and front of the receiver. The pistol grip walnut stock has a checkered plastic buttplate. With the unnumbered box with correct end label."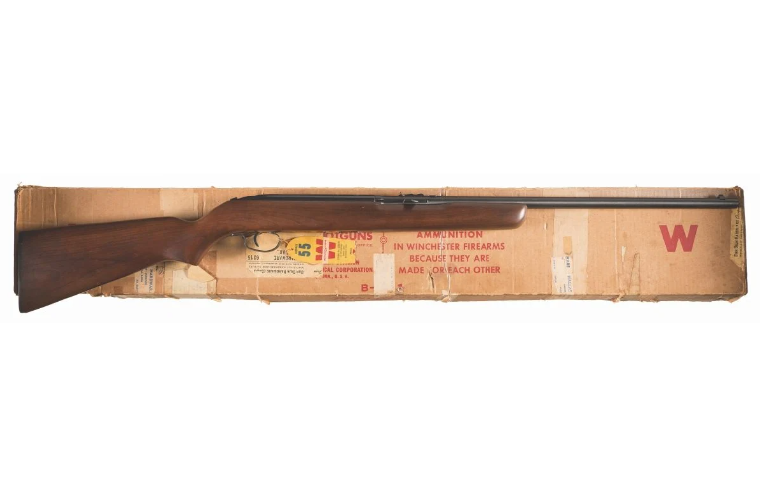 Lot 3662: Winchester Model 55 Auto Ejecting Single Shot Rifle with Box. (n.d.). Rock Island Auction Company. photograph. Retrieved June 8, 2022, from https://www.rockislandauction.com/detail/78/3662/winchester-model-55-auto-ejecting-single-shot-rifle-with-box.