POTD: Ape Like Speed – Westley-Richards Monkey Tail Carbine
Sam.S 06.09.22

Welcome to today's Photo of the Day! Here we have an iteration of a Westley-Richards Monkey Tail Breech Loading Carbine. These puppies were nifty and fast rifles. They were adopted by the British military and were also popular western frontier guns since they could be loaded and fired with more rapidity than other rifles at the time.
This rifle was a breech-loading black powder rifle so that means a paper cartridge containing a lead bullet or ball, a wad, and gunpowder, was inserted into the breech which was opened by the monkey tail breech lever. The hammer would then be put into full cock and when it was dropped on a percussion cap the rifle would fire. These rifles utilized quite a few brass pieces including a brass bolt face which helped resist corrosion from the black powder. Later the design of these rifles would be modified to shoot metallic cartridges but they were more like paper cartridges with a metallic shell at the base.
"Manufactured in England, this single-shot breechloading rifle incorporates Whitworth pattern hexagonal rifling to stabilize the bullet. It was nicknamed the "Monkey Tail" by South African and Portuguese troops that were issued military variations of this design based on the shape of loading lever for the breech. It features a globe front sight, long range rear sight with two leaves (one standing) and a folding ladder, "WHITWORTH PATENT" on top between the rear sight and breech, ".483" on the upper right at the breech, ".451" on the upper left, "642" and "52" along with Birmingham proofs on the left at the breech, "642" and "WESTLEY RICHARDS/PATENT" on the breechblock, "642" repeated on the inside of the breechblock on the tail, "WESTLEY RICHARDS & Co./1861" on the lock which has a sliding half-cock safety, sling swivels on the upper barrel band and front of the trigger guard, and checkering on the grasping section of the forend and the wrist. "WELLER COLLECTION/PRINCETON, N.J./466″ tag and a nipple protector on a brass chain are fitted to the trigger guard. A cleaning rod extension and nipple are in the butt."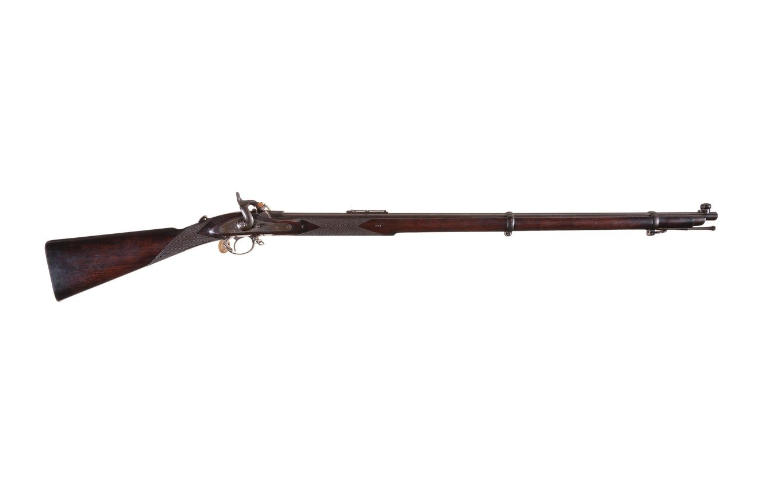 Lot 1170: Westley Richards & Co. 'Monkey Tail' Breech Loading Rifle. (n.d.). Rock Island Auction Company. photograph. Retrieved June 8, 2022, from https://www.rockislandauction.com/detail/76/1170/westley-richards-co-monkey-tail-breech-loading-rifle.