POTD: Second Best to Everything – Forehand and Wadsworth Old Army
Sam.S 06.13.22

Welcome to today's Photo of the Day! Here we have a very regal-sounding revolver of the late 1800s. This is the Forehand and Wadsworth Old Army revolver. Introduced in 1873 (same as the Colt 1873) by Forehand and Wadsworth, formerly of Allen and Wheelock relation. This revolver borrowed a lot of features of revolvers coming and going at the time. The lockwork is very similar to their cheaper pocket revolvers. The barrel is similar to many Smith and Wesson revolvers. The grip style and angle are almost the exact same as a Merwin Hulbert revolver. Heck, even the ejection rod style is off of older Webley designs. This sort of thing put the nail in the coffin for the Old Army. They were not cheap and they really did not do anything better than their competitors. Not to mention they were also chambered for the 44 Russian cartridge which was pitiful in comparison to the much more popular 45 Colt.
"Sullivan Forehand and Henry Wadsworth each married one of Ethan Allen's daughters and were part of E. Allen & Co. until they restructured the business as Forehand & Wadsworth upon Allen's death in 1871. As with Allen's firearms, their guns were high quality weapons. These Old Model Army revolvers were manufactured in the mid 1870s and it is estimated that less than 1,000 were made. These revolvers were usually nickel finished. This example has a factory high polished blue finish making it a very rare American antique cartridge handgun. The top of the barrel rib is marked "+FOREHAND & WADSWORTH WORCESTER, MASS. U.S. PAT'D OCT. 22,61- JUNE 27′ 71 – OCT. 28 '73+". The left side of the frame below the cylinder is stamped with a standing bear. Early collector legend attributed the mark to the California militia, however more recent evidence indicated the marking is likely that of a California dealer or gunmaker. The matching serial number is marked on the butt, underside of the barrel at the breech, cylinder pin latch, loading gate and rear face of the six-shot cylinder. Pinned blade front and frame notch rear sights, blue finish and fitted with smooth two-piece nicely figured walnut grips."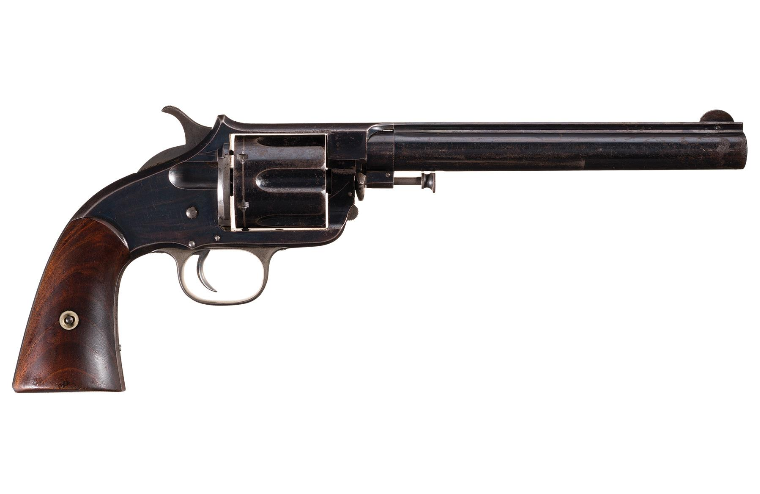 Lot 367: Forehand & Wadsworth – Army. (n.d.). Rock Island Auction Company. photograph. Retrieved June 8, 2022, from https://www.rockislandauction.com/detail/69/367/forehand-wadsworth–army.