Mauser Introduces the New M18 Savanna Bolt-Action Rifle
Luke Cuenco 06.24.22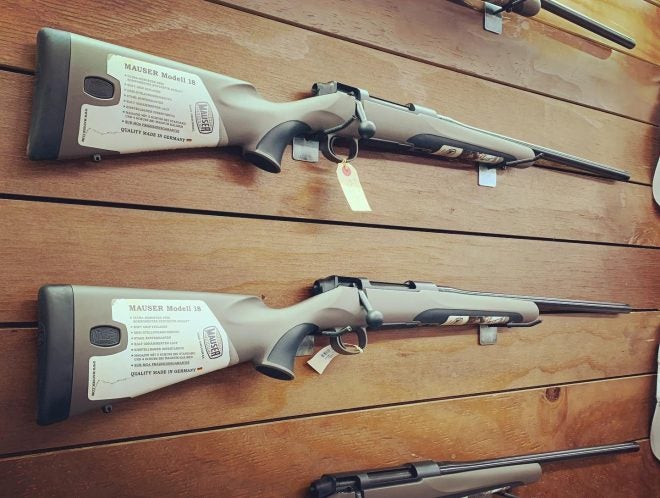 When you hear the name Mauser you may harken back to WWI and WWII when the name was synonymous with the standard issue rifle for the German military. The Mauser  K98K was renowned worldwide for its strength, reliability, accuracy, and safety and these facts led to many other companies across the world adopting the basic design characteristics of the Mauser action. Mauser is now proud to introduce their new M18 Savanna Bolt-Action rifle that focuses in on being a very tough and very reliable rifle that can now accept modern hunting attachments like suppressors, modern optics mounts, and even modern cartridge offerings like 6.5 Creedmoor.

Mauser Introduces the New M18 Savanna Bolt-Action Rifle
Blaser Group is pleased to introduce the Mauser

M18 Savanna bolt-action rifle. This newest M18 features a Savanna tan stock with grip
inserts and a threaded barrel for the addition of a suppressor or muzzle break.

Recognized for its accuracy and ruggedness at an exceptional price point, this popular
hunting rifle features a cold hammer-forged German-steel barrel, three-position safety, and
adjustable trigger that allows you to set your own preferred pull weight from 2.25 – 4.25 lbs.
The 60-degree oversized bolt with three locking lugs and two extractor pins allows for quick
and smooth cycling of cartridges from the standard five-round magazine. Ten-round
magazines are also available.

The Mauser M18 Savanna is backed by a sub-MOA performance guarantee and 10-year
factory warranty.

"The new Mauser M18 Savanna presents the opportunity for even more American hunters to
experience the benefits of German engineering and manufacturing," said Jason Evans,
CEO, Blaser Group. "This ultra-rugged rifle is a true value delivering superior reliability,
durability, and accuracy in its class."

The Mauser M18 Savanna accepts Remington 700 LA-style mounts and is available with a
1/2 x 28 threaded barrel in .223 Rem, .243 Win, .270 Win, 6.5 Creedmoor, 6.5 PRC, and
7mm Rem Mag chamberings and a 9/16 x 24 threaded barrel in .30-06, .300 Win Mag and
.308 Win. For more information visit: www.mauser.com.

The Mauser M18 looks like it would make an almost heirloom quality firearm for the avid hunting family that needs a super reliable, super durable, and capable hunting rifle. These rifles are currently retailing for an MSRP of $849.99 which might seem expensive but at least you know with the name Mauser that you'll be getting a high-quality rifle for that price that will last for generations.